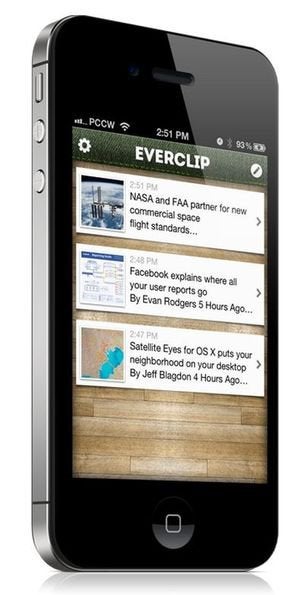 As you probably know, Evernote can be a huge asset for gathering and organizing information. For some businesses (including at least one real-estate office), it's the hub of the entire operation.
However, if you've ever tried to use the mobile Evernote app to assemble information from disparate sources, you know what a hassle it can be. To copy text, photos, links, and the like into a note, you've got to hop back and forth between those sources and Evernote, copying and pasting as you go.
EverClip ($2.99 for iPhone, $5.99 for iPad) takes much of the work out of the process by automatically aggregating each and every copied item, then letting you export those items to Evernote.
Once you run the app, it stays active in the background for 10 minutes, monitoring the iOS clipboard for any activity. From there you can hit up Safari, Mail, Photos, and any other app that lets you copy stuff.
Each time you select something and tap Copy, you'll hear a little ping indicating EverClip clipped it. When you've finished assembling everything you want for your note, just return to EverClip, organize the clippings—adding any notes or tags you might want—and then send it on to Evernote. (Unfortunately, the app supports only the default notebook as the destination, so you might need to hit up Evernote proper for further organization.)
This is pretty cool. It effortlessly solves a fairly major hassle with using Evernote on an iOS device. As noted above, however, it's not a universal app, and I'm not wild about paying twice for the same tool.
Even so, for a grand total of nine bucks, I get to work a lot more quickly and efficiently with one of my most indispensable apps. Your thoughts?