At a Glance
Expert's Rating
Pros
Gives control over every tiny aspect of your desktop
Can be used as a flexible Start-menu replacement
Cons
Confusing interface
Restarting the program can be problematic
Our Verdict
With literally thousands of features, Actual Window Manager can fulfill all your window-management wishes, if you can figure out how to use it.
The Actual Window Manager ($50, 60-day free trial) includes every imaginable desktop-management feature, and then some. Assuming, of course, that you manage to find your way through the complicated, confusing, and rather unattractive interface.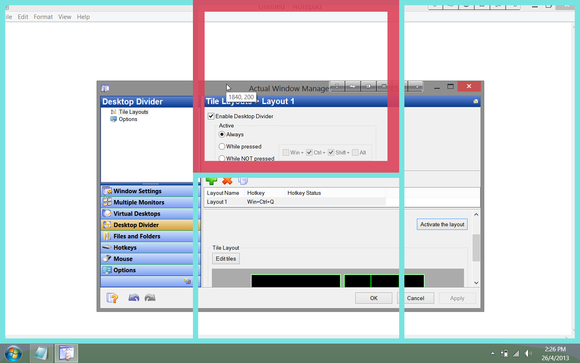 Divided into 9 different tabs, Actual Window Manager offers everything from specific window settings, a customized set of title bar buttons, and a configurable desktop grid for dragging and snapping windows, to dozens of keyboard shortcuts, window mirrors, virtual desktops, and to top it all off, a flexible Start-menu replacement. Unlike most Start-menu replacements out there, Actual Window Manager has the option to add just a Start button, and have the new Windows 8 Starts screen pop out of it, full size or half size.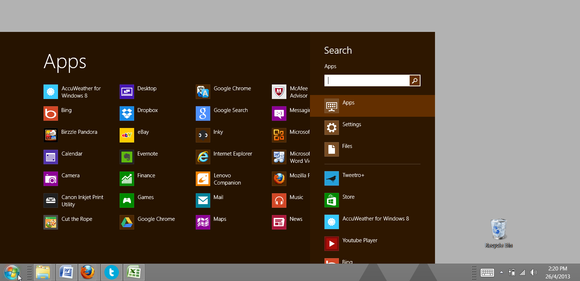 The program supports multiple monitors ably, giving you full control of multiple taskbars and their content, and even going as far as wallpaper setting, resolution controls, and other options you would normally control through Windows's native settings.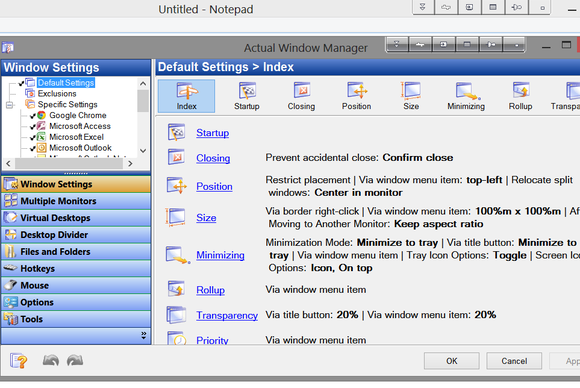 Actual Window Manager includes more options than I could use in a year, and the confusing interface doesn't make these easier to discover, but you can rest assured: It's all there. All you need is the will to spend $50, the need for such an abundance of features, and the patience to figure them all out. The 60-day free trial could help you there.
Note: The Download button will download the software to your system.