Scarcely two weeks after announcing that it would be shutting its doors later this year, the Fuduntu Linux team on Sunday announced that they have decided instead to end the project immediately.

"After monitoring project activity and traffic and also reviewing all of the feedback from the community concerning our EOL, I have decided to end the project effective today," wrote project team member Fewt in a weekend blog post. "This means that beginning with our last merge from testing to stable, which should happen today or tomorrow, there will be no additional updates to Fuduntu."
Fewer than 2500 users still have Fuduntu installed, Fewt noted, adding that "the majority of our user base has already moved on to other distributions."
As the project ends, one final update to those still using the Linux distribution will disable the Fuduntu stable repository to avoid a constant stream of error messages.
Based on openSUSE
That's the bad news for Fuduntu users such as myself who have come to love the GNOME 2-based distro. There is, however, some intriguing news as well.
Namely, following up on the early suggestion that at least part of the Fuduntu team would be starting work on a new project, more details on that effort have now emerged.
Specifically, the new distro has been provisionally named FuSE Linux, and it will be based on openSUSE, project communications leader Lee Ward wrote in a blog post on Saturday.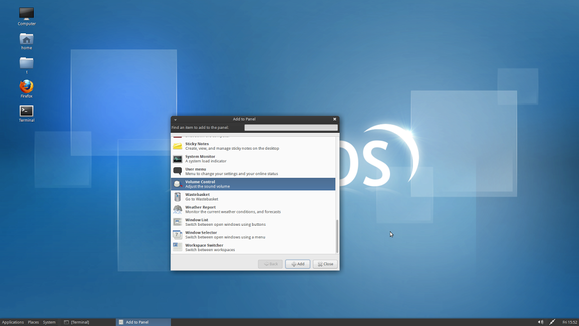 "openSUSE was chosen because of its stable base, openness to derivatives, and the tools available to both encourage and assist teams creating new distros," Ward explained. "Several of the team members have been working on the openSUSE base and tools to see just how the new distro will develop."
The Consort desktop
Even more compelling is that it looks like the new Consort desktop (shown above) will likely be FuSE Linux's default desktop environment. As Linux fans may remember, Consort is the brand-new desktop currently being developed by SolusOS founder Ikey Doherty with the goal of re-creating the look and feel of GNOME 2.
KDE will also be available, however, as will other desktop environments via the openSUSE repositories, Ward pointed out.
Since Consort shares the focus on a classic desktop experience that endeared Fuduntu to so many, this is big news for users who wondered where to turn next. You can keep tabs on FuSE Linux's progress by watching the project page on Trello or via the project's community page on Google+.