At a Glance
Expert's Rating
Pros
Super quiet
Easy remote-access configuration
Smooth media streaming
Mobile apps can't access private folders
Cons
No self-backup
Somewhat limited feature set
Our Verdict
Super simple setup and remote access, top-notch streaming, and uber-quiet operation make the Seagate Central a suitable media streamer for your AV setup.
If your home network lacks a NAS box, you're missing out on two counts: First, network-attached storage (NAS) is the easiest way to back up connected PCs. Second—and more enjoyably—a NAS box can store your media libraries and stream files to any PC or networked audio device in your house (examples include devices in the AirPlay, NuVo, and Sonos product ecosystems). You can also stream your favorite movies and digital photos to your smart TV (or to your dumb TV, if you have a streaming box or home-theater PC connected to it). Better NAS boxes make remote access possible, so you can access your stuff from—and stream your media to—any device anywhere you have Internet access.
You needn't pay big bucks for an expensive multibay model designed for small businesses, either. Would you buy a Lamborghini strictly for driving to the corner store? Barring a spectacularly successful PowerBall encounter—probably not. Follow the same principle when shopping for a NAS box. One caveat: Though single-bay NAS boxes are cost effective, they provide no data redundancy. If you store anything on them that you can't afford to lose or can't re-create, back them up.
A call for simple, $200 NAS contenders
With frugality and practicality in in mind, we put out a call for reasonably priced ($200 or less) NAS boxes that provide at least 1TB of storage, support remote access via the Web (ideally with mobile app support), and can act as both iTunes and DLNA-certified media servers. Four vendors stepped up to the plate: Buffalo Technology with its LinkStation Live; LaCie with its CloudBox; Seagate with its Central; and Western Digital with its My Book Live.
The hardware configurations proved to be surprisingly similar: Each box uses a 3.5-inch mechanical hard drive, a gigabit ethernet interface, and an external AC adapter; and each is about the size of a medium-format trade paperback. However, each manufacturer added widely different features and amenities on top of the hardware. You'll find the nitty-gritty details at the end of this article.
Buffalo LinkStation Live
Buffalo's LinkStation Live ($140) is a capable media streamer with the strongest feature set of the four boxes we looked at. Unfortunately, it fell off the pace in copying files, its UI was rather slow to respond, and configuring many of its features—including remote access—proved to be less than intuitive.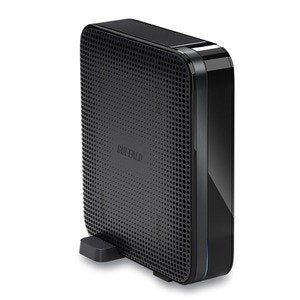 The 2TB LinkStation Live delivers shared folders, user accounts, workgroup and domain support, AFP and FTP file sharing, and—of course—iTunes and DLNA-certified media servers. You also get BitTorrent downloading, integrated Eye-Fi service (so you can copy photos from your digital camera to your networked storage using Wi-Fi), Flickr integration (so you can automatically upload photos stored in a designated folder on the LinkStation to your Flickr account), NovaBackup (for backing up PCs to the box), an on-board routine to back up the LinkStation's files to other locations, and remote access via BuffaloNas.com (where you can manage and share files via the Internet).
Like the LaCie CloudBox, the LinkStation Live will automatically open one of your router's ports for remote access, provided that your router supports UPnP port forwarding. If your router doesn't, you'll have to do it yourself. (The LinkStation Live expects to use port 9000.)
Buffalo's box was the second fastest in our roundup at handling a 10GB mix of files and folders, writing them at 17.5 MBps and reading them at 29.9 MBps, but the LinkStation Live's performance with our large 10GB file fell well below the curve: It wrote that file at 22.7 MBps and read it at 49.1 MBps. On both operations, that's a good 10 MBps slower than the performance turned in by next slowest drive.
All was well on the streaming front: The unit spooled our 40-mbps, 1080p files to three PCs with nary a hitch. It was also the only box in the roundup that transcoded MKV files on the fly, so they would play in Windows Media Player via DLNA. It didn't list playable WAV files in iTunes, but otherwise that server was up to snuff. You should have no qualms about using this unit to stream movies around the house.
In setup and configuration, the LinkStation Live was the least user-friendly box we examined. On the other hand, it lacks nothing in features and it streams very nicely. Users with the technical chops, or the patience to learn some new skills, could swing with the Buffalo product.
LaCie CloudBox
The LaCie CloudBox is a shiny white, Neil Poulton-designed rectangular a NAS box that looks nice alongside iMacs and the like. It is extremely white, however, so it will stand out against black A/V equipment. The 2TB CloudBox can be tricky to configure for remote access, but it boasts top-notch features, good all-around performance, and carries a moderate price of $150.
The CloudBox runs the full version of LaCie's Dashboard operating system, which the company has gradually crafted into a feature-rich offering. In addition to expected features such as user and shared folders, FTP, and workgroup, you'll find a BitTorrent client and a full browser-based file manager. The CloudBox ties with Western Digital's My Book Live for best backup features in this foursome, starting with a version of Genie Timeline for the PC, Intego for the Mac, and box-to-box backup via rsync (so you can back up the contents of the NAS box itself).
Out of the box, the CloudBox is ready to go on your local network. If your router lacks UPnP (Universal Plug-n-Play) port forwarding, however, you might need to configure it yourself to get remote access—and that can be a challenge. (In most cases you'll find a router's port-forwarding settings under its gaming features: Forward port 8080 to the CloudBox's IP address.)
The CloudBox performed well in our tests. Both the DLNA and iTunes servers functioned perfectly, and the unit effortlessly streamed our 40-mbps video to three PCs simultaneously. File-transfer performance was very good for a low-priced box, and the CloudBox took first place on the task of reading our 10GB mix of files and folders, with a speed of 33.7 MBps. It wrote those files at 16.5 MBps, and it wrote and read our single 10GB file at 31.6 MBps and 63.5 MBps, respectively.
LaCie provides dedicated remote-access apps for iOS and Android devices, but not for Windows Phone 7 or 8. The app isn't as attractive as Seagate's handsome Dashboard OS, but it does the job. For Windows Phones, you can use a third-party DLNA- or iTunes-compatible client such as cPlayer (for Windows Phone 7 and 8).
LaCie is unique among the four manufacturers represented here in offering a free 10GB/one-year subscription to its own Wuala online storage service. Add that to the BitTorrent client, plus good performance and looks, and you have an all-around attractive deal in a household NAS box.
Seagate Central
The Seagate Central is the big easy of NAS boxes. All you have to do to to set it up for remote access is to surf to the unit's configuration page; enter your name, email address, and password; and then respond to an email message that links to a create-an-account page. Your name becomes your local network login, your email address is your remote login name, and your password works for both. It may take 30 minutes or so for everything to propagate, but once it's done, it's done.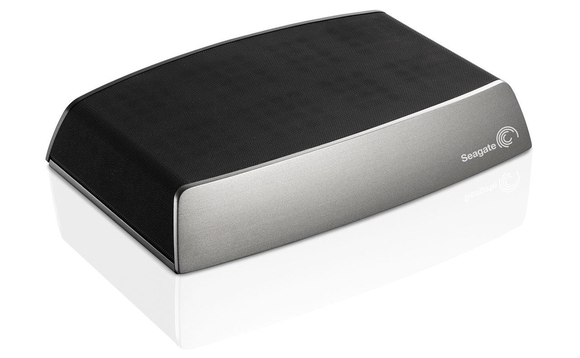 You can use the included Dashboard software to open the aforementioned configuration page (Dashboard also takes care of PC backups), or you can manually surf to the unit's URL. Seagate automatically maps the Central's public folder to drive Z in Windows Explorer, which displays the URL. Remote access is via Seagate's SeagateMedia app for iOS, Android, and Kindle, or a Tappin-powered website where you can play, manage, and share your files.
Thanks to its fine mesh lid and perforated base, the Central sheds heat without needing a fan. The unit's near-silent convection cooling, plus its quiet drive, means that you can plop the Central next to your home-theater setup without adding appreciable noise. On the other hand, the Central's decidedly retro resemblance to an older cable or DSL modem may not be welcome in your living room.
Priced at $170, the 2TB Central is the only unit in this roundup that comes with a USB port. The port is for storage only, but any drive you attach will appear on your network as a separate shared folder, so you can copy files to it as you would to any other network resource. The Central is an always-on device with no power button; but as is true of the other boxes' drives, its drive spins down when not in use, to save power.
Seagate developed a simple and easy user interface for the Central. Basic features include device setup, user accounts, and enabling or disabling remote access and the multimedia servers. One feature allows you to back up on the Central any pictures posted to your Facebook account—but that's it for frills. Though the Dashboard software backs up PCs to the box, it doesn't provide any means to back up the box itself. That's a major omission for a single-bay NAS box, given its lack of data redundancy.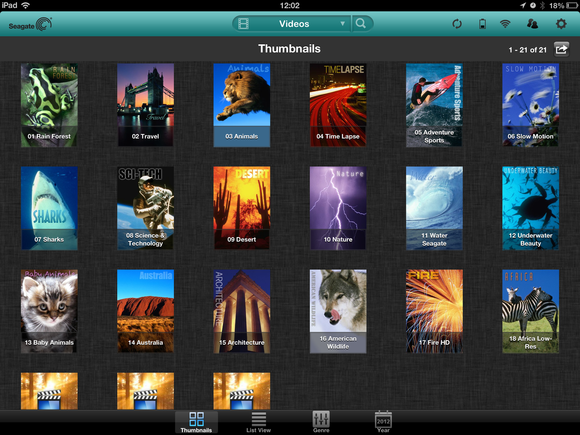 The Central performed well in our tests, but it displayed some files in iTunes that wouldn't play (tracks encoded in Ogg and FLAC), and it failed to display some WAV files that iTunes is capable of playing. To its credit, the box streamed our large 40-mbps video file simultaneously to three PCs, without a hiccup; and it was the only entrant in the group that served up Ogg Theora video.
File-transfer performance was very good for a low-priced NAS box, registering 16.9 MBps while writing our 10GB mix of files and folders, and 20.1 MBps while reading them. It did even better with our large 10GB file, writing it at a roundup-best speed of 40.3 MBps and reading it at 75.2 MBps.
Easy setup and quiet streaming make the Seagate Central a particularly good fit for A/V systems. On the other hand, we wish that it had an on-board self-backup capability, BitTorrent support, and the ability to interface to more social sites than just Facebook.
Western Digital My Book Live (1TB)
WD's My Book Live isn't spectacular in any one particular area. But taken as a whole, it achieves the best balance of performance, features, and price ($140) in the roundup. It also delivers the easy remote access setup that the LaCie and Buffalo lack.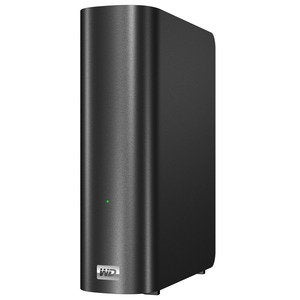 The My Book Live, like other NAS boxes, can be accessed over a local network without any configuration—just plug it into your router. But WD has created useful shares (publicly shared folders) that make life easier. There's a public share, with music, picture, and video subfolders; and there are shares dedicated to backups (including Time Machine Backup for Mac users and WD's own bundled SmartWare). For backing up the box itself, WD provides an on-board routine that creates "safepoints," which are much like Windows Restore Points, but constitute a full backup.
WD supports most video codecs—except for Ogg Theora—and the My Book Live's streaming performance was smooth as silk. We did encounter a minor glitch with the WD's iTunes server that created listings for unplayable WMA and WMA Lossless files. On the other hand, this was the only drive of the four that transcoded FLAC files for playback on a client PC running iTunes. If you're an audiophile, you probably have a player than can support those files natively. Other people in your household might not be as picky, or they might prefer the familiarity of Apple's player.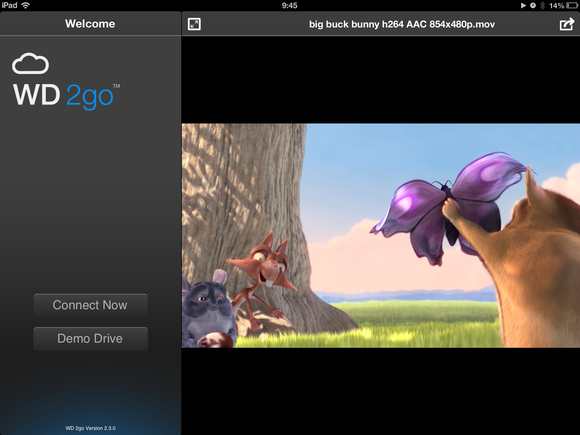 The My Book Live performed extremely well overall, though it struggled more than the other three drives when reading our 10GB mix of files and folders, delivering throughput of just 16.4 MBps. Conversely, it was considerably faster than any other box when writing those same files, clocking in at 26.9 MBps. Go figure. And the My Book Live excelled with the single 10GB file, writing it at 32.4 MBps and reading it at 77.1 MBps.
WD has the best app coverage of any of the four drives we tested, with versions of its WD2go media player for iOS, Android, and even Windows Phone 7. You can also establish remote access using a browser, via WD's slickly-rendered, Java-based www.wd2go.com.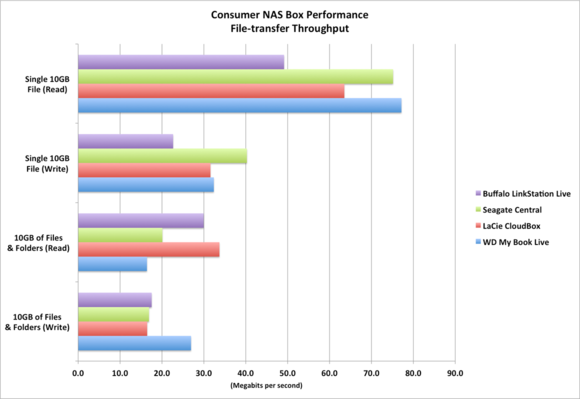 My Book Live delivers the best overall experience
The Seagate Central's superquiet operation, speed, and USB port make it a particularly good fit for an AV setup, though Seagate might have made it even more appealing by adopting a more modern look. The LinkStation Live is a viable media streamer, but it lagged behind the rest of the field in file copy performance and ease of configuration. The LaCie CloudBox performs well, has a nice feature set, and is a strong product at a nice price. In the end, however, Western Digital's My Book Live delivered the best combination of low price, performance, features, and ease of setup and use. That earned it the extra half-point it needed to take the top spot.
Feature sets
| | | | | | | |
| --- | --- | --- | --- | --- | --- | --- |
| PRODUCT | Capacity | USB port | Online storage | Backup software | Remote access | App support |
| Buffalo LinkStation Live | 2TB | No | No | NovaBackup (PC) | Local/portal | N/A |
| LaCie CloudBox | 2TB | No | Yes: 10GB for one year | Rsync (for NAS backup), Genie TimeLine (PC), Intego (Mac), Time Machine support | Local/portal | Android, iOS |
| Seagate Central | 2TB | Yes | No | Seagate Dashboard (no provision for NAS backup) | Local/portal | Android, iOS, Kindle |
| Western Digital My Book Live | 1TB | No | No | Safepoints (for NAS backup), WD SmartWare, Time Machine support | Local/portal | Android, iOS, Web, Windows Phone |
How we tested
We measured each box's file-transfer performance by copying first a 10GB collection of small files and then a single 10GB file (a read test). Then we copied those files back to the NAS box (a write test). We repeated each task several times and then averaged the results.
We paid special attention to each box's ease of setup and use, media-streaming capabilities, and remote access. To evaluate media capabilities, we used the media server or servers (DLNA and/or iTunes) on each box to stream music and video encoded in various file formats to iTunes, Windows Media Player, and XBMC running on Windows clients. We also streamed 40-mbps, 1080p MKV files to three separate PCs simultaneously, to test each box's ability to serve multiple users at once.
Video codec support
| | | | | | | |
| --- | --- | --- | --- | --- | --- | --- |
| PRODUCT | MP4 | MKV | AVI | WMV | FLV | Ogg |
| Buffalo LinkStation | Yes | Yes (extra feature: transcodes for Windows Media Player clients) | Yes | Yes | Yes | No |
| LaCie CloudBox | Yes | Yes | Yes | Yes | Yes | No |
| Seagate Central | Yes | Yes | Yes | Yes | Yes | Yes |
| WD My Book Live | Yes | Yes | Yes | Yes | Yes | No |
Audio codec support
| | | | | | | | |
| --- | --- | --- | --- | --- | --- | --- | --- |
| PRODUCT | MP3 | WMA | WMA Lossless | M4A | M4A Lossless | Ogg | FLAC |
| Buffalo LinkStation | Yes | Yes | Yes | Yes | Yes | Yes | Yes |
| LaCie CloudBox | Yes | Yes | Yes | Yes | Yes | Yes | Yes |
| Seagate Central | Yes | Yes | Yes | Yes | Yes | Yes | Yes |
| WD My Book Live | Yes | Yes | Yes | Yes | Yes | Yes | Yes |
Note: The file formats listed in the charts above indicates the box's ability to stream a format, not the client's ability to play it. XBMC and iTunes can play audio streams encoded in Apple Lossless, for instance, but Windows Media Player cannot. Windows Media Player, meanwhile, is one of the few media players that can handle WMA Lossless tracks.