At a Glance
Expert's Rating
Pros
Very configurable
Supports text-to-speech
Cons
Can break your train of thought
Our Verdict
This mail checker lets you interact with Gmail from the popup.
Email notifications are like coffee: Some people can't stand them, while others are addicted (and, yes, even use them to wake up in the morning). If you're of the latter camp, you may like Checker Plus for Gmail. Like every other mail checker, it lets you know when new emails arrive… but that's where other email checkers stop and Checker Plus is only just getting started.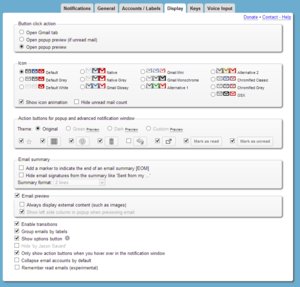 Checker Plus lives as a small button on the Chrome toolbar, showing a tiny unread message counter. But click the button, and a complete, working mini-Gmail interface pops up over the current window. You can see all of the messages in your inbox, archive them, directly open them in Gmail, and more. Checker Plus also shows a pop-up whenever a new email comes in, with the basic details of the email so you can decide whether to deal with it immediately or not. It can also chime an alert and read aloud some information about the email, so you know what it's about even if you aren't looking at your web browser. The read-aloud option is enabled only by default if you are away from your computer.
Not everyone likes to be notified (or interrupted) in the same way, and Checker Plus's rich customization features reflect this. You can enable or disable chimes, text-to-speech, and pop-up notifications. You can tell Checker Plus which labels to monitor and alert you about, select a color scheme for the pop-up notifications, and even tweak the toolbar's icon appearance in minute detail.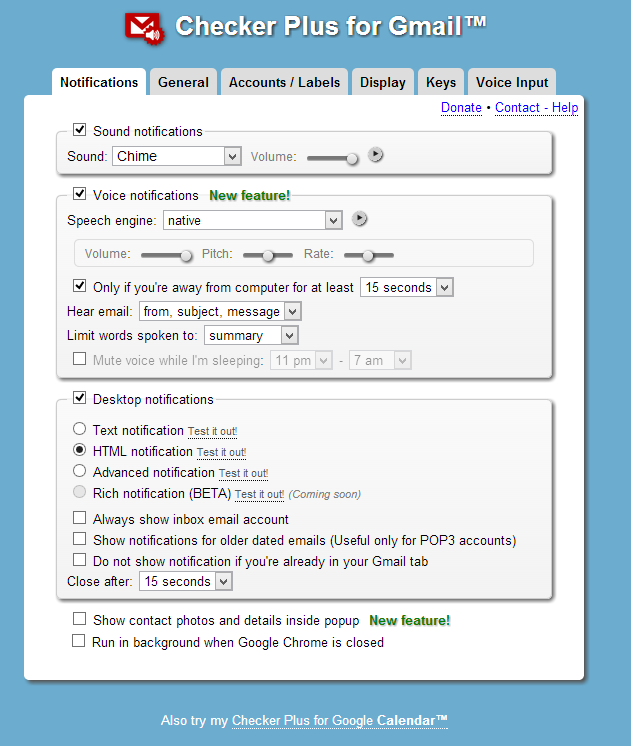 Checker Plus for Gmail is one of the most configurable Chrome extensions I've seen yet—but at the end of the day, it is still an email notifier, which can be as distracting as it is helpful.
Note: The Download button takes you to the Chrome Web store, where you can install the latest version directly into your Chrome browser.