At a Glance
Expert's Rating
Pros
Simple
Beautiful
Useful new features
Cons
Details missing from 3DMark 2011
Early version oddities
Our Verdict
3DMark's glitzy new environments and free starting price warrant a look.
Futuremark is busy these days shaking up their benchmarking business, and the new 3DMark is proof that nothing is off the table. PC, WinRT, Android and iOS support are all planned, although the Windows and Android versions are currently the only ones available.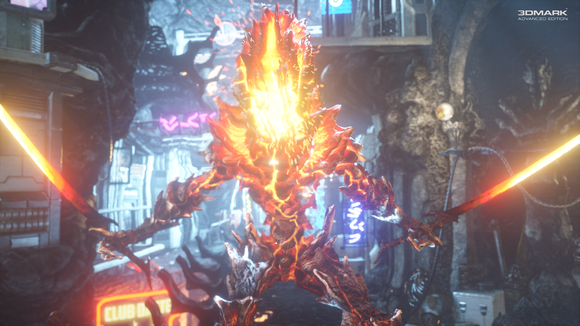 3DMark's version numbers have been ditched from the product name in an attempt to emphasize the new cross-platform nature of the release. This ill-advised gesture is ignored by the faithful and the press alike, including me.
Naming gaffes aside, Futuremark has undertaken the long-overdue rework of their flagship product and emerged with a slick package that sheds the weight of past releases and restores the luxurious visuals and sense of style that have been absent from the last few versions.
Installation isn't complicated and remains free of add-on traps and other bloatware, although the gigabyte-sized download isn't petite. Make sure you read the latest instructions: In the case of the AMD 7950 in my test system, beta drivers were actually recommended over certified ones. Once installed, it presents you with a window where the three test environments that comprise the suite can be selected for a benchmarking pass. Advanced options let you select custom visual settings, enable demo modes, loop benchmarks for stress testing and view past results.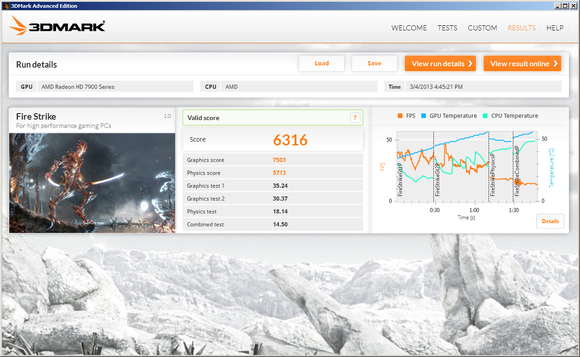 Ice Storm depicts a low-count polygon world suitable for mobile devices and legacy or entry-level PCs. This is the benchmark destined to run on smartphones, tablets, WinRT devices and similar. The level of detail is roughly equivalent to DirectX 9. The demo mode for this world space is particularly well conceived and despite the lower level of detail, may be the most visually dynamic of the three.
Cloud Gate is the middle child, designed to test laptops and office PCs. The stately flybys of massive spacecraft and jump gates are a touch hazy here, but impressive nevertheless. This one is for PCs only, which is a shame, since data on high-end tablets would be of interest. The physics test is particularly tough here, producing FPS numbers lower than Fire Strike, which indicates a CPU bias at play.
On the high end is Fire Strike, a fantasy-flavored virtual buffet of advanced effects and massive polygon counts that's designed with tomorrow's hardware in mind, although it will run on today's more muscular PCs with reasonable speed. The gaming system used in my labs managed 30-35 FPS with a single top-shelf videocard and mid-range quad core processor. Laptop usage is euphemistic at best, unless you're packing a specialty road-gaming rig. Needless to say, it'll be a long time before anything like a tablet will have electrics dreams like these.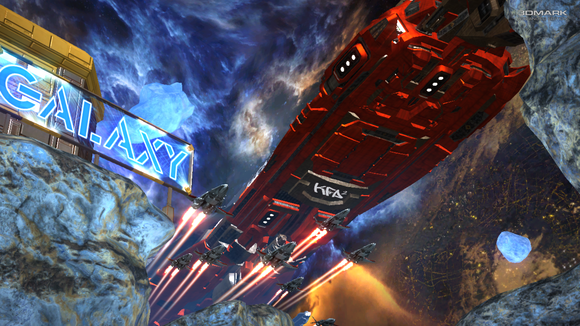 Glitches are few and largely attributable to the 1.00 status of the release. Information fields for processors and video cards yielded blank space on some runs and correct data on others. Users reported partially functional SLI and Crossfire support, which is sadly nothing new to PC gaming, benchmark software or otherwise. Also, OpenGL ES 3.0 support would have been nice.
Nevertheless, the scope here is greater than previous 3DMark updates, and the overhaul is mostly successful and complete. Longtime 3DMark users will notice that some details available in previous versions are missing from the more streamlined results available here.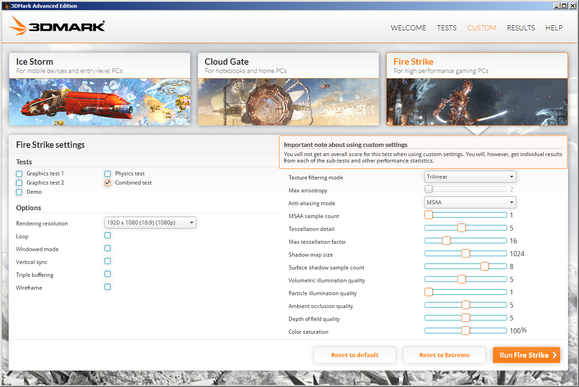 While this is sure to spark forum wars, the appearance of other long-awaited features such as temperature monitoring seem more relevant to gamers today and a better expenditure of the limited programming resources available to the Futuremark team.
Besides, this leaves room for improvement for the next version. Whatever they eventually decide to call it.
Note: The Download button takes you to the vendor's site, where you can download the latest version of the software.