Intel is expected to announce its fourth-generation Core processors code-named Haswell for laptops and desktops in June, but the company is already releasing teasers that talk about their performance.
The Haswell laptop chip will deliver up to twice the graphics performance compared to third-generation Core processors code-named Ivy Bridge, according to a slide deck released by Intel on Wednesday. The company is claiming graphics performance improvement of close to three times for Haswell desktop chips.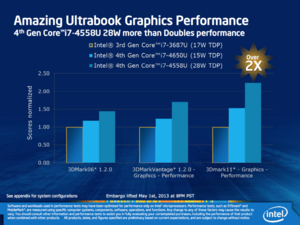 The graphics capabilities in Haswell will enable high-definition gaming and video playback, which will reduce the need for separate graphics cards.
Intel is expected to announce the Haswell chips at the Computex trade show in early June. PC makers are expected to show laptops, desktops and tablets running on Haswell chips at the trade show, which will be held in Taipei between June 4 and 8. Intel has said that Haswell-based laptops may be released around the middle of this year.
The chip maker has said the battery life of ultrabooks will double with the new fourth-generation Core chips. Haswell will also deliver double the performance on the same power consumption compared to Ivy Bridge chips. Intel has introduced low-power Haswell chips that draw up to 7 watts of power, and the company hopes some of those processors make it to high-performance tablets that could be used for gaming.
The Haswell chip will enable laptops to play 4K video, in which images are displayed at a resolution of 3840 x 2160 pixels, which is four times that of traditional 1080p high-definition video. The graphics processor is also faster at rendering video via a feature called QuickSync, which was slower on previous Intel chips. Some new QuickSync features include faster MPEG video encode and decode.
The graphics performance of Haswell will depend on the chip type and PC configuration. For example, Intel's fourth-generation Core i7-4650U ultrabook chip, which is based on Haswell and draws 15 watts of power, delivers one-and-a-half times the graphics performance of a comparable 17-watt, third-generation Core i7-3687U based on Ivy Bridge. A 28-watt Core i7-4558U doubles the graphics performance of the 17-watt Ivy Bridge chip.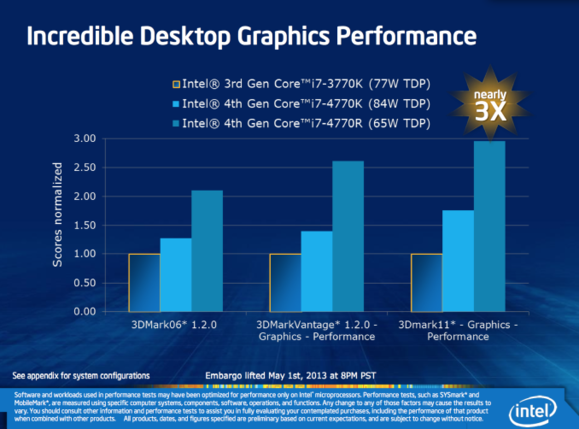 For some power-hungry desktop Haswell chips, the graphics performance is close to three times more than comparable Ivy Bridge chips.
The Haswell chips will support DirectX 11.1, which is Microsoft's latest set of tools to develop and run games. Haswell chips will also support the OpenGL 4.0 API (application programming interface) and OpenCL 1.2, a framework of parallel programming tools in which certain calculations and graphics tasks can be off-loaded to the graphics processor.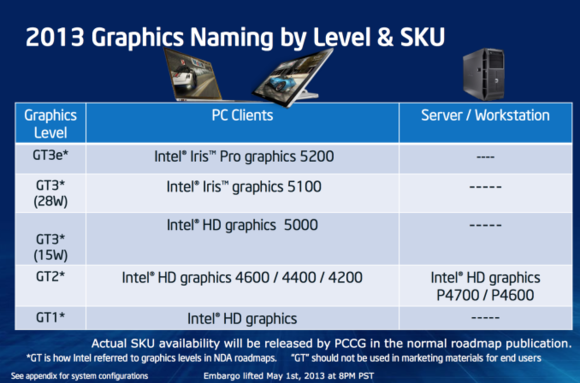 Intel has introduced a new naming scheme for its graphics processors integrated in the chips. Intel's HD 5000 graphics will go into chips drawing 15 watts of power, while the more powerful Iris Graphics 5100 and Iris Pro graphics 5300 will go into Haswell processors that draw more power. The naming scheme is important for PC buyers who measure the quality of a chip based on graphics performance.
The company typically releases a new chip for laptops and desktops every year, with each new generation adding more CPU and graphics performance. With PC shipments falling, Haswell chips are perhaps the most important chip release for the company to date. Intel hopes the power-efficient fourth-generation Core chips will also be used in devices like tablets or hybrids.