Just a few short years ago, cloud storage services that synced files and folders across multiple PCs and mobile devices were just a dream. But thanks to the rapid rise of entities like Dropbox, SugarSync, and Google Drive, cloud storage and syncing services are nearly ubiquitous today, acting as hard drives in the sky that help you do all kinds of things—such as creating a bulletproof (almost) backup system or turbocharging your productivity to blistering new levels—no matter where you are.
If you have the space, that is. Truly wondrous setups require robust cloud storage capabilities, but that doesn't mean you have to drop dollars for extra gigs.
Most services offer free accounts with modest quantities of complimentary cloud storage. In isolation, these pittances don't amount to much, but merged into Voltron-like unity, the free storage from several services can achieve mammoth totals. With some patience, you can build your own supercloud with more than 100GB of free storage. With a lot of patience (and pestering of your pals), you can nab more than 225GB. And all that online storage is free-as-in-free-beer free.
Here's how to do it, along with some tips on how to manage your storage hoard to take advantage of each service's unique properties.
Getting started
Setting up a personal supercloud can be tedious, depending on how many such services you already use. Your first step should be to grab all of the services that install dedicated areas in the Favorites column of Windows Explorer.
Amazon Cloud Drive: 5GB
Box: 5GB (but read "Beyond referrals" below before installing Box, as you may want to postpone installing this one)
Dropbox: 2GB
Google Drive: 5GB
MiMedia (m)Drive: 7GB
SkyDrive: 7GB (longtime SkyDrive users may be eligible for 25GB free)
SpiderOak: 2GB
Storage subtotal to this point: 33GB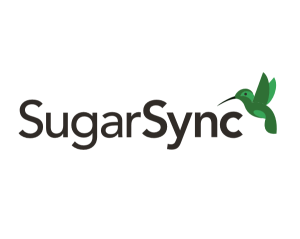 Now install SugarSync, which assigns itself a virtual drive letter—à la the C: or D: drive—instead of a customized folder. SugarSync offers 5GB free to start.
Next, install the two cloud services that use a desktop app to sync and store files instead of creating a folder in Windows.
MediaFire: 10GB
Ubuntu One: 5GB
Storage subtotal to this point: 53GB
Finally, open an account at the notorious Mega.co.nz to grab a whopping 50GB of free online cloud storage. Mega doesn't offer multiple device syncing. Instead, it functions more as an in-browser, Box-like storage locker. The service expects to add mobile apps and accompanying device syncing at some future date, but those options aren't available today.
Tip: Both SpiderOak and Mega currently use encryption schemes that make recovering your password impossible. If you forget your password for either service, you'll lose access to your files permanently. We strongly recommend that if you have a hard time remembering passwords, you give the LastPass password manager a whirl.
Just like that, your supercloud has mushroomed to an impressive 103GB. Now let's look at some ways to get even more storage.
Refer your friends to get more storage
Several cloud services offer extra storage in 500MB increments for every friend that you refer to it, but the maximum amount of free storage they permit under these bounty programs varies. Dropbox lets you add up to 16GB via referrals, while Ubuntu One tops out at 20GB of extra space, and SugarSync allows up to 32GB of additional storage in half-gig chunks. Note that Dropbox requires each referred user to join Dropbox, install the service's desktop app, and sign in to the desktop app after installation.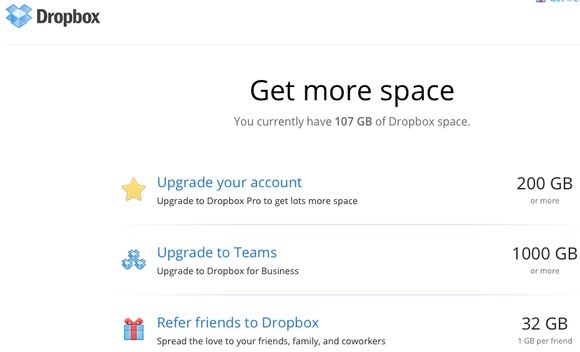 MiMedia offers you an additional 1GB of storage for every five friends you sign up, with a ceiling of 5GB of extra space from such referrals.
SpiderOak and MediaFire are a bit more generous, offering 1GB of additional free storage for each referral, to a maximum of 10GB and 32GB, respectively.
Beyond referrals
An easier way to increase the amount of free Dropbox storage available to you is to install the Dropbox app for Android or iOS, and then authorize automatic photo uploads from your device. Once authorized, the Dropbox mobile app will automatically begin uploading all photos snapped on your device to Dropbox. Dropbox doles out an extra, permanent 500MB to your account, as you need it, until you reach 3GB worth of free picture-driven storage.
Dropbox also presents you with 250MB of free space for completing its Getting Started tutorial.
SugarSync gives users a few ways to acquire extra free storage in 125MB chunks: You can install the mobile app for Android, BlackBerry, or iOS; or share a file or folder with a public link, or a folder with a private link; or upload a file to your account via email.
MediaFire rewards you with 2GB for installing the MediaFire desktop, and 2GB more for installing mobile apps. Connecting your Facebook and Twitter accounts to MediaFire fetches you another 1GB each. And if you spam your social networks about MediaFire, you receive another 1GB of storage.
Box doesn't have a referral program, but the company often offers 50GB of free storage to new users. Following the company on Facebook is a good way to find out quickly when the next 50GB giveaway is about to happen.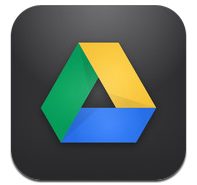 Both Google Drive and Microsoft offer free storage as an add-on when you make certain purchases. If you buy selected Chrome OS devices, Google will dole out either 1TB or 100GB of extra free Google Drive storage space for a limited time. Google maintains a list of Chromebook storage deals here. Microsoft offers an additional 20GB of SkyDrive storage to Office 365 Home Premium subscribers. Annual subscriptions to the Office suite cost $100 per year.
Not including the offers from Box, Google, and Microsoft, the referral and social media credits listed here could help industrious and methodical gleaners snag another 126GB of free cloud storage. But once you've accumulated all that space, how do you use it effectively? The key to maximizing your use of a vast mound of fractured cloud storage is to match what you commonly do with cloud storage to each service's strengths and weaknesses.
General sharing and sync
Once you've beefed up its storage total, Dropbox should be your service of choice for file syncing, thanks to its unparalleled platform support and widespread use. Box, SpiderOak, SkyDrive, and MediaFire are solid options, too. SugarSync lets you choose specific folders to sync, rather than forcing you to dump all of your files into a central location, and that feature may appeal to some people.
For sensitive documents, you'll want to use SpiderOak, which advertises fully encrypted, zero-knowledge online data backup (and sync). It's rock-solid.
For less sensitive material that nonetheless requires encryption, you could use Mega. Security researchers recently called Mega's encryption scheme into question, and Mega founder Kim Dotcom is not beloved in law enforcement circles, but even so it offers more protection than typical cloud services do. Just make sure that you have backups handy in case Mega goes the way of Megaupload.
Online collaboration
Google Drive is your best bet if you need to edit a document online with one or more people. Google Drive features robust editing features, thanks to its integration with Google Docs, including multiuser, simultaneous editing. Since millions of people rely on Google services, most of the people you need to work with probably use Google Docs. You can edit documents with Google's mobile apps for Drive on Android and iOS.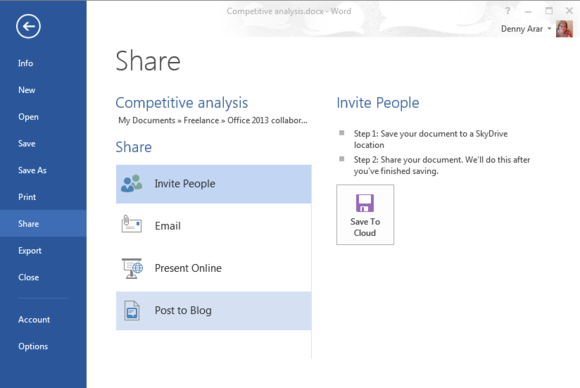 A second choice would be Microsoft's SkyDrive. Microsoft offers free Web-based versions of its well-known Office suite, including apps for Word, Excel, OneNote, and PowerPoint. Office Web apps often experience technical hiccups, however, and the Word Web app doesn't have an autosave feature—so you risk losing work if you forget to save. The collaboration features aren't as seamless as Google's, either. For example, both writers must save to see the other person's changes when collaborating on a Word doc.
Box offers online document editing as well as Web-based integration with Google Docs.
Media
The natural choice for streaming music is Amazon's Cloud Drive, but the company recently separated its cloud storage and cloud music services. Dropbox offers music streaming through its mobile apps, but it will play only one song at a time. In December, Dropbox acquired Audiogalaxy, a music streaming service, prompting many observers to speculate that a Dropbox-powered music feature is on the way.
MiMedia offers media streaming, but I can't recommend it for that purpose. In my tests, MiMedia choked when uploading videos as small as 18MB. Also, using MiMedia's Dropbox-style folder on Windows 8 caused Windows Explorer to hang repeatedly, a problem I didn't encounter with any of the other cloud services.
If you want to stream music online, a good choice is SugarSync, which offers music streaming as part of its service. You could also just stick with Google Music (not previously mentioned, as it doesn't offer traditional storage), which lets you upload 20,000 tracks from your personal music library and stream them from any online location you can reach.
For online video streaming, you can use Jolidrive (see below).
Backups and cold storage
SpiderOak and Ubuntu One let users backup specific folders to the cloud. MiMedia's desktop application also works well for folder-specific backups, which don't rely on manual uploads or file manipulation.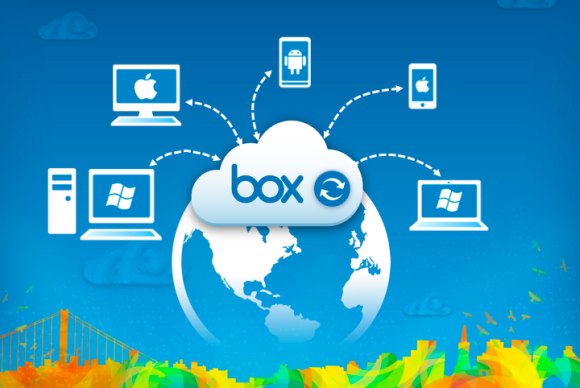 Box and Mega are ideal for storing files that you rarely access but want to keep in the cloud, especially if you can snag one of Box's 50GB free introductory deals. You can also use Mega's 50GB of free storage to store ample wares—but again, don't rely exclusively on Mega for file storage. It might go away.
Bringing it all together
Managing multiple cloud services can be a pain, even with widespread Windows Explorer integration. Fortunately, you don't have to handle the job on your own: Jolidrive from Jolicloud creates a cloud services dashboard that displays your Box, Dropbox, Google Drive, SkyDrive, SugarSync, and Ubuntu One files in one location. Jolidrive is especially helpful when you're on a public PC and you need access to your cloud files.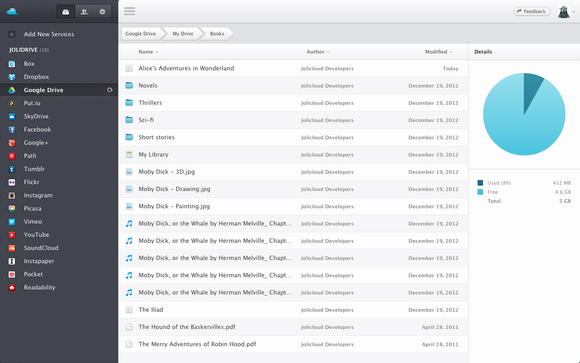 The service adds a few handy features of its own, such as music and video streaming, Google Drive document editing, and integration with Pocket and Instapaper. You can also connect various social networks—including Facebook, Google+, and Tumblr—to Jolicloud to view your social feeds in a Pinterest-style layout.
Jolicloud doesn't offer a way to transfer files between cloud services. A similar service called Otixo does provide that functionality, but Otixo no longer offers a free version of its service, alas.
And that's that. Welcome to your fully functional and uber-flexible hard drive in the cloud! Now, how to fill all that free space…