Acer is waiting for the next version of Windows RT, due in the second half of this year, before deciding whether to release a tablet that runs on that OS.
"The plan for an RT tablet is ongoing," said Acer President Jim Wong in an interview Friday at a company event in New York.
The company planned to release a Windows RT tablet in the second quarter, but has decided to hold off for now.
"To be honest, there's no value doing the current version of RT," Wong said.
So far, Windows RT tablet sales have been poor, and Acer is focusing on Windows 8 and Android tablets and hybrid devices. The company introduced a $169 Android tablet called Iconia A1 and two Aspire hybrid touch devices running Windows 8 at the event.
The company has been focused on more high-priced products in the last year, but there is a market opportunity with the low-cost A1 and the tablet will set the tone for products coming up, Acer executives said.
"There are still users looking for more versatile products," Wong said in the interview. "We are trying to balance."
The company feels that the outlook for Windows 8 is strong, and Wong said that sales of devices with the OS will be better in the second half than the first half of this year. The company is expecting 25 percent of its tablet business to come from Windows 8, Wong said.
The market for Windows 8 is settling down after a rough start, he said. The launch was not ideal and the Surface tablet created some distraction, but Microsoft is now doing a good job of supporting its partners and explaining the touch-usage model to customers, Wong said.
Acer problems
Acer has had some supply chain issues in the last few years, but Wong said those have been resolved. The business strategy now includes a stronger worldwide distribution channel for its PCs, mobile and hybrid devices, he added. The company peaked as the world's second-largest PC maker in the third quarter of 2009, partly due to netbooks.
But Acer fell behind with the emergence of tablets and smartphones as alternative computing devices. The company, now the world's fourth-largest PC maker, is retooling operations to expand in growing markets.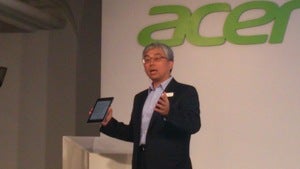 While the company will continue to offer PCs, a major focus will be on hybrids, Wong said. Acer set that tone at the event, showing hybrids, including a laptop with a screen that can be used separately as a tablet.
Acer wants to be at the top of the innovation curve, Wong said, adding that Windows 8 will be an important part of that.
"We believe Windows 8 has some more chances. That's why we continue to invest in Windows 8 tablets," Wong said.