Users of Android, Chrome OS, Linux, and iOS devices may not realize it, but FreeType open source software is used to render fonts on more than a billion such devices. Not only that, but the FreeType project this week got a significant update from none other than Adobe and Google.

Specifically, Google and Adobe on Wednesday released into beta the Adobe CFF engine, an advanced Compact Font Format (CFF) rasterizer that "paves the way for FreeType-based platforms to provide users with richer and more beautiful reading experiences," as Google put it in an online announcement on the Google Open Source Blog.
The new rasterizer is now included in FreeType version 2.4.12. Though it's currently off by default, the technology is "vastly superior" to the old CFF engine and will replace it in the next FreeType release, the project says.
'Very high quality display'
CFF is a descendant of the PostScript font format developed by Adobe. CFF fonts have been popular on the desktop over the last decade, but TrueType, developed by Apple, has typically dominated the Web and mobile devices.
"This reflects the legacy of low-resolution monochrome displays, an area where 'superhinted' TrueType fonts could produce better results," Adobe explained in a blog post.
"Hinting" refers to the adjustment in the display of an outline font so that it lines up with a rasterized grid.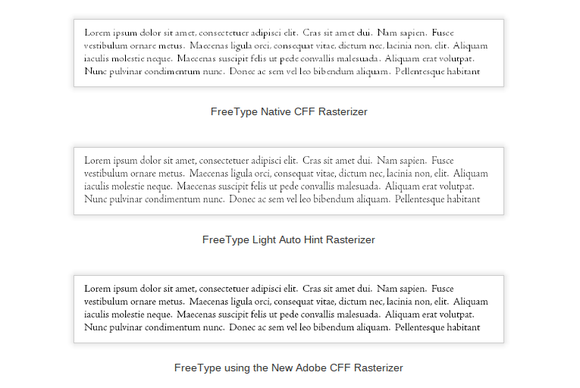 In any case, with the addition of high-quality CFF font support, mobile developers now will have more fonts to choose from. CFF offers a smaller file as well as a method of hinting that "ensures excellent rendering across a wide range of environments and devices," Adobe added.
More faithful to typeface design
CFF fonts are "capable of very high quality display, but the technology places the burden for this display quality on the text rasterizer instead of on the font as is done in TrueType," Google engineers Stuart Gill and Brian Stell explained. "The new Adobe CFF engine brings that high quality rasterizer support to FreeType."
In fact, the new Adobe CFF engine is also considerably more faithful to typeface design, Google added. Among the improvements included are better stem widths and placement, fewer dropouts, dramatic reduction in the 'blobbiness' of Chinese, Japanese, and Korean, and more even visual weight.
The code is now in "mature" beta and available for testing, according to the Git announcement.
'Easier to read'
Users of devices that incorporate the new version of FreeType will now be able to enjoy the same font rendering experience for CFF fonts that they have had for years on Windows and OS X, Adobe noted.
Indeed, "while all of this may sound somewhat technical, the advantages are not, and will benefit technical and non-technical users alike," Google added, "These improvements lead to more beautiful looking text that is easier to read."
The new beta is available for download from the Git repository.