Mere days after the Skype announced plans to integrate video calling with the Outlook.com web service, Viber has delivered a counterpunch with a new desktop app that lets you make free calls from Mac or Windows PCs, including video calls—a new option for the popular, previously mobile-only service.
If you decide to give Viber a whirl, you'll have plenty of people to talk to. Viber's desktop programs were released to celebrate the 200 million user milestone. The company also released updated Android and iOS apps, which, like the desktop clients, are dubbed Viber 3.0.
New competition for entrenched services like Skype is great, but for the moment the Microsoft-owned communications platform has little to worry about from its upstart video chat rival.
Hands-on with Viber
Activating Viber for Windows was just as easy as using the smartphone version—as long as you're a current Viber user. You simply enter your mobile phone number into the desktop app, and then submit an access code you receive on your smartphone. A few moments later your Viber contacts will appear on your desktop.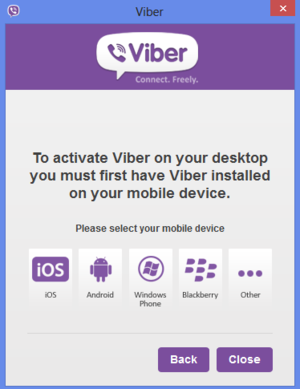 If you don't have Viber on your phone and try to install the service on your PC, the app will redirect you to its website and ask you to install Viber on your phone first.
Once installed, you can use Viber for PCs to make voice calls to other Viber users, send a text message, share a photo, or make a video call—a beta feature available only for PCs.
Viber 3.0 also lets you transfer calls between mobile devices and the desktop. If you start chatting with a friend using your Windows laptop, you can quickly switch to Viber on your smartphone or vice versa. The problem is both users need to have Viber 3.0 for call transfers to work, so you may have to wait for your friends to update their apps before you can use this feature.
This also means calls transfers won't work for Windows Phone or BlackBerry users at the moment, as those platforms haven't received the Viber 3.0 update yet.
Viber performance
Call quality has always been pretty good with Viber, and the desktop app brings that same experience to PCs in my tests on a Lenovo ThinkPad X220 running Windows 8. Video calling was fine too, offering about the same image quality as Skype.
PCWorld senior writer Brad Chacos, who helped me test Viber using a Lenovo ThinkPad Twist running Windows 8, reported a slightly poorer video image than I was seeing. When I switched from desktop to a Nexus One running Android 2.3, he also said the voice quality dropped noticeably, though it was still completely intelligible.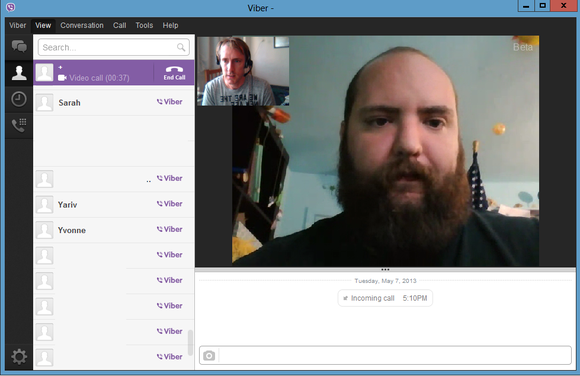 Right now, the desktop app is pretty barebones and relies heavily on the mobile side of the service. You can only make voice calls to other Viber users, while the smartphone app can route regular phone calls through your mobile carrier's network. Skype, by comparison, has a paid service that lets you call landlines and mobile phones in many countries around the world.
Viber also doesn't have an option to add contacts via the desktop app. Instead, it relies on your contacts from your smartphone that are synced with Viber's servers.
While Viber's new desktop app is a great addition for existing users, the pain of having to set-up Viber on your mobile phone before using the desktop app make it a tough sell for newbies. The limited feature set of Viber's desktop app also calls into question whether there's much room for Viber in a space already dominated by Skype and Google Talk. That said, Viber's ability to switch live calls between devices is a nice feature that Skype doesn't have and could make Viber an attractive choice for some.
Our recommendation? Give Viber's desktop app a whirl if you're already a heavy user of the service, but everyone else should stick to its big-name rivals. Skype and Google Talk's desktop experiences are far more robust than Viber's fledgling offering.
PCWorld senior writer Brad Chacos contributed to this report.