Don't give up hope just yet, all ye desktop faithful.
While news of 100 million Windows 8 licenses sold may make Microsoft seem less likely to implement any backward-looking changes into its divisive new operating system, comments from Windows honcho Tami Reller in a series of interviews hint at a resurgence for the ol' keyboard-and-mouse-friendly interface.
Doing the desktop boogie
"We started talking about the desktop as an app," Reller told the New York Times. "But in reality, for PC buyers, the desktop is important."
Indeed it is—witness the torrent of reaction to PCWorld's explainer on banishing the Metro interface from your life if you doubt that users still love the traditional desktop. Reller told the Times that Microsoft is doubling down on sales training to push the value of the desktop in Windows 8, but reports suggest Windows Blue will add an option to boot to the desktop, allowing users to bypass the modern-style Start screen completely.
A boot-to-desktop option would help make Windows 8 easier for non-technical users stymied by the OS's multiple, less-than-friendly interface change —and streamlining the user experience is a major goal for Windows Blue, Reller says.
Start it up
"The learning curve [of Windows 8] is absolutely real, given the level of change," she told ABC News. "We can do work to address that. We see a lot of where customers could use some more help from us."
One area that leaves casual users baffled when they're introduced to Windows 8 is the complete lack of a Start button, especially if they're using a keyboard and mouse. While many of Windows 8's gesture commands are fairly intuitive on a touchscreen device, the OS's "hot corner" concept isn't nearly as intuitive. (In fact, the first time my wife used Windows 8 with a keyboard and mouse she ended up stuck on the desktop, even though she'd used several Windows 8 tablets and hybrids previously.)
Microsoft acknowledges the complaints.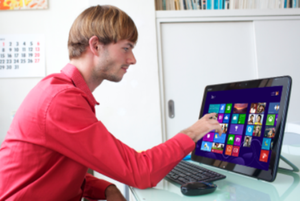 "We have heard the feedback on that, and it's one of many pieces of feedback we have listened to with an open mind," Reller went on to tell ABC News. She also told the Times that while touchscreen users are as satisfied with Windows 8 as they were with Windows 7, based on usage data, Microsoft needs to help traditional mouse jockeys learn the OS faster.
"We feel good that we've listened and looked at all of the customer feedback. We are being principled, not stubborn," Reller said when Mary Jo Foley at ZDNet pressed her about the Start button.
At the Wired Business Conference, fellow Microsoft co-chief Julie Larson-Green also hinted a Start button may be inbound, the Verge reports. "The button might be helpful to have on the screen for some people," she said. "…There has been meaningful discussion [about the Start button within Microsoft]."
The (potential) Start button in Windows Blue might not look or act like the Start button you're used to, however.
A recent report claimed that Windows Blue builds containing a returned Start button are indeed making the rounds, but the button doesn't open a Start menu as it did in past Windows iterations. Instead, it drops users on the modern-style Start screen.
It seems cruel, but if true, a Start button that behaves that way might not be as bad as it sounds. An All Apps button has appeared in the lower left corner of recent Windows Blue leaked builds; clicking it takes you to Windows 8's superb All Apps interface, which basically acts like a beefed-up, full-screen Start menu. (I actually prefer it to the traditional Start menu.)
If that duo of improvements indeed make their way to Windows Blue, the tandem would basically behave the same way as the traditional Start menu—but like so many Windows 8 tweaks, it would take an additional button clicked compared to the long-standing methods.
#compromises
"All [improvement] ideas that have percolated through the mainstream press are things that have been considered [for Windows Blue]," Reller told The Next Web.
That means something. Microsoft may be promoting Windows 8 under the #nocompromises hashtag, but falling back into the good graces of desktop diehards will require some give-and-take.
Here's the thing, though: Compromise is a two-way street. While Microsoft may be open to nipping and tucking its new-look operating system to please traditional old-look desktop users, the Windows of the future will never again look exactly like the Windows of the past.
"Blue advances the Windows 8 vision," Reller told ZDNet. "It's all about mobile, touch, apps, the new dev platform, and a highly personalized personal experience."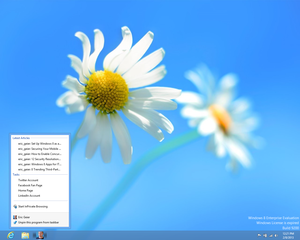 It's sad, but it's true: The desktop itself is indeed a legacy app at this point. But as long as Microsoft continues to support it with the same tenacity that the company has always supported legacy apps—and Reller's comments today indicate that improving the desktop experience is a key focus for Windows Blue—that's not necessarily a bad thing.
Heck, with a few well-placed tweaks, Microsoft may just be able to have its cake and eat it too with Windows Blue. I could certainly offer a few suggestions.
Updated with comments from Julie Larson-Green