I'm all in with Microsoft. I've got Windows 8 running on my primary work machine, I subscribe to Office 365 Home Premium , and I use almost every online consumer service that the company offers.
So when it comes time to create a document using Web apps, there is of course only one choice: Google Docs.
Despite Microsoft's wide array of great software, Office Web Apps simply aren't good enough to trust with critical documents. That may change in the next year.
(Office Web Apps is made up of Word, PowerPoint, Excel and OneNote, as part of Microsoft's SkyDrive cloud storage service for consumers. It's also included with Office 365, the broader email and collaboration suite that has free and fee-based editions.)
Microsoft recently said it plans to roll out new features to Office Web Apps that would allow you to "create polished Office documents from start to finish, all from the Web."
New features planned for Office include real-time document co-authoring, faster launch times for apps, improved file management, and Chrome for Android support.
It's great to see Microsoft making Office for the Web into a more full-featured version, especially while we wait for rumored Office apps for Android and iOS. Before Microsoft straps on a bunch of new features to its online Office suite, however, the company needs to make some improvements to the current version first.
Here are a few suggestions, with an admitted bias towards Word.
Auto-save for Word Documents
Thanks for the flashback to Office 2003, Microsoft, but the Word Web app would be better with an auto-save feature instead of a document recovery feature that works only half the time.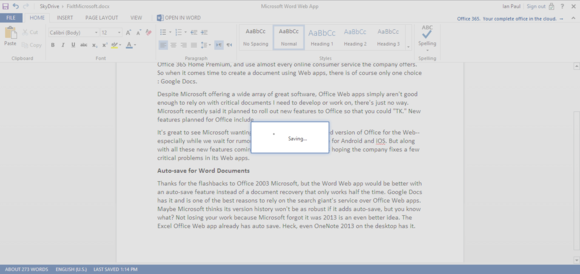 Google Docs has auto-save and is one of the best reasons to rely on the search giant's service over Office Web apps. The Excel Office Web app already has auto-save. Even OneNote 2013 on the desktop has it, why isn't this in the Word Web app?
Fix the connection problems
Has this ever happened to you? You're typing up a document in Word when suddenly you get a notification that the spell checker is down.
Even worse, sometimes Word documents won't save because there's a problem connecting to Microsoft's servers.
Google Docs in my experience rarely has connectivity issues, but when it does it's not a huge deal. You know why? That's right, auto-save.
Don't be so stingy with new lines
When you get towards the end of a document in the Word Web app, Microsoft gets really stingy about creating new lines. That means after typing about 300 words, you're stuck in the bottom area of your PC's display as Word doles out a few new lines at a time.
After a few minutes of more or less staring down at your taskbar, you end up straining your neck. Yes, you can hit return a bunch of times to create new lines and then scroll back, but that's a hack, not a solution.
Google Docs does not have this issue. After you get close to the bottom of your display, Google Docs adds a new page and automatically scrolls you up a bit, but not so much that you lose your place. If you want to get closer to the center of the doc, all you have to do is scroll the browser page a little more.
Ribbon collapse: go big or go home
The Office Web apps let you maximize your workspace by collapsing the Office Ribbon into a simplified menu, just like on the desktop.
Unless you're a longtime Office user, you'll miss out on this benefit since the collapse button is a tiny little arrow in the far right-hand corner of the screen. This should be bigger and more prominent so it's easier to find.
Right-click for SkyDrive
Admittedly, this is a small gripe, but it's the little details that make the difference between a good application and a great one.
So what's the problem? There's no easy way to open a new SkyDrive tab when you're inside a Web app. Sometimes you might have data in a different document you need to check out in another tab. Right now, if you want to go back to SkyDrive you have to open a new tab and navigate to the site.
But why? There's a little clickable SkyDrive link in the top-left corner of every document right next to the file name. For some strange reason, however, the right-click function to open the link in a new tab is disabled. That's just silly.
For the most part Office on the Web works fairly well. I even created this article using the online suite without losing any of my work, a not-so-frequent occurrence.
Microsoft's three-year old Office Web Apps could be great, especially with handy features like the ability to open your document on the desktop with just one click. For now, however, I'm sticking with Google Docs.