At a Glance
Expert's Rating
Pros
Free
Nice layout
Easy to use
Cons
Contact features didn't work
Our Verdict
SynciOS is a free application that gives you much more control over your iOS device than iTunes does.
I recently tried Wondershare's MobileGo for iOS, a handy tool for managing your iOS devices from your PC. MobileGo for iOS gives you a lot of freedom over your iOS device—something noticeably lacking when you use iTunes. I liked it a lot, but was admittedly turned off by its $40 price tag. That's why I'm so fond of SynciOS, an application that does a whole lot of what MobileGo can do, and does it for free.
SynciOS 1.0.6 automatically recognizes your iPad, iPhone, or iPod when it's connected to your PC. It displays a host of information about the device, including its battery status, whether or not is jailbroken (it works with both kinds of devices), and even your estimated contract expiration date. Like older versions of iTunes, SynciOS uses a column on the left of the screen to let you navigate through the application and a connected device, while displaying more information in the main screen. (The latest version of iTunes eschews this layout in favor of what Apple calls a "simplified view," but I actually find that harder to navigate.)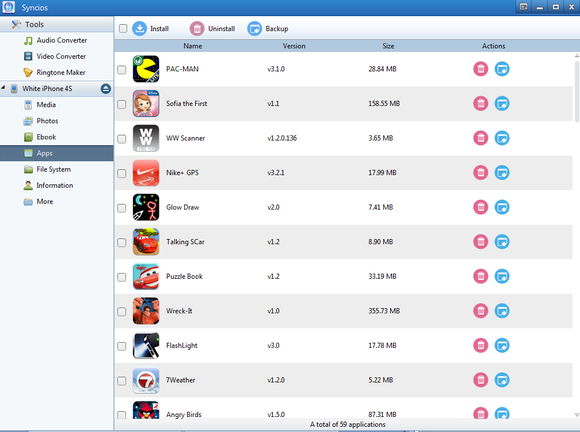 From the column on the left you can peruse your device's media (audio and video), photos, ebooks, apps, contact and calling information, and its file system. You can easily transfer content from the iPhone or iPad to your computer, and vice versa. While iTunes makes it easy to transfer songs and videos from your PC to your iPad, transferring photos isn't as easy. SynciOS, like MobileGo, handles this task easily.
You can create an album on your iOS device, load it with photos from your computer, and sync it in seconds. Also simple is transferring content that's not in a compatible format: SynciOS recognizes this content and converts it for you, making it easy to get all the songs and videos you want on your iOS device.
SynciOS stumbles a bit as a contact manager, though. It has an option for managing contacts, but recognized none of the hundreds of contacts I have stored on my iPhone. This is an area where MobileGo excels, as it allows you to sync and de-dupe contact lists. Like MobileGo, SynciOS does allow you to view text message threads on your computer, though it would be more helpful to see the phone numbers associated with contacts.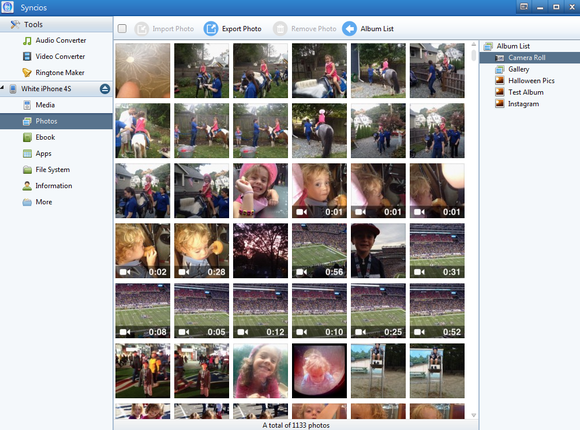 SynciOS does offer better handling of apps than MobileGo, however, as it allows you to see a complete list of all the apps installed on your iPhone or iPad. It lists the version number and size, and includes options for uninstalling and backing up any of the titles.
SynciOS is not a replacement for iTunes, as it can't update your iOS software or offer you access to a built-on App Store. But it's not meant to be: SynciOS requires that you have iTunes installed. And it can't compare with MobileGo for iOS for contact management. But in all other aspects—especially price—this free application is the iOS manager to beat.
Note: The Download button will download the software to your system.