Norway's Crown Prince Haakon and Princess Mette-Marit tried touchless gesturing systems and other technologies developed by Norwegian startups at a tech incubator in Palo Alto on Wednesday afternoon .
The royal couple stopped at Innovation House and met Norwegian startups trying to make it big in Silicon Valley as part of their tour of the region, which winds up on Thursday.
The facility, in the heart of downtown Palo Alto, is run by government trade promotion unit Innovation Norway and is intended to provide an easy way for Norwegian companies to enter the U.S. market, allowing them to avoid all the hassles related to setting up an office, and immediately get down to business. The center also tries to facilitate business for them.
It was opened in 2011 by Prince Haakon, although he did it at the time through a virtual ribbon cutting on Twitter.
On Wednesday, the royal couple tried and experienced a couple of the projects from the startups including the touchless gesturing system for tablet computers from Elliptic Labs. Unlike competing systems that use a camera, the Elliptic system is based on ultra sound and claims higher accuracy and the ability to work in all lighting conditions.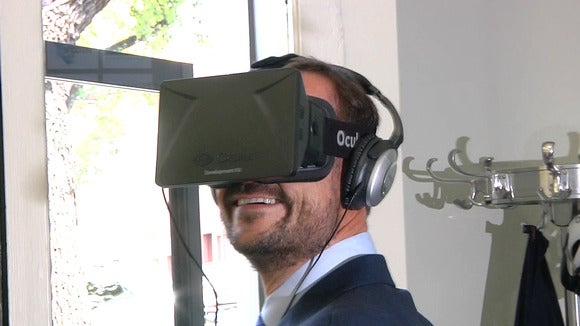 The prince also tried out a virtual reality system from Making View. The company has developed a camera that can shoot video in 360 degrees. When viewed with a pair of virtual reality goggles, the video gives the user the feeling of being there—it's something like a video version of Google's Street View.
Coming to the U.S. makes good business sense for the startups and they all credited the government-backed Innovation House with making it easier.
"Back in Norway we have a lot of attention for start-ups dealing with the oil and gas industry, but for companies dealing with tech it's a little bit more difficult to get funded through VCs [venture capitalists] and business angels," said Making View CEO Are Vindfallet. That's a big reason he came to Silicon Valley, and indeed has found it much easier to meet with venture capitalists and other potential partners from the Palo Alto base.
Bipper is a startup that's developed a mobile app called bSafe to help people in trouble. Once programmed with contact details for friends and family members, it can despatch a message for help at the press of a button, also recording and sending a GPS location, video and audio.
Silje Vallestad, founder and CEO of Bipper, said the center saved her the trouble and difficulty of setting up an office when she first moved here.
The U.S. is an attractive target for a company like hers because, while it's smaller in population than the European Union, it's easier to reach in a single language, she said.
In eight months, her company has grown to four employees and could soon be graduating from the space, which would make it one of almost 30 companies that has graduated from the space.
Other companies present at the event included AIMS Innovation, which has a real-time monitoring tool for Microsoft BizTalk, Shipping Cluster, which has developed a vessel performance dashboard for ship owners, WeWantToKnow.com, that teaches kids algebra through a game, Changetech, which uses psychology and neuroscience to help change personal habits through an app, HighSoft Solutions, which is a tool to create interactive charts online, and online list making tool Listnerd.com