The times, they are a-changin'—but a new Google timelapse project shows just how much the world's geography is a-changin' too, based on nearly 30 years of satellite imagery.
You can see the expansion of the Dubai coast with in-sea development in the past decades, the Saudi Arabia irrigation process, or the Las Vegas urban growth for a view of how we are changing the planet. More strikingly, see the Brazilian Amazon deforestation process, the Columbia Glacier retreat or the Lake Urmia in Iran drying up. All of them are available from Google's Timelapse website.
The timelapses are built from millions of images collected by the Landsat satellites since the 1970s, as part of an ongoing joint mission between the U.S. Geological Survey and NASA. Google began processing the images in 2009.
Making the imagery available online was no small feat. First, the images had to be digitized from tape drives sent back to Earth. Then, Google used its Earth Engine technology to sift through more than 2 million images to find the best images for every year since 1984—for every spot on Earth.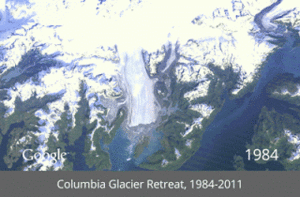 Clouds, smoke and other artifacts had to be digitally removed and the images were compiled into planetary images for each year, at around 1.78 terapixels each. With Google's computer muscle power, the images were then upgraded from choppy sequences to video-like footage for the Web.
Rebecca Moore, Engineering Manager, Google Earth Engine & Earth Outreach, said in a blog post: "Much like the iconic image of Earth from the Apollo 17 mission—which had a profound effect on many of us—this time-lapse map is not only fascinating to explore, but we also hope it can inform the global community's thinking about how we live on our planet and the policies that will guide us in the future."
The project has already received interest from the government of Mexico, who asked Google to put together a map that can reveal how much forest has been lost in the past few decades.
In a long-form feature on the project, Time magazine detailed that Google was quite quick to rise to Mexico's challenge and put a thousand computers to work simultaneously to complete the job in one long workday—something that would have taken a regular computer more than three years to do.