At a Glance
Expert's Rating
Pros
Easy to use
Automates the slideshow process
Cons
No absolutely plain template
Our Verdict
Fantashow offers an easy way to create a slideshow composed of photos and video clips, but even its plainest design options add some effects.
Plenty of applications help you show off your photos, and plenty help you show off your videos. But too few tools exist that allows you to show them off together. Enter Fantashow Pro, a $50-per-year (or $5-per-month) application allows you to combine still photos with videos to create a custom video slideshow.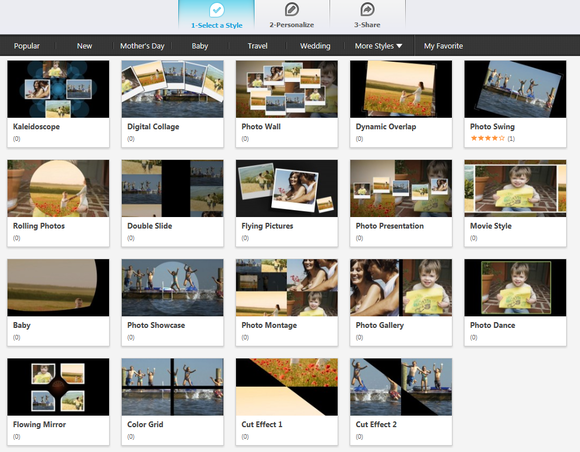 I like that Fantashow offers some advanced features, such as the ability to convert unsupported audio and video files and the option to change the transition times between photos. And I like that the latest version adds a much-needed feature: plain templates for users who don't want or need a lot of animation in their slideshow background.
In some ways, Fantashow is very similar to Wondershare's excellent DVD Slideshow Builder Deluxe. That program allows you to create a video slideshow from still photos, complete with your own music soundtrack, opening and closing credits, and (if you want them) animated themes.
What's nice about DVD Slideshow Builder Deluxe is that it offers two modes: Standard and Advanced. Standard lets you add a background template to your slideshow, while Advanced lets you create a more customizable slideshow, free of background templates. Fantashow could benefit from this type of option.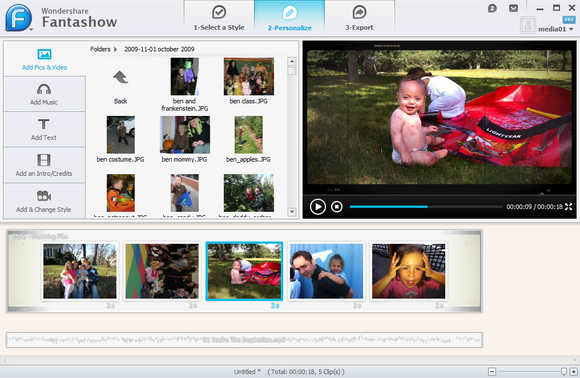 As it stands with Fantashow, you're required to select a template before you can begin to create your video slideshow. Fantashow does include dozens of template options, most of which tend to be a bit cutesy: Think animated hearts and virtual scrapbooks. A few simpler templates are available—and many of the animated themes are attractive—and the latest version adds several plain templates.
Still, these plain options are templates, and each one adds some effects to your video slideshow, whether it's transitions that slice photos in half, or a photo that bounces into place on your screen. These templates are plain enough to satisfy most personal users, but business users looking to create a corporate-looking slideshow will be disappointed that there isn't a simple option to not select a theme.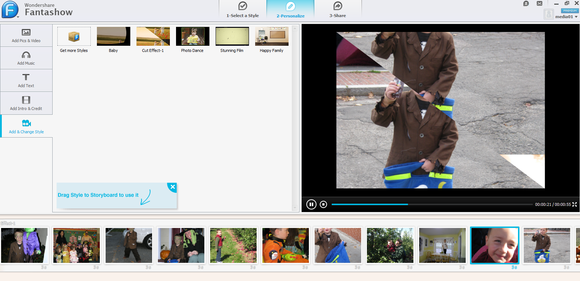 Adding photos and videos to your slideshow is a cinch, though, and I like how Fantashow converts any video files to the right format before letting you add them to the slideshow. The attractive interface makes it easy to preview your photos and videos before adding them to your slideshow, and a ribbon view of your slideshow along the bottom of the screen lets you see the photos and videos you've added in the order they'll appear in the slideshow.
Fantashow offers a decent amount of customization options, including the ability to add a voice over to certain photos, the ability to adjust the time each photo is displayed, and the ability to add some cool effects, such as a sketch-like design to photos. It also includes basic editing tools that let you crop or rotate your photos. All of these are simple enough so as not to overwhelm even those new to photo tools.
Once your video slideshow is finished, you can export for viewing on a mobile device or DVD, or save it to a PC-friendly format for sharing and viewing on your computer. Wondershare handles the conversion for you, and allows you to choose between standard and high definition. If you're using the free Lite version of Fantashow, all videos that you output will be branded with a watermark.

Wondershare's Fantashow has a lot to like, as too few slideshow programs let you combine videos and photos in one finished product. It's also attractively designed and works very well.
Note: The Download button will download the software to your system.