At a Glance
Expert's Rating
Pros
Very high-resolution touchscreen
Thin, light, and extremely quiet
Rigid lower chassis
Cons
No DisplayPort
Flimsy lid
Disappointing contrast in the display
Wi-Fi adapter doesn't support 5GHz networks
Our Verdict
The Kirabook looks the part of a luxury laptop, and it's the first Ultrabook to compete with Apple's Retina lineup. But Toshiba made some disappointing decisions on the way to a $2000 price tag.
Best Prices Today: Kirabook i7 Touchscreen
Toshiba's luxurious Kirabook is the first Windows laptop to feature a display rivaling Apple's Retina technology. The Kirabook is also thinner and much lighter than Apple's MacBook Pro, and it's outfitted with a touchscreen. While I wish I could report that Toshiba has crafted a masterpiece that fully justifies its $2000 price tag, this machine suffers from a couple of significant flaws.
With a native resolution of 2560 by 1440 pixels, the Kirabook's 13.3-inch display delivers a pixel density of 221 pixels per inch—just shy of the 227 ppi that Apple packs into the 13-inch MacBook Pro's 2560-by-1600-pixel display. If you think Apple's computers are overpriced, consider the fact that a 13-inch MacBook Pro with a 3.0GHz Intel Core i7-3540M processor sells for $100 less than the Kirabook, which runs on a 2.0GHz Intel Core i7-3537U CPU. Apple, however, doesn't currently offer any full-blown computers with touchscreens (the iPad doesn't count).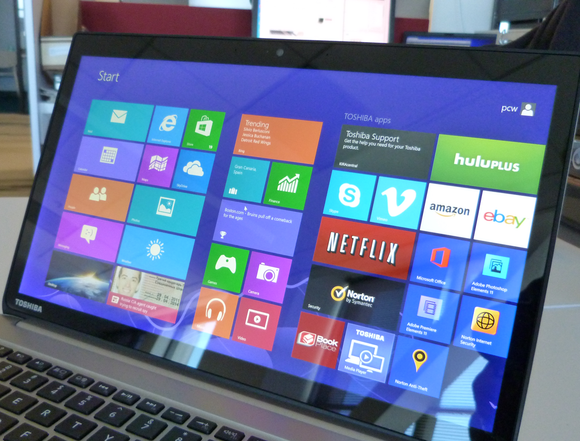 Clock speeds aren't everything, of course. The processor that Toshiba picked boasts a TDP (thermal design power) of just 17 watts, versus the 35-watt TDP of the chip that Apple uses. (Thermal design power refers to the maximum amount of power that a computer's cooling system must dissipate. A lower TDP is desirable for a mobile computer, because it improves battery life. In our test, the Kirabook's battery lasted an impressive 5 hours, 14 minutes.) The Kirabook's other key components include 8GB of DDR3-1600 memory and a 256GB solid-state drive. I'll get into the Kirabook's performance in depth later.
Photos, movies, and documents look gorgeous on the Kirabook's display. But when I compared the Kirabook to a 13-inch MacBook Pro with Retina display (Apple doesn't offer its high-res display on its thinner, lighter MacBook Air line), I found that Apple's product delivered far better contrast. Both machines rely on the Intel HD 4000 GPU core integrated into the CPU, so I don't know whether the Kirabook's problem is due to Toshiba's choice of Corning Concore glass (which is specifically formulated for touchscreens) or due to the fingerprint-resistant coating on the glass. Whatever the reason, it was no contest: The Retina display produced much deeper blacks.

Why no super high-res on the big screen?
Toshiba's touchscreen is very responsive, and since it supports ten touch points it accepts all Windows 8 gestures. But Toshiba made a serious mistake by outfitting the Kirabook with only an HDMI video output. If you connect the notebook to a big-screen monitor, the maximum resolution you'll get is 1920 by 1080 pixels. Had the laptop's designers specified DisplayPort, the Kirabook would have been able to drive a 27-inch display at its native resolution. I get it: HDMI is the most common digital video input on modern TVs and video projectors. But DisplayPort-to-HDMI adapters are dirt cheap and easy to carry. Limiting the Kirabook to HDMI-out cripples the system for desktop use.
Toshiba is rightfully proud of the rigidity of the Kirabook's magnesium-alloy chassis, but the lid housing its display flexes enough to do the limbo. It feels alarmingly fragile. The other half, which encloses the keyboard and motherboard, feels remarkably strong considering how thin it is. The machine weighs only 2.97 pounds, and it measures just 0.7 inch thick when closed. The Kirabook is one of the prettiest laptops I've seen, with nary a hard edge to be felt. Unsightly features such as cooling vents and speaker grilles stay hidden while this Ultrabook is in use.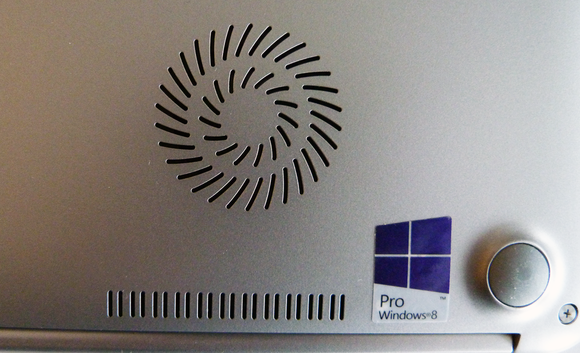 The Kirabook's backlit keyboard offers very good tactile feedback, and its monolithic touchpad—which also supports Windows 8 gestures—tracks smoothly and accurately. The left and right mouse buttons are integrated into the touchpad itself, helping to keep the overall design clean and elegant.
In addition to HDMI-out, the Kirabook has three USB 3.0 ports, a media card reader, and a combo microphone/headphone jack. It lacks a hardwired ethernet port, however. Exacerbating that problem is Toshiba's decision to use Intel's Centrino Wireless-N 2230 Wi-Fi adapter, which is limited to networks operating on the crowded 2.4GHz frequency band. Come on, Toshiba, this is supposed to be a luxury offering!
As you've probably guessed, the machine has no optical drive. The combination of custom-designed Harman/Kardon speakers and DTS Sound Studio audio software deliver relatively full-range sound and a wide stereo field. The listening experience was much better than I expected considering that the speakers are located on the bottom left and right of the unit.

Benchmark performance
The Kirabook achieved a Notebook WorldBench 8.1 score of 284, versus the 100-point score of our reference notebook, Asus's VivoBook S550CA. Much of that performance delta can be attributed to the Kirabook's SSD (the VivoBook has just a 24GB SSD acting as a cache for a 500GB mechanical hard drive). The Kirabook also delivered better performance in most of the other tests that make up the WorldBench suite, but those differences weren't nearly as dramatic as the storage-performance results. And you shouldn't expect to play hard-core games on either system, but that's clearly not the audience Toshiba is going after with this product.
The audience Toshiba is pursuing with the Kirabook is the well-to-do professional who is willing to pay extra for services such as dedicated, United States-based telephone tech support. Toshiba goes so far as to guarantee Kirabook buyers that such calls will be answered within 45 seconds. If that's inconvenient, you can schedule a date and time when a tech-support person will call you, instead. And should you need to send your unit in for repairs during its two-year warranty period, Toshiba will pay for overnight shipping.

The Kirabook is the most beautiful Ultrabook to pass through the PCWorld Labs, but its inability to drive a large external monitor at native resolution, a lid that flexes like a contortionist, a Wi-Fi adapter restricted to 2.4GHz networks, and a display that doesn't deliver as much contrast as the Retina display Toshiba wants consumers to compare it to make this machine's sky-high price tag hard to swallow.
Editor's note: This story was updated on May 23 to credit DTS for its contribution to the Kirabook's audio system.
Best Prices Today: Kirabook i7 Touchscreen