At a Glance
Expert's Rating
Pros
Immersive environment
Detailed vehicle interiors
Convincing physics
Cons
Trucking is an acquired taste
Our Verdict
A beautiful surprise, Euro Truck Simulator 2 takes an activity that seems mundane at first glance and turns it into a compelling challenge.
I never thought a truck-driving simulator could be fun, but Euro Truck Simulator 2 proved me wrong. There is something soothing in watching the world go by from the high and mighty cockpit of a Volvo FH16 Globetrotter XL. If you are used to more traditional racing games, getting used to the way trucks handle in the game may take some time. They really do feel like trucks: Slow to accelerate, jarringly fast to brake thanks to air brakes, ungainly to maneuver, and immensely powerful.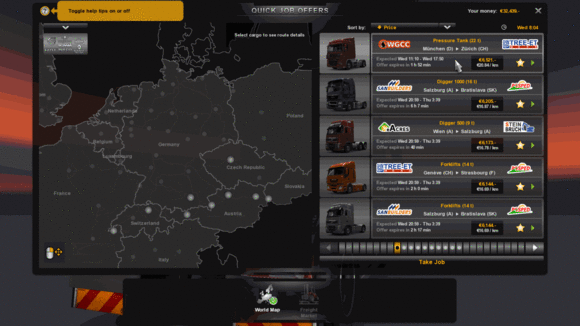 In this decidedly niche title, you find yourself in the driver's seat of a full-trailer truck, hauling freight across Europe. Vehicle interiors are painstakingly rendered, and countryside views are breathtaking. The climate and time of day change, so you could find yourself enjoying a balmy spring day in one ride, and trying to navigate under torrential rain in the middle of the night in the next.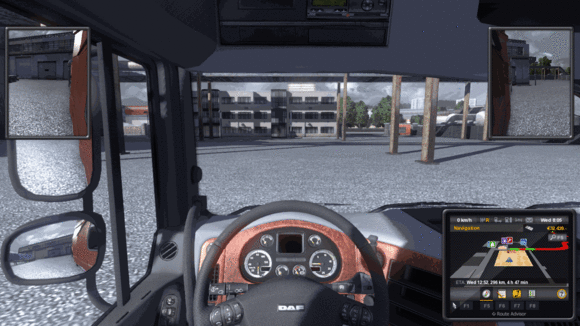 You start the game as a freelance driver for hire, taking on trucking jobs across the continent. From one job to the next, you gain experience, unlock abilities, and set aside a nice nest egg you can eventually use to buy a truck of your own and start a trucking company.
Euro truck simulator lets you customize the controls and decide just how much of the driving you want the game to do, and how much you want to handle on your own. Manually switching gears on a truck hauling 20 tons of ore while navigating through a massive open pit mine is no mean feat…which is why it's nice to have the game take care of that detail for you, at least as you're getting started.
Euro Truck Simulator 2's attention to detail, convincing physics, and striking visuals transcend its niche status. This is a game so well-made, it can make you a fan of the category just by virtue of its sheer quality alone. The demo's enough fun that you'll find yourself speeding to buy the full game for $40.
Note: The Download button takes you to the vendor's site, where you can download the latest version of the software.