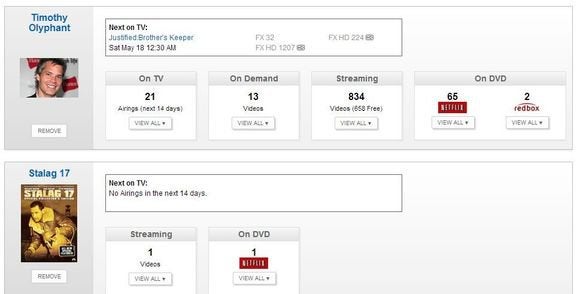 Recently, the conversation turned to POW movies, which inevitably got me talking about "Stalag 17," the classic that inspired the (inferior) TV series "Hogan's Heroes."
I hadn't seen the film in years, but now, with it at the forefront of my mind, I was dying for a screening. Indeed, I thought even my kids were old enough to enjoy it, what with its great blend of humor, mystery, and suspense.
Ah, but where could I find it? I needed to know if and when it might be showing on cable, or, failing that, where I could stream it.
First stop: The TV Guide Watchlist. After you sign up for a free account and specify your local TV provider, you can add any movie to immediately find out when and where it's available: TV, streaming, DVD, etc.
Good news/bad news on "Stalag 17": That dang movie wasn't airing anytime soon, and it wasn't available for streaming. But according to TV Guide, one source did have it: Comcast Xfinity. Hey, I'm a Comcast subscriber! Score!
The Watchlist also lets you add TV shows, sports teams, and celebrities, so you can get pretty granular about what you want to track. For example, like Timothy Olyphant (star of "Justified")? TV Guide will show you all the broadcast, on-demand, streaming, and DVD places you can check him out.
I really dig handy little services like this. TV Guide Watchlist is a great way to find airdates and Internet availability for whatever (or whoever) you want to watch.
Contributing Editor Rick Broida writes about business and consumer technology. Ask for help with your PC hassles at hasslefree@pcworld.com, or try the treasure trove of helpful folks in the PC World Community Forums. Sign up to have the Hassle-Free PC newsletter e-mailed to you each week.