Since it launched in late 2012, Microsoft has positioned its Surface tablet as a fun, hip alternative tablet, emphasizing its construction and form factor. That failed. So with its latest commercial, Microsoft has returned to its corporate roots: productivity.
Microsoft's latest Surface ad is oddly named—"Imagine"—but it's actually the most grounded of the Surface advertisements Microsoft has produced so far. And the real kicker of the ad, which begain airing last week, is the tagline: "Microsoft Surface. The tablet that runs Office." The key message is clear: OK, so we weren't really able to position the Surface as the bridge between work and play. Instead, let's get down to business.
Recall that, to date, Microsoft's Surface ads have been all sound and fury. Witness the "Movement" premier, followed by "Groove" as well as " Vibe." But what have they signified? Little. Microsoft has seemed inordinately proud of the rhythmic noises the Surfaces', er, surfaces make, as well as how easily the hardware opens, shuts, and snaps together. Every so often there's been a shot of the Start screen—look, Netflix! And is that a chart?—but, by and large, Microsoft's Surface strategy appears to be predicated on dancing its way into our hearts and briefcases.
And we all know how that's worked out.
Unlike Apple, which has consistently published its device sales numbers quarter after quarter, Microsoft hasn't. In its most recent earnings call, Microsoft vaguely referred to its plans to "expand" Surface into new geographies. In all, Microsoft has sold an estimated 1.5 million Surface tablets since its launch in October. Contrast that to Apple, which has sold 60.3 million iPads in the last two quarters.
When analyst Heather Bellini of Goldman Sachs asked Microsoft chief financial officer Peter Klein about expanding the OEM tablet market, Klein responded that the biggest thing Microsoft was doing was helping improve user experiences across the board, with different form factors and price points, and developing a compelling Windows 8 experience. "We are expanding both the product set and distribution, and that is broadly, all devices, inclusive of Surface," Klein said.
So Microsoft sees Surface as part of the broader Windows tablet ecosystem. Fine. But Windows 8 doesn't seem to be selling many tablets. Neither are Windows apps, as anemic as that market has been. But Office does have the power to stir user interest. In fact, the inclusion of Office arguably offsets some of the weakness Microsoft introduced with its subpar WIndows RT ecosystem.
Microsoft's strength: Office, not Windows 8
Sure, the Imagine ad doesn't necessarily show off the apps ecosystem either. In fact, the ad barely shows the Start screen at all, focusing immediately upon the productivity features that the Surface offers: Office. USB. "Imagine a tablet with a USB port. So you can click in, and do more," the ad offers. Plainspoken, basic, utilitarian.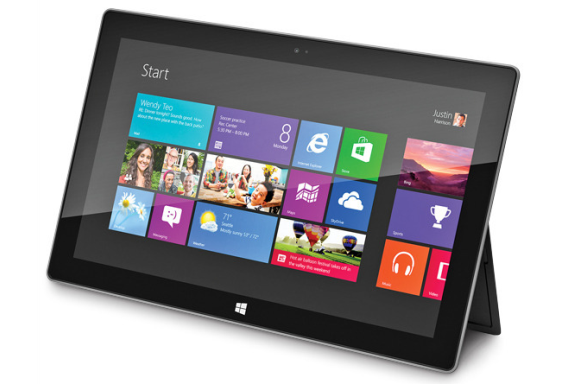 Wes Miller, an analyst with Directions on Microsoft, said that the new ad tries to get at what makes the Surface unique. "It is significant, because it is the first ad that really shows what Surface can do that the iPad cannot," Miller said. "Rather than 'dancing around' the Surface, I like that this ad actually tries to clarify the unique features of the device."
It's probably premature to suggest that Microsoft is abandoning the consumer PC market, and focusing Surface on business customers instead. But it will be worth watching whether subsequent campaigns head in this direction, suggesting a trend.
"I think it's important," said David Johnson, an analyst with Forrester Research. "[The ad] focuses on what differentiates the Surface as a tablet."
Johnson noted that the early, consumer-focused Surface campaigns were "skewered" by Microsoft's audience. "I think they should stop trying to be something they're not, and go back to being what they are," Johnson said.
If you believe reports from Forrester and others that claim that businesses and their workers prefer Windows 7 to Windows 8, then Microsoft Office is probably worth more as a selling point that Windows 8. Dell KACE, the division of Dell responsible for helping businesses with their OS transitions, reports that its customers are embracing Windows tablets, and doing so as supplementary machines. In the ad, Microsoft positions the Surface as a notebook with the size and form factor of a tablet. Office may not offer the sizzle that Windows 8 does—and Microsoft is probably betting that Office customers will like that just fine.