On the same day that HP had to admit to lackluster consumer PC sales, the company is announcing a new raft of consumer notebook computers. Touchscreens will be available even on a lower-end models, a key move for HP to stay on-trend.
The flashiest models are the Envy Touchsmart 15 and 17 Notebooks. Clad in shiny cases, both models will be available with touch or non-touch displays and 6-cell batteries. Laptop multimedia has its challenges, but HP's equipping these models with Beats Audio, four speakers, and a dual-drive subwoofer. Rock on.
The Envy 15 has a 15-inch Full HD touchscreen display. CPU choices will include Intel's new 4th-generation Core products or AMD's latest. Memory will start at 6GB of DDR3, and hard drives will start at 750GB, 5400-rpm models. It'll go on sale June 5th for $529 and up.
The Envy 17 has a massive, 17.3-inch Full HD display and a full numeric keypad. It will feature Intel's new 4th-generation Core CPUs (i5 to i7). In addition to the same memory and storage options as the Envy 15, the Envy 17 will also offer an optional DVD-RW or BluRay drive. On June 5th, it'll debut with a starting price of $699.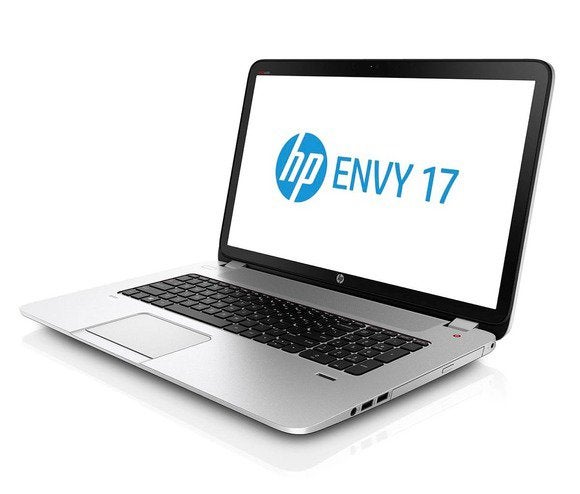 The Pavilion line of notebooks is being refreshed with the Pavilion 11 Touchsmart Notebook and Pavilion 14 Touchsmart Sleekbook.
When it starts shipping on June 26th, the Pavilion 11 Touchsmart Notebook will offer an 11.6-inch touchscreen laptop for a starting price of $399.
Also debuting on June 26th, the Pavilion 14 Touchsmart Sleekbook will feature AMD processors and start at $480.
Of course, it's going to take more than touchscreens to save the consumer PC market. Larger forces are at play than any one company can surmount. HP's recent announcements of Android tablets and hybrids show that it's hedging its bets on where the portable PC market will go, which is a good idea in this rapidly changing market.