My, how quickly the tables can turn in the fickle world of consumer technology.
When Microsoft's designers and engineers took to the drawing board to dream up Windows 8, the 9.7-inch iPad was the 800-pound gorilla of the tablet market, gobbling an insane amount of market share and laughing at Android's attempts to break Apple's stranglehold on slates. The future, it seemed, lay in big screens.
Then the Kindle Fire, the Nook tablet, and Google's Nexus 7 appeared. Consumers fell in love with smaller, cheaper tablets overnight, and on October 23, 2012, Apple capitulated to popular demand and released an iPad mini of its own.
Three days later, Microsoft released Windows 8 to the public. With a design optimized for 10-inch-plus displays, it was already behind the times.
Now, with Windows tablets struggling to catch consumers' attention, Microsoft is shifting gears. The company has already paved the way for smaller Windows tablets, and Windows co-chief Tami Reller promises that the impending Windows Blue update will pack even better support for 7- and 8-inch slates. Asus and Acer have hopped aboard the diminutive display bandwagon, where other manufacturers are bound to join them.
Prepare for the deluge!
But before the floodgates open, I have to ask: Are small screens really the cure for Microsoft's Windows tablet woes? Ehhhh…
Small screens, small price tag
Before we discuss anything else, we have to talk about price. Android is freely available to manufacturers (though many OEMs pay "don't sue me" royalties to Microsoft). On the other hand, Microsoft makes a big chunk of its money by selling Windows, and that includes selling Windows to manufacturers. Basically, Windows tablets will always cost more than a similarly spec'ed Android tablet.
That alone could be a killer for small-screen Windows tablets. Paying $380 for an 8-inch Windows tablet (the price of the leaked Acer Iconia W3) seems crazy when you can pick up a Nexus 7 for $200.
Microsoft may be willing to compromise on this issue, however. Several recent reports have claimed that Microsoft is offering manufacturers steep discounts on Windows licenses destined for use on touchscreen devices with screen sizes under 10.8 inches. Pricing for those specialized devices is said to be as low as $30 per license.
A Microsoft spokesperson told PCWorld that the company does not comment on OEM pricing, but some indications suggest that the discount is real. In early May, Asus CEO Jerry Shen went on record saying that his company plans to release a small Windows 8 tablet, and that he expects prices of sub-10-inch Windows tablets to drop below $300.
Carolina Milanesi, research VP of consumer devices at Gartner, says that a sub-$300 price is critical.
"I think 8-inch Windows RT tablets could be the right formula to appeal to consumers, but the price gap over Android cannot be too big," she told PCWorld via email. "$299 would be as high as I would go if I were the vendors, unless there were some clever bundles offered for tablets and smartphones."
Even at $300, Windows 8 tablets will have to offer genuine value to trump the $200 Nexus 7 and its ilk. How can it do that? One potential answer is to embrace the Windows 8 element that Microsoft seems most intent on forgetting.
Yes, I'm talking about the desktop.
Down on the desktop
That seemingly obvious answer carries some not-so-obvious caveats, however. While the energy-efficient features that Intel has been working into its chips—most notably its power-sipping Atom processors—make it technically possible to rock the Windows desktop in small-screen tablet form, would you really want to?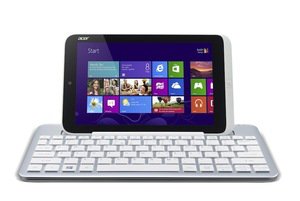 "Windows participation in [the 7- to 8-inch tablet] space is interesting, but I only think the desktop plays a factor here if manufacturers make it easy to connect a mouse, keyboard, and large display to dock with," says Patrick Moorhead, founder and principal analyst at Moor Insights and Strategy. "The desktop on a 7- to 8-inch form factor is the makings of a horrible experience."
Remember how the first Asus Eee PC packed an itty-bitty 7-inch display? There's a reason why netbooks quickly shifted to 10- to 12-inch displays: Trying to use the traditional desktop on such a small screen utterly sucks. Seriously. It's wretched. The text is waaaaaay too tiny to be useful, and trying to click buttons or navigate menus accurately is a nightmare.
And that was with the Eee PC's 800-by-480 pixel resolution. Today's more pixelicious displays would only exacerbate the issue.
Windows 8 lets you scale the size of desktop text to create a more acceptable experience, but it has some hiccups. The trickery does make text more readable, but it tends to blur the visuals in non-Microsoft websites and programs. On the Surface Pro—which ships with its desktop text scaled to 150 percent by default—many menus and controls are still just a bit too tiny to be finger-friendly.
Shufflin' spreadsheets on the small screen
Microsoft may have yet another ace up its small-screen sleeve: Office.
Some of the rumors about slashed license fees also included talk about reduced licensing costs for Microsoft Office on small touchscreen devices. Indeed, the leaked Iconia W3 appeared on Acer's Finnish website soon after its brief Amazon debut, and it came with Office Home & Student bundled. That's par for the course with Windows RT, but it has not been for Windows 8 proper.
Office, as it stands today—a desktop app—isn't a magic charm for increasing the attractiveness of mobile devices. If it were, Windows RT tablets would be jumping off the shelves. (They're not.) And Office's appeal drops even further on small screens with their smaller interfaces.
"Although Office is a nice thing to have, it is not enough of a differentiator," says Gartner's Milanesi.
The arrival of finger-friendly modern Office apps might make this particular carrot more enticing. If nothing else, it would make Office much more usable on a pint-size tablet, which brings up an interesting point.
Windows 8 isn't the perfect operating system for Microsoft's small-screen tablets. Windows RT is.
The Windows RT conundrum
Unfortunately, Windows RT is sucking wind. People ain't buying it and manufacturers ain't making it, even though Windows Store apps and large Live Tiles were created with tablets in mind.
Why is Microsoft's high-stakes throw of the dice coming up snake eyes? Possible causes include the ambitiousness of introducing a whole new interface, and some irritants that linger in the half-baked modern UI. But one problem is especially glaring: the severe dearth of apps.
Even though the Windows Store has more than 75,000 apps (according to MetroStore Scanner), its catalog has holes bigger than Ballmer's love for developers. Several prominent apps have yet to debut on Microsoft's new platform. Those woes, combined with the ready availability of the desktop, have apparently soured users on Windows apps. One recent study showed that most Windows 8 users rarely touch Microsoft's finger-friendly software.
That weakness, not screen size, is the major issue for Windows tablets. And it goes double for Windows RT tablets, which aren't compatible with desktop programs and thus depend entirely on the offerings in the Windows Store.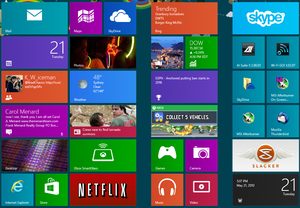 "The biggest thing holding back the Windows tablet market is a lack of premier and long-tail apps," says Moorhead. "It's almost been nine months since Windows 8 was launched and there is no Facebook, LinkedIn, Instagram, or Google+ app, and Windows 8 apps like Evernote are well below par. Small-form-factor Windows 8 tablets will help, but aren't the fix."
Gartner's Milanesi agrees that Windows 8's biggest problem is content.
"I think Microsoft needs to focus more on content—not Office—to appeal to consumers," she says. "At the end of the day, smaller-size tablets are all about consumption, not so much about creation of content. Adding books from their Barnes and Nobles relationship, along with games, music, and video from Xbox would be much more appealing."
Windows 8 on a small tablet? Meh. Windows RT, on the other hand, could shine on 7- to 8-inch slates—but only if Microsoft manages to fix the mistakes in the modern UI, enhance its app selection, and shake the death stench that's beginning to emanate from all things RT-related.
Too many compromises
While diminutive displays are all the rage these days and Microsoft needs to be in that space to "stay" competitive, the shift to small screens doesn't look like a panacea from where I'm standing. If anything, small Windows tablets will demand even more compromises than the other (already highly compromising) Windows 8 devices available today, because they'll subject users to the double trouble of a frustrating desktop experience and the desert known as the Windows Store.
Small tablets aren't the cure for Microsoft's Windows tablet woes. The answer is apps, plain and simple. More apps. Better apps. Appealing, high-quality apps that distinguish themselves from the Android and Apple horde.
Microsoft is doing all it can to woo developers to its new-look Windows, but the effort hasn't succeeded yet. Until it does—if it does—Windows tablets will never truly take off with consumers.
Windows hybrids, though… well, they're a whole 'nother story.