LG hasn't always been a fan favorite: For a long time the company was best known for its budget handsets that did little to stand out from the competition. In recent years, however, LG has earned a reputation for creating solid, reliable devices. The LG Optimus G Pro continues that string of successes, blowing away its nearest competitor in size and design, the Samsung Galaxy Note II, and rivaling the recent HTC One and Samsung Galaxy S4 as one of the best Android phones on the market. The G Pro runs like a sports car engine in the body of a family minivan—an unassuming aesthetic mixed with luxury performance. Provided you can fit it in your hand (a big caveat), this quick, flashy giant might very well be the phone for you.
Built for Goliath
At 5.9 by 3.0 by 0.4 inches the Optimus G Pro is larger than almost any other phone on the market. Like last year's Galaxy Note II, the G Pro packs 5.5 inches of screen real estate, straddling that fine line between tablet and phone.
On the other hand, the G Pro carries its size well. It's definitely overlarge (people with tiny hands, beware), but I found the G Pro surprisingly comfortable to operate. In addition to a volume rocker, the left spine of the handset features a quick-launch button that can be customized to open any app on the device—handy for accessing the camera or a browser. The G Pro is slightly slimmer than the Galaxy Note II, which helped it sit better in my average-size hands. You're also able to compress the keyboard closer to the left or right side if you really want to use the device one-handed.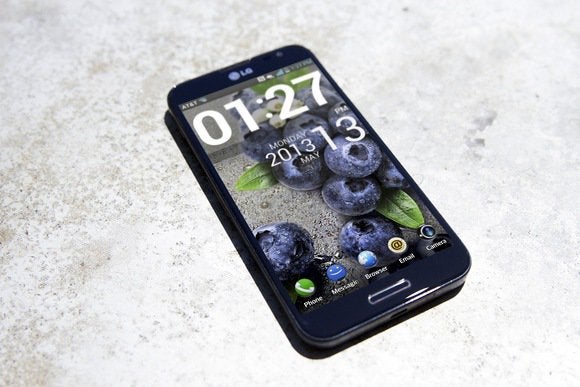 As for the screen, it's a beautiful behemoth running at 1920 by 1080 resolution, with a pixel density of 400 pixels per inch. That's a much higher resolution than what you get on the Galaxy Note II's 267 pixels per inch and 1280-by-720-resolution display, though the G Pro's density doesn't quite live up to what the HTC One and Galaxy S4 offer (both are 1920 by 1080 displays, with 469 and 441 pixels per inch, respectively). Unfortunately, this beautiful screen is housed in a cheap plastic exterior that relentlessly attracts smudges. The phone is by no means ugly—especially with the screen on—but it just doesn't stand out, as the lovingly-honed HTC One does.
Performs like a pro
Driving this enormous phone is the same basic architecture as the HTC One—a 1.7GHz quad-core Qualcomm Snapdragon 600 processor and 2GB of RAM. The G Pro feels quick and incredibly responsive. The phone handled everything I threw at it with ease, including bleeding-edge games and resource-intensive applications. The G Pro comes equipped with 23GB of usable storage out of the box, though you can always add more via a MicroSD card.
The phone's battery shouldn't have any problem handling an average day of use. However, the huge screen definitely chews into battery life during prolonged usage. If you're heavy on games or constantly checking Twitter, consider toting a charger on your outings.
One area where the Galaxy Note II bests the G Pro is in multitasking. Though LG touts the ability to view multiple apps on the G Pro, that feature is fairly limited: You can't view apps side by side but instead must rely on LG's QSlide feature to do more than one thing at a time. QSlide can launch one of four apps—calendar, notes, video, or calculator—above whatever's currently running. While the international version of QSlide includes a browser, that's not in the U.S. version. As a result, the G Pro's multitasking capability feels lopped off at the knees.
AT&T only
For some reason, LG made the baffling decision to lock the G Pro to AT&T, so keep that in mind if you're considering this device.
The G Pro's call quality leaves a bit to be desired. Noise sometimes crept into the outgoing voice, and the incoming audio sounded a little tinny (though plenty loud). The handset is also not very good at cutting out background noise—which is odd, since using speakerphone on the G Pro makes you sound incredibly distant even if you're only 6 inches away.
4G LTE reception was fast enough in our San Francisco office location to stream video and download apps over AT&T's network with ease (your results will vary depending on AT&T's coverage in your area).
13 is a lot of megapixels, but…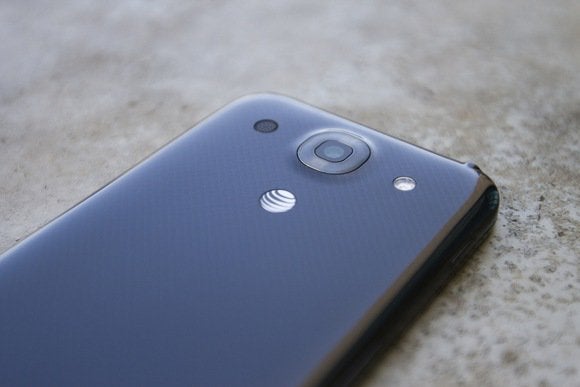 Even though it's packed with pixels, the 13-megapixel camera on the G Pro didn't meet our expectations. Images taken under normal conditions were significantly fuzzier than what we've seen from the similarly spec'd Samsung Galaxy S4. The G Pro's low-light performance was better than that of Samsung's offering, but overall the G Pro's camera performance was subpar.
The G Pro's camera app has a number of extras, including HDR (high dynamic range) and Panorama mode, both of which have their share of quirks. Panoramic shots look sharp at first glance, but lose clarity even faster than the G Pro's standard shooting mode once you begin zooming in. The HDR setting works well, but takes too long to shoot and process images for regular use.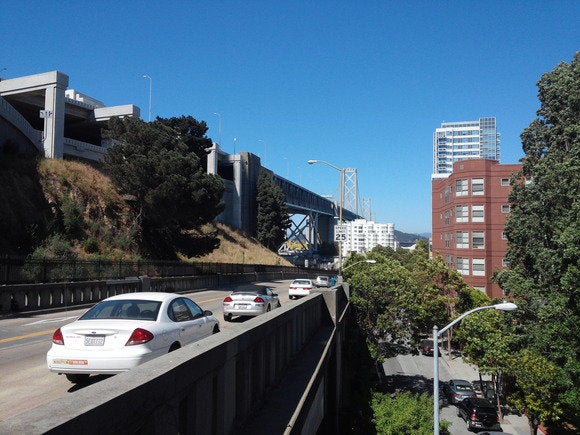 The G Pro also features an "Intelligent Auto" mode, which adjusts aperture, white balance, and shutter speed on the fly to take better pictures. Unfortunately the mode is a bit fidgety, especially when it comes to white balance. It has a bad habit of completely changing the white balance for a split second right as you go to snap the perfect shot, leaving everything too orange or blue. It's better to adjust the options manually.
If you're obsessed with taking high-quality pictures on your phone, the G Pro's camera might be a deal breaker. It certainly doesn't hold up to the S4, and its options are quite limited. On the other hand, if you treat the camera as supplemental to the other features, or as a nonissue, it should work fine for most of your needs.
Bottom line
LG's Optimus G Pro is king of the small—but growing—phone/tablet hybrid market (I refuse to use the term "phablet"). It's a performance powerhouse that, despite its large size, is relatively comfortable to use even with average-size hands. The G Pro loses a few points for its limited multitasking features, but if you're looking to buy a large Android phone and aren't dismayed by the underperforming camera, then the G Pro is definitely worth considering.