This week Twitter announced a bold expansion of its year-old Twitter Cards program, giving marketers a new way to directly obtain interested business leads via the social media service.
The new Lead Generation Card is squarely aimed at business tweeters, and it functions a lot like its name implies. Marketers can now embed a card within a standard Twitter message, generally promising some sort of promotional offer (such as "50% off on your first visit"). When readers expand the tweet by clicking on the embedded link, they're prompted to send their information to you. The neat trick is that the user doesn't have to fill out an "I'm interested" form. Their name, Twitter user name, and email address are pulled from their Twitter account, so getting in touch is a single-click operation. On the back end, you receive this information directly, after which you can follow up with the reader to make your sales pitch. In conjunction with Promoted Tweets, the promotional punch of the Lead Generation Card could be impressive.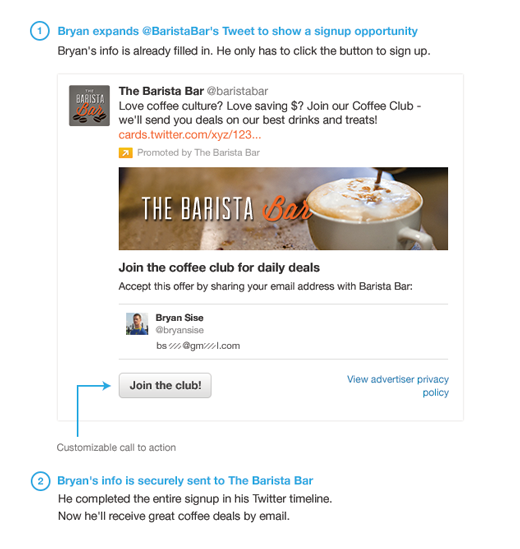 The Lead Generation Card is currently in beta and launched this week to Twitter's managed clients. The company says it will be made available to small- and medium-sized businesses soon.
The Lead Generation Card is just the latest expansion to the functionality of Twitter, which originally limited tweets to a mere 140 characters of nothing but text. But now, as regular Twitter users surely have found, tweets can be embedded with all manner of extra goodies, including the popular Photo Card for embedded photographs and the new App Card for those who want to promote links to mobile phone applications.
The Lead Generation idea isn't a new one. LinkedIn pioneered the concept through its advertising system, which gives marketers an option to overlay their page with a lead collection pop-up that's similar to Twitter's Lead Generation Card. LinkedIn's Lead Generation prompt asks simply, "Would you like Bob's Donuts to follow up with you on LinkedIn?" As with Twitter's Lead Generation Card, potential customers can choose to send their information to the marketer with a single click.
This is a smart move on Twitter's end and potentially a great option for small businesses. It's a much needed step that may finally solve, at least for some businesses, a long-running, nagging problem with social media advertising. Many a business owner has now figured out that social media ads can make it easy to get additional followers on Twitter or Facebook, and then wondered what to do with them. For many business, followers and "Likes" are great, but they don't necessarily lead to increased sales. A case in point: Last month the New York Times reported on Coca-Cola's corporate study which took a hard look at its social media following. Despite 60 million Facebook fans and 700,000 Twitter followers, Coke "found that online buzz had no quantifiable impact on short-term sales."
Could the Lead Generation Card fix that problem? And how long until Facebook follows suit?