At a Glance
Expert's Rating
Pros
Creates presentation online in real-time with other Gdrive users
Leave notes for other collaborators
Download as Powerpoint format file
Cons
May be a bit too simplistic for PowerPoint maestros
Our Verdict
Powerpoint is common but is part of the paid MS Office. Google Slides provides a free alternative with great collaboration power.
Many businesses use Google Drive to hold company files. And as long as there are businesses, there will be slideshows. But what if you have to develop a presentation with a colleague who is not in the same location as you? That's where the collaborative power of Google Drive comes into play, and Google's own Chrome app Google Slides makes collaborating on presentations as simple as your collaborators will let it be.
As Google's download page puts it, Slides is good for "shiny 6-pagers or 600 page snoozefests." In other words, the only restriction on the size of the file is how much space you have free in Google Drive. You can make your slide presentations with a variety of themes, and rich animations. You can leave comments on the file for your colleagues. All in all, it's a much better working arrangement than endless email threads and tedious telephone conferences.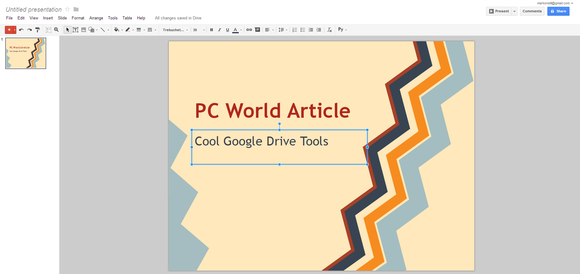 And what's even better: You never, ever have to hit a save button. Everything you do is automatically and instantly saved in real-time. Beat that, PowerPoint.
Note: The Download button takes you to the Chrome Web store, where you can install the latest version directly into your Chrome browser.