At a Glance
Expert's Rating
Pros
Two computers in one
Desktop Core i5 processor
1TB, 7200 rpm hard drive
Cons
Mode switching can be clumsy
Webcam nonfunctional in Android mode
No HDMI input on either base or tablet
Our Verdict
The Transformer All-in-One is a world apart from the other portable all-in-ones we've seen, but it's not as sexy as Dell's XPS 18 Touch.
Windows 8 has spurred a lot of unusual hardware designs, but few are as intriguing as the tabletop tablet. Imagine a full-fledged all-in-one PC that lies flat on whatever surface you have handy. It's a design that offers all the screen real estate and CPU performance of a touchscreen all-in-one, along with the portability of a battery-operated tablet.
With display sizes ranging from 18.4 inches to 27 inches, the new hybrids are ostensibly perfect for modernizing "family game night." And, indeed, these machines are bundled with touchscreen versions of board games, air hockey, poker, and other digital diversions. If you use these PCs as their manufacturers intended, your hybrid machine will be a family-room desktop computer by day and a living-room gaming platform by night.
But is this an experience that consumers want or even need? Asus, Dell, Lenovo, and Sony sure hope so. Each computer maker took an independent path toward the invention of this novel form factor, though the companies were certainly compelled by a single market force: Traditional PC sales are falling off a cliff. HP plans to get into the game, too, but its Envy Rove won't ship until July.
As with any experiment in crossbreeding, the goal is to generate a new life form that's superior to its parents. Is that what happened here? Yes and no.
None of these machines pose a threat to Apple's iPad or any small tablet running Android or Windows 8. After all, these monsters are too big to fit in a backpack or messenger bag. And three of the four lack a key feature common to the best all-in-ones: an HDMI input, which allows you to plug in a gaming console or set-top box and use just the display. Finally, none of these computers provide enough GPU horsepower to fully support graphically intense games such as BioShock Infinite or the latest Call of Duty installments.
That said, the new tabletop tablets deliver all the key features we've come to expect from all-in-one PCs, including the ability to run all the same software, and to connect to printers and other peripherals. And by virtue of their large displays, the new hybrids deliver better Web browsing and media streaming than any tablet I've used. Finally, while action games may not make sense for this new kind of system, these machines could reinvent multiplayer gaming, with multiple people gathering around a single, giant tablet to play electronic versions of Monopoly or Risk.
Could this new form factor save the desktop-PC industry? "Portable all-in-ones alone won't help revitalize the PC market," says Patrick Moorhead, founder and principal analyst at Moor Insight and Strategy. "But combined with hybrids, convertibles, and thin notebooks, they will have a positive impact. Ironically, success comes down, in part, to a successful reception of Windows 8, which currently lacks enough apps to inspire some buyers."
Some of these all-in-one/tablet hybrids are better than others, but all of them are interesting. And whatever you think of Windows 8, you can thank Microsoft's maligned OS for their existence. Read on to discover how well each company executed on the promise of marrying the all-in-one desktop PC to the portable Windows 8 tablet.
Asus Transformer All-in-One P1801
While Dell, Lenovo, and Sony adopted the same essential design for their respective all-in-ones, Asus—in typically inconoclastic Asus fashion—took a completely different approach. In fact, a better description of Asus's machine might be "all-in-two," because the Transformer All-in-One P1801 is essentially two discrete computers, each with its own CPU and operating system.
The Transformer P1801's base houses one computer powered by a quad-core 3.1GHz Intel Core i5-3450 CPU and 8GB of DDR3/1600 memory. When the 18.4-inch, ten-point-touch display is docked to the base, the combination functions as a conventional desktop all-in-one. Remove the display from the dock, and it becomes a giant tablet running Android 4.1 (Jelly Bean). The display provides a native resolution of 1920 by 1080 pixels.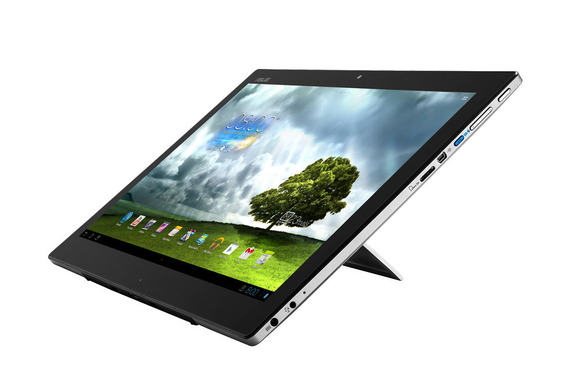 The base unit is a well-equipped computer all its own. In addition to the quad-core CPU, it has a discrete graphics processor (Nvidia's GT 730M, with its own 2GB frame buffer), a 1TB 7200-rpm hard drive, wired and wireless network adapters (gigabit ethernet and 802.11n), a DVD burner, four USB 3.0 ports, one USB 2.0 port (occupied by the transceiver for the wireless mouse and keyboard), and a memory card reader.
The base also has built-in speakers, mic and headphone jacks, and an HDMI output so it can connect to an external monitor. With a second monitor attached to the system, one person can use the base station as a regular Windows 8 computer while someone else uses the display as an Android tablet.
That's because the tablet has its own quad-core microprocessor—an Nvidia Tegra 3—with 32GB of flash memory. You can access the storage in both the tablet and the base station while you're using the system in Windows mode, but the Android side can see only the tablet storage. The tablet has its own 802.11n Wi-Fi network adapter, so you can surf the Web as well as download, install, and use Android apps and games. While the display is docked and the Transformer P1801 is operating in Windows mode, you can initiate a download and undock the display, and the download will continue uninterrupted.
The display has its own stereo speakers, a mic/headphone combo jack, one USB 2.0 port, and a memory card reader, but its 1-megapixel webcam operates only while it's in PC mode. The display's built-in handle makes it easy to carry, and its fold-out stand lets you use it on a table or desktop (reclining at up to a 100-degree angle). The Transformer P1801's display is only slightly heavier than that of Dell's XPS 18 Touch, weighing 5.29 pounds.
In addition, the Transformer P1801 has a third mode that renders it truly unique in this group: It can switch between running as an Android tablet and as a remote Windows 8 desktop. This flexibility means you can remove the display from its base and take it into another room, where it will function as a wireless touchscreen for the Windows 8 session running on the docking station. You have limited range in this mode, however, and response time can be laggy. Most people will find having a truly portable Windows computer to be a better value.
The Dell XPS 18 Touch scored better on our WorldBench 8.1 Desktop benchmark suite—earning a mark of 171 to the Transformer P1801's 153—but we can attribute that difference primarily to the presence of the SSD cache drive on Dell's machine. The Transformer P1801 performed better with games and productivity apps. The Asus model delivers a better price/performance ratio too, especially when you consider that you can use its base unit as a PC (provided that you connect another display) while someone else uses its display as an Android tablet. But the Dell unit has more sex appeal.
Asus Transformer P1801
Pros:
Two computers in one
Desktop Core i7 CPU in the base unit
1TB, 7200 rpm hard drive
Cons:
Mode switching can be clumsy
Webcam not functional in Android mode
No HDMI input on either the base or the display
Bottom line:
The Transformer All-in-One is a world apart from the other portable all-in-ones we've seen, but it's not as sexy as Dell's XPS 18 Touch.
Rating: 3.5 stars
Dell XPS 18 Touch
The XPS 18 Touch is one of the best tablet/all-in-one hybrids I've seen, but I hope Dell introduces a second, larger model. While an 18.4-inch touchscreen is ginormous for a portable computer, it's just a little small for a desktop machine.
The screen boasts a high resolution of 1920 by 1080 pixels, however, and photos, movies, and websites look great on it. And since the device is outfitted with an Intel Centrino Wireless-N 2230 Wi-Fi adapter, you can stream its video output to a big-screen TV with a built-in Wi-Di adapter or to a box (such as Netgear's NeoTV) that can connect to any TV. The XPS 18 Touch provided very good battery life of 4 hours while streaming HD video in our tests, so it should last much longer if you're just surfing the Web.
Because the system relies on the graphics processor integrated into the CPU—a low-power 1.8GHz Intel Core i5-3427U with hyperthreading support—you shouldn't expect to play hard-core games on it. While it did manage to run Dirt Showdown at the display's native resolution at a rate of 44.9 frames per second, it turned Crysis 3 into a slideshow, with a frame rate of just 1.5 fps. Its all-around performance was much better, achieving a WorldBench 8.1 Desktop score of 171 (compared to our reference all-in-one system, an Acer Aspire U A5600U-UB13, which scored 100).
The XPS 18 Touch has 8GB of DDR3/1600 memory. And unlike your typical tablet, this device comes with a 500GB hard drive (supplemented by a 32GB SSD acting as cache), plus a Bluetooth keyboard and mouse. The tablet has a media card reader, two USB 3.0 ports, and a combo headphone/microphone jack. A 720p webcam is built into the top bezel, alongside a dual-mic array for Skype videoconferencing.
Measuring only 0.7 inch thick and weighing less than 5 pounds, the XPS 18 Touch is easy even for small children to carry. Two plastic feet flip out of the back for use as a conventional all-in-one on a desk or tabletop with the mouse and keyboard. Alternatively, you can lay it almost flat (completely flat if you fold the feet in) or prop it up in your lap and use the touchscreen.
Dell bundles two games that take advantage of the touchscreen display when it's lying flat: the music game Fingertapps Instruments and an air-hockey simulator. Games and programs that rely on finger taps, such as pinball simulators and the aforementioned music game, offer the best experience with touchscreens. While playing the air hockey game, I noted considerable lag between the time I slid my finger across the screen and the graphically rendered puck responded.
Dell also provides a sturdy stand (an optional accessory on the less-expensive models) that will charge the tablet's battery on contact. But the stand doesn't provide much in the way of guidance as you lower the display into it. A Dell spokesperson said this was an intentional design decision, so that children wouldn't need to place the display in precisely the right spot, but the tablet won't charge if they don't. (Personally, I wouldn't want small children toting an 18-inch tablet around the house in the first place. But that's just me.)
The XPS 18 Touch's smaller dimensions render it much more transportable than my other favorite monster tablet, the Lenovo IdeaCentre Horizon, and its ultrathin profile and low weight beat the tar out of the Asus Transformer All-in-One P1801 and the Sony Tap 20. I like it a lot.
Dell XPS 18
Pros:
Very thin and very light
Supports Intel's Wireless Display technology
32GB SSD for fast boot times
Cons:
No discrete GPU
5400 rpm hard drive
Plastic feet feel flimsy
Bottom line:
It's great to see such a solid execution of a new form factor this early in the game. The XPS 18 Touch would be even more exciting if Dell took a page out of Asus' playbook and added a more functional dock.
Rating: 4 stars
Lenovo IdeaCentre Horizon
Lenovo's IdeaCentre Horizon is the boldest expression of the portable all-in-one concept to reach the market. Asus, Dell, and Sony have giant tablets. Lenovo has a computer the size of a tabletop—its display measures a full 27 inches. In fact, the company showed us the prototype of a cool rolling stand for the Horizon earlier this year, but it's not yet available for sale.
Lenovo does bundle several other accessories for playing games on the Horizon, including four joysticks, four strikers (for playing air hockey), and one example of "e-dice" (a wireless die that informs the computer which number is face up after a roll). The Horizon comes with a variety of games that take advantage of its tablelike design, including Monopoly, air hockey, and roulette.
The large display renders the Horizon the best all-in-one PC in this group, as well as the best casual gaming platform, but it has one drawback: Its resolution is limited to 1920 by 1080 pixels. If you're a stickler for detail when it comes to precision tasks such as photo editing, you probably won't like seeing the pixels spread so far apart. But that's not the type of application Lenovo's engineers had in mind when they designed this machine.
The other drawback to the Horizon's massive screen is its considerable bulk: This monster tips the scales at 18.95 pounds. On the positive side of the ledger, it has a discrete graphics processor, an Nvidia GeForce GT 620M with a 2GB frame buffer. The balance of the Horizon's spec sheet is equally tasty. You'll find a low-power 2GHz Core i7-3537U, 8GB of DDR3/1600 memory, and a 1TB hard drive (unfortunately, it's a 5400-rpm model).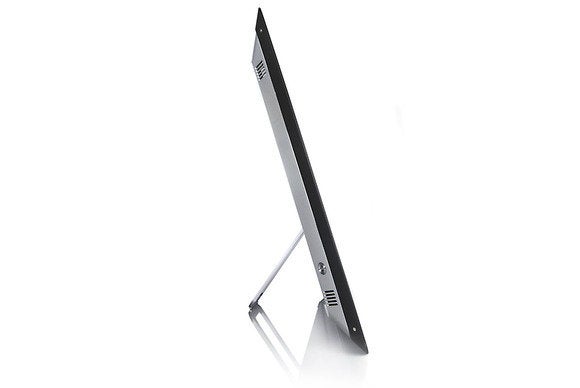 The slow hard drive significantly depressed the Horizon's WorldBench 8.1 Desktop score, lowering it to 111. But the fast CPU and the discrete GPU gave this machine first-place finishes on the image-editing, audio- and video-encoding, and file-compression tests that also make up our benchmarking suite. Battery life was surprisingly good: The IdeaCentre Horizon was able to play an HD video for 3 hours, 28 minutes.
The IdeaCentre Horizon is the only portable all-in-one in this roundup to include an HDMI input. It's puzzling that no other manufacturer thought to include this feature. The all-in-one PC in my kitchen is connected to a satellite set-top box, and it serves as a TV almost as much as it acts as a computer, so I don't know if I'd buy one that lacked that simple feature. The rest of the Horizon's features include a 720p webcam, a media card reader, an 802.11n Wi-Fi adapter, and a wireless mouse and keyboard.
The Horizon's humongous screen, fast CPU, discrete graphics processor, and fun accessories drive its price tag up to $1849. That's higher than the rest of the machines in this roundup, and it's several hundred dollars more than Lenovo's conventional 27-inch all-in-one (the IdeaCentre A720 goes for $1559). Dell's XPS 18 Touch makes a better giant tablet, but Lenovo's IdeaCentre Horizon is the superior family-gaming platform.
Pros:
27-inch display
Fast CPU and a discrete GPU
HDMI input
Fun gaming accessories
Cons:
1920-by-1080 resolution (on a 27-inch display)
Very heavy
Expensive
Bottom line:
The Horizons's size makes games and everything else more enjoyable, even though it also makes it more difficult to move around the house.
Rating: 4 stars
Sony VAIO Tap 20
Sony deserves credit for establishing the portable all-in-one market, having introduced the VAIO Tap 20 last winter. This model boasts a Core i7 CPU, 8GB of memory, and a 20-inch ten-point touchscreen for just $1100. On the downside, its display resolution is disappointingly limited to 1600 by 900 pixels.
The Tap 20 also relies on the GPU integrated into its mobile 2GHz Intel Core i7-3517U processor to drive that display, and its 750GB hard drive spins its platters at only 5400 rpm. The Tap 20's fast CPU helped it deliver good performances on the content-creation elements of our benchmarking suite (image editing and audio- and video-encoding tasks), but the absence of a discrete GPU generated a goose egg in our GPU-accelerated image-editing test. In the end, the Tap 20 earned a WorldBench 8.1 Desktop score of 95 (our reference all-in-one, Acer's Aspire U A5600U-UB13, scored 100).
I found the Tap 20 only slightly less difficult to carry from room to room than the 27-inch Lenovo Horizon. Sony suggests using the kickstand as a handle, but to do so you must tilt the computer forward, grab the bottom of the kickstand, and rotate the entire machine upside down. The computer is then difficult to set up at a new location because your most natural movement is to first set it face down on the desk or tabletop—not a good idea.
Moving the Tap 20 from room to room is an even more awkward task due to its 11-plus-pound bulk—this computer is almost twice as thick as Dell's XPS 18 Touch. I was also surprised by the Tap 20's relatively poor battery life: It played our HD video for just 2 hours, 21 minutes before it pooped out.
When Loyd Case reviewed the VAIO Tap 20 back in October 2012, nothing comparable was on the market. So even though the model he tested had a Core i5-3317U processor and only 4GB of memory, he awarded four stars to the new and innovative (for its time) concept. The competition has responded aggressively since then, and the Tap 20 has lost some of its luster. Fortunately, Sony has adjusted its pricing accordingly, and the current street price of $1100 renders this machine a good value.
Pros:
Intel Core i7 CPU
1TB hard drive
Sony's Bravia video technology
Cons:
Thick and heavy for its size
Short battery life
5400 rpm hard drive
Bottom line:
Sony essentially created this market, which means the Tap 20 has been around for a while. This computer is thicker and heavier than it should be, but Sony has priced it aggressively.
Rating: 3 stars