Lenovo may be the only major PC maker to weather the disastrous first quarter with nary a decline in shipments, but success isn't earned by sitting flat on your heels. While the rest of the industry scrambles to stem the PC bleeding, Lenovo's brass is busy planning an audacious expansion into the U.S. smartphone arena in the next year.
"Smartphones are our new opportunity," Lenovo CEO Yang Yuanqing told the Wall Street Journal. "As a public company you always have to consider how to grow."
Indeed, while Lenovo's PC sales were flat, its smartphone sales were up a whopping 206 percent year-over-year in last quarter, thanks to the company's strong showing in Asian markets. Now, Lenovo is looking to go west, young man—where it will no doubt slam headfirst into the dominating duo of Apple and Samsung.
Mighty companies have struggled to conquer this particular two-headed beast. HTC, RIM, Motorola, LG, and Nokia have all faltered in the face of iPhones and the Galaxy line. So how can Lenovo succeed where so many have failed?
Simple: By remembering its roots and sticking to business—literally.
Built for business
Lenovo's making headway into the consumer market with its IdeaPad line of laptops, but the company's true strength lies in ThinkPad, the business-focused brand Lenovo inherited from IBM. ThinkPads have enormous brand cachet and a sterling reputation with the suit-and-tie crowd.
Lenovo would be crazy not to tap into that, especially given the ho-hum state of business phones today. RIM's star shines dimly even after the launch of the long-delayed BlackBerry 10 lineup. In the BYOD age, users are clamoring for phones they're used to—namely, iPhones or something running the Android operating system—while IT is begging for phones they can manage.
Android manufacturers have been slow to heed the call
Samsung's SAFE (SAmsung For Enterprise) software is attempting to scratch the business itch, and its upcoming Knox component—which will be found first in the Galaxy S4—will add even more enterprise functionality, allowing users to quickly switch between Personal mode and a segregated, highly manageable Work environment with the push of an onscreen button.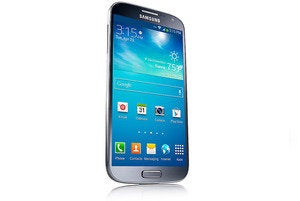 Even so, Samsung's SAFE push is in its infant stages, and the company's Android phones aren't made to play well with its Windows PCs. Software-wise, warring solutions like Enterproid's Divide platform, VMWare's Horizon Mobile, and RIM's own BlackBerry Balance are all scrambling for the attention of sysadmins, but none has established itself as an industry standard.
The door is wide open. Enter Lenovo.
The ThinkPhone
Businesses buy phones by the bucket load, and if Lenovo plays its cards right, it could easily transform itself into the smartphone manufacturer of choice for businesses.
First of all, an Android-powered ThinkPhone would need most of the security features built into Knox: Segregated work and play profiles, device encryption, Exchange ActiveSync and Active Directory support, mobile device management tools, VPN capabilities, sandboxed apps, and so on. You know, the basics.
Beyond that, a hefty dose of enterprise-friendly extras could make a ThinkPhone all the more attractive, and Lenovo already has templates in the form of the business software that already comes preloaded on ThinkPad machines.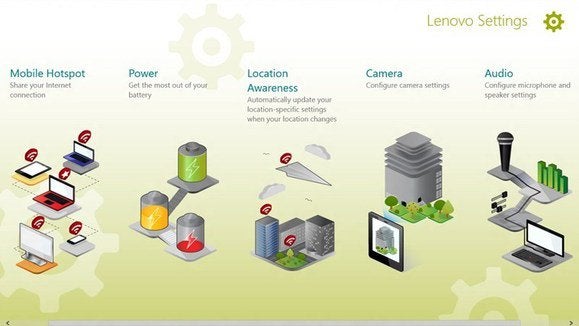 My ThinkPad Twist hybrid, for example, includes tools to schedule updates for after-hours, automatically back up data, and prevent the use of USB ports. All these features would translate well to a ThinkPhone. Other programs baked in to the Twist already seem tailor-made for handsets, such as the ability to enable specific settings dependent on your physical location or turn your device into a Wi-Fi hotspot.
Cellular companies might balk at the idea of allowing a ThinkPhone to freely tether any other gadgets, but they might have fewer qualms about allowing businesses to tether their ThinkPads to their ThinkPhones using a specific Lenovo-made application. Toss in the ability to seamlessly manage your data between ThinkPhones and ThinkPad computers and you're staring at a work place winner. (Lenovo's Yuanqing told the WSJ that the company was open to acquisitions to bolster its smartphone arm. Maybe an AirDroid purchase is in order?)
Finally, Lenovo could tie it all together by offering its ThinkPhones to companies in bulk, right alongside its laptops and desktops as part of a package plan. ("Oh, you're looking for a fleet of ThinkPads? We can also offer you this beautiful black-and-red ThinkPhone. The two look wonderful side-by-side, have incredible synergies, and both can be easily managed by your IT staff.")
C'mon, these things would practically sell themselves to corporate buyers.
Business is but a beachhead
Ah, but there's a potential fly in this ointment.
During a chat about Lenovo's possible phone plans earlier this year, Think brand general manager Dilip Bhatia said that the company wants to generate higher Think brand name recognition among young customers.
That's a noble goal, but it's crazy to take Apple and Samsung head-on in today's market; Witness the trail of also-rans striving to just break even in the smartphone race. Lenovo's unique position as well-rounded device supplier—the company offers ThinkPad tablets, too—give it an opportunity to shatter the smartphone duopoly and reclaim RIM's empty enterprise throne.
The ThinkPhone could be a boardroom star, but only if Lenovo takes advantage of its existing strengths and resists the temptation to muddle its brand by chasing the fleeting sensation know as "cool."