The long, slow bleeding out of the PC market is going to explode into full-on hemorrhaging in 2013.
So sayeth the market analysts at IDC, which just released a revised PC shipment forecast that casts the computer business in a very unflattering light. The firm's original prediction expected shipments to be down just 1.3 percent this year, followed by slight percentage increases in the years ahead. Flat and steady, in other words.
No more.
After the steep losses in the disastrous first quarter, IDC now predicts PC shipments to drop a whopping 7.8 percent in 2013—nearly twice the rate of 2012's 4 percent decline, which already had the industry in a tizzy. Dell's on the block, Lenovo's pushing into smartphones despite its computing wins, and HP's first quarter PC revenues dropped a whopping 20 percent.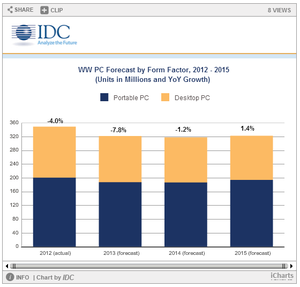 The pain isn't expected to stop there, either. IDC predicts shipments to drop another 1.4 percent in 2014 before settling down again. By 2017, the firm expects global PC shipments to total roughly 333 million units—more than the 321.9 million forecasted to move this year, but less than 2012's 349.2 million and 2011's 363 million. (To be fair, judging the market that far out is about as accurate as reading chicken entrails; witness how quickly this year's 1.3 percent decline blossomed to a full 7.8 percent plummet.)
Why?
The brains at IDC chalk the losses up to a couple of major factors: BYOD laptops, which brings down the business sales that serve as the PC industry's bread-and-butter, and—you guessed it—mobile devices.
"Many users are realizing that everyday computing, such as accessing the Web, connecting to social media, sending emails, as well as using a variety of apps, doesn't require a lot of computing power or local storage," VP Loren Loverde said in the firm's press release. "… These users have not necessarily given up on PCs as a platform for computing when a more robust environment is needed, but this takes a smaller share of computing time, and users are making do with older systems."
That jibes exactly with what I've been saying for a while now: PCs aren't dead, but they are microwaves. Commodity appliances, used for specific purposes and replaced only when they break down completely.
A mass shift in consumer behavior can have devastating consequences for the PC industry, percentage wise. If your PC slows to a snail's crawl—which is unlikely, by the way—but your tablet or smartphone can still tackle 90 percent of your computing needs, you're more likely to postpone buying a new computer, especially in today's economy.
The PC industry's growth is based on people regularly refreshing their computers. If a horde of people decide to push that refresh back a year or two longer than usual, annual PC sales are going to drop precipitously as a result. Like, say, to the tune of a 7.8 percent decline.
But take note: Even in 2014, the bottommost pit of the PC's decline according to IDC's estimates, PC shipments will still total just shy of 320 million units. Also according to the IDC, tablet shipments for this year are estimated to be about 229 million, though slates are expected to crawl slightly ahead of PC volumes in 2015.
The future?
Tablet and PC sales are expected to be neck-and-neck by 2017, however. But by then, the lines between the two may just blur enough that the distinction between laptop and tablet becomes inconsequential.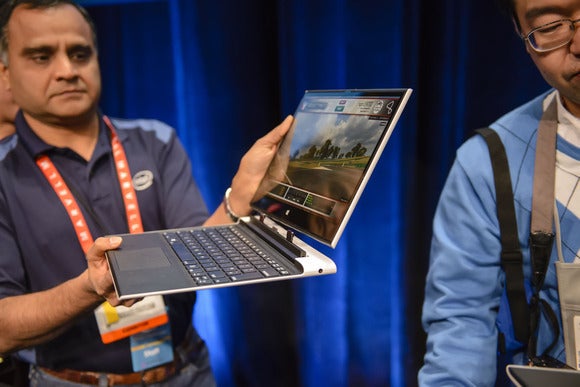 As touchscreens shift towards ubiquity and power-sipping processors like Intel's Haswell and AMD's Kabini become common, the day when full laptop power in slight tablet form factor is rapidly approaching. That dynamic duo makes the rise of hybrids a viable possibility as time marches on. Think the Surface Pro, but without the Surface Pro's compromises.
"All points converge on 2014," Patrick Moorhead, founder and principal analyst at Moor Insights & Strategy, recently told PCWorld. "In 2014, you'll be able to have a very high performance, 9mm thin, fanless, low-cost tablet based on Haswell technology. At 10-inches and above, you'll be able to slide it right into a keyboard dock. Why on earth would you buy a separate tablet? Because you're not compromising as a notebook, and you're not compromising as a tablet, there really won't be a market for stand-alone 10-inch tablets."
What havoc will that wreak on analyst estimates? Nobody knows yet. But as IDC's revised forecast definitely shows, change is in the air for the PC industry—one way or another.