Sorry, Xbox One. One analyst thinks you're not good enough for Microsoft. And Bing? Well, it's time to just hand it over to Yahoo.
That's the conclusion of Nomura Equity Research analyst Rick Sherlund, whose report Tuesday argued that neither the Xbox game console nor the Bing portion of Microsoft's online business made sense to hold on to, from a financial standpoint.
According to Geekwire, Sherlund's argument was that neither business generated enough cash to produce a material benefit to Microsoft, over the long haul.
And the numbers bear that out: A quick glance at Microsoft's earnings for the March quarter show that its online services division, spearheaded by Bing, continues to report losses.
Selling the Xbox may be a slightly more difficult argument: The Xbox seems to perpetually outsell all other game consoles within the U.S., and it is usually profitable. Nevertheless, its profits pale to Microsoft's three other breadwinners: its Server and Tools business (Windows Server), Windows, and its Business Services division (Office). As for the latter business, Sherlund argues that Microsoft needs to develop Office for both Android and iOS—pronto.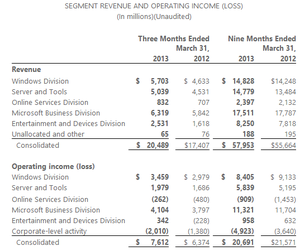 Nevertheless, Sherlund argues that the Xbox should be sold off to a company that could do more with it, like Samsung:
"Xbox is one of the areas of success for Microsoft and is cool to consumers, but it is perhaps time to assess whether this can ever be material to the overall company and might be more leveragable to a consumer-oriented company such as Samsung," Sherlund wrote, according to Geekwire. "Perhaps they would be willing to pay several billion dollars for this to leverage their substantial consumer electronics business? Shareholders might want to know if they could possibly be better off if Xbox were spun out as a separate company or sold. Either way, it is not that material to the overall valuation of Microsoft and will not likely determine the success of Microsoft going forward; it's just not profitable enough to move the needle that much at the company."
With Bing, the argument becomes slightly more reasonable. Microsoft has made slight inroads into Google's search dominance, but the emphasis is on slight. Google fielded 67.1 percent of all search requests in March, while Microsoft handled 16.9 percent, up two-tenths of a percentage point from a month earlier.
Microsoft provides its search technology to Yahoo, but Yahoo also has a revenue-per-search guarantee in place that requires Microsoft to hit certain traffic goals. Unfortunately, Microsoft has consistently failed to meet those contractually obligated goals, forcing Microsoft to essentially pay penalties to Yahoo as a result. Early this month, Microsoft and Yahoo extended that agreement, but only for a year—and only in the United States.
Sherlund argued that Bing should essentially be handed over to Facebook or Yahoo itself, receiving traffic fees but letting another company handle the development and infrastructure. That, of course, would invalidate all the work that Microsoft has put into Bing, from social integration to recent enhancements to improve its answer-generating capabilities.
It's likely that most people wouldn't care who actually runs Bing, as long as someone actually provided an alternative to Google. But the Xbox? We suspect that legions of gamers would call foul on an Android tablet maker overseeing their favorite gaming console.