Advanced Micro Devices had no plans to release low-power x86 server chips until the release of its ARM-based servers in 2014, but sagging server fortunes have changed the company's direction.
The company is introducing two low-power quad-core Opteron server chips called X2150 and X1150, which draw up to 11 watts of power and are targeted at microservers. The chips are based on the Jaguar core, which is already in PC processors and chips to be used in the Xbox and PlayStation 4 game consoles.
The server chips, code-named Kyoto, are a late addition to company's product roadmap. AMD started talking about Kyoto only in the last few months, and it will be an alternative to the company's homegrown ARM chips due next year. AMD's last server chip update came in November with the Opteron 6300 chips for multisocket servers.
AMD said Kyoto chips are for low-power servers used in web hosting or cloud deployments. Kyoto will be in Hewlett-Packard's Moonshot dense server, which can accommodate up to 45 Proliant cartridges in a 4.3U rack.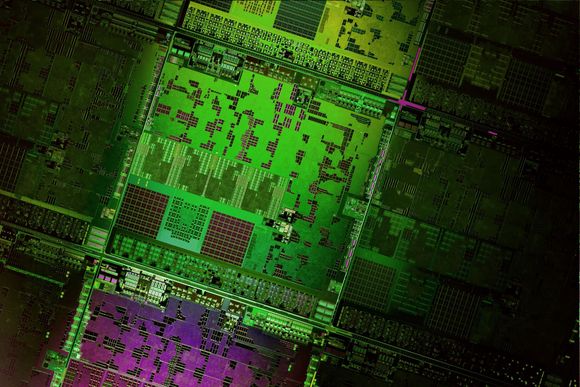 AMD will announce more server design wins for Kyoto over the next year, said Andrew Feldman , corporate vice president and general manager of the server business unit at AMD.
Server slowdown
Slow demand for AMD's aging server processors has hurt the company, which has been losing x86 server processor market share to Intel. AMD's market share was 4.7 percent during the first quarter of this year, down from 6.8 percent in the same quarter the previous year, according to numbers from Mercury Research.
The server chip slowdown has also hurt AMD's earnings, already taking a beating from the weakening PC market.
AMD hit a low point in server chips with the failure of Opteron chips based on Bulldozer architecture, which shipped in 2011 but were criticized for poor performance.
Feldman candidly acknowledged that the Bulldozer failure cost AMD some credibility in servers. But the company is looking to rebound with a revamped management team led by CEO Rory Read and a new server roadmap comprising x86 and ARM chips for multiple server categories.
"Bulldozer was without doubt an unmitigated failure. We know it," Feldman said.
"It cost the CEO his job, it cost most of the management team its job, it cost the vice president of engineering his job. You have a new team. We are crystal clear that that sort of failure is unacceptable," Feldman said.
What's at stake for Kyoto
Server demand is growing as mobile device shipments rise and cloud deployments increase. Thousands of servers are deployed by companies like Google, Facebook and Amazon to handle the growing search, social networking and multimedia streaming requests.
"What is so important about the client side is it is driving data center, which is driving servers," Feldman said, adding that AMD is adjusting its strategy as the server landscape changes.
AMD hopes to fill the need for scalable servers through Kyoto, which is AMD's first step in the low-power processor arena, Feldman said.
HP's first Moonshot systems run on Intel's Atom S1200 chips code-named Centeron, but AMD claims its Kyoto chips outperform the Atom chips. Kyoto offers more cores, bandwidth, performance and larger DRAM support, and also packs an integrated graphics processor, Feldman said. However, later this year Intel will release an Atom server chip called Avoton, which is faster and more power-efficient than the current Centerton chips.
The Opteron X2150 chip draws 11 watts of power, while the X1150 draws 9 watts. The Kyoto chips can come with or without integrated graphics processors. Graphics processors are better at handling complex calculations and graphics applications than CPUs, which are better for everyday applications like office productivity. AMD is recognized by industry analysts to have better graphics technology than Intel.
It may not have cost AMD much in either money or time to make Kyoto, said Dean McCarron , principal analyst at Mercury Research.
"It's relatively easy to come up with that part considering they come from the client space with server stuff bolted on," McCarron said.
The new chip gives cash-strapped AMD an opportunity to boost revenue, McCarron said.
"It's an existing market segment that is growing," McCarron said. "Why pass up on that business when it's easy to address."