After a successful Kickstarter campaign, Connected Data—the folks behind the ingenious Transporter data-sharing and storage device—have announced version 2.0 of the Transporter software.
The Transporter is a network-attached hard drive that delivers many of the same features and benefits as cloud-based services such as Carbonite and DropBox, but without the recurring subscription fees. Transporter also delivers file-sharing and file-syncing features with better privacy and security than services such as DropBox, because Connected Data's servers function only to connect users and Transporter devices. Your data is never stored or even passes through the company's servers, and the data is encrypted in transit using 256-bit AES keys.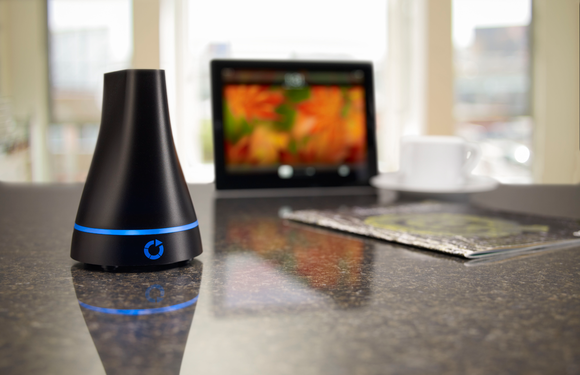 In a briefing earlier this month, Jim Sherhart, Connected Data's marketing VP, explained that version 2.0 of the Transporter software features a raft of improvements requested by early Transporter buyers. The number one request, according to Sherhart, was to make the software operate more like Dropbox. To that end, Version 2.0 will deliver a simplified user interface with full drag-and-drop support and the ability to right-click on any file and share it with other users.
Sherhart said the Transporter was designed principally for consumers, but that 40 percent of the units sold to date have been purchased by businesses looking for more economical and more secure cloud-based storage, syncing, and file-sharing solutions.
The new software will also allow users to selectively sync certain folders, so that the contents are stored on both the Transporter and a client PC. But users will also be able to access and share any folder on the Transporter, without the need to copy the entire folder to the client. This feature will be particularly useful for accessing and sharing large collections of music, movies, and photographs from mobile computers that don't have a lot of available storage.
Connected Data has also developed apps for mobile Android and iOS devices that enable smartphones and tablets running those operating systems to share and download files stored on a Transporter.
"Connected Data has attracted thousands of new customers since our successful Kickstarter campaign and we consider ourselves very fortunate to have a growing and passionate user base," said Geoff Barrall, CEO of Connected Data. "When setting out to improve upon the Transporter, we listened to feedback from our existing users which helped to set the direction for version 2.0."
This announcement comes on the heels of yesterday's announcement that Connected Data and NAS device manufacturer Drobo had agreed to merge. Connected Data founder CEO Geoff Barrall also happens to be the founder and former CEO at Drobo.
Transporter 2.0 is expected to ship in June. Existing Transporter users will be able to download the software for free. The Transporter hardware sells for $199 without a hard drive, $299 for a model with a 1TB hard drive, and $399 for a model with a 2TB drive. We'll have a hands-on review as soon the new software is available.