Medium isn't the first outlet to express a growing dissatisfaction with Facebook, but it is one of the more eloquent ones. In a lengthy monograph on the subject published this week, writer Jeswin opined on its increasing irrelevance to his life, calling the bulk of his news feed "absolutely useless" and the sharing system "completely broken."
Last month, reporter Christopher Thompson announced that he would be shutting down his Facebook account entirely, much to the consternation of friends and family. His reasoning was much the same as Jeswin's: Keeping tabs on all the people he'd met in his life had become "a complete waste of my time." In his piece on the topic, he added, "I found myself checking Facebook often, and it was really providing no value to my personal or professional life. I got tired of reading about people complaining and spreading negativity. And what put me over the edge was when I read a status update from someone that was nothing but lyrics from a rap song."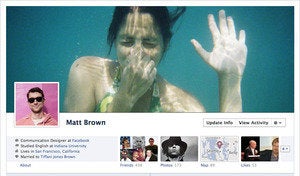 That's a common sentiment that was somewhat formalized this week by the Pew Internet & American Life Project, which released a report analyzing how teenagers feel about the social networking site. Slate focused in on the essential callout: "Focus group discussions with teens show that they have waning enthusiasm for Facebook, disliking the increasing adult presence, people sharing excessively, and stressful 'drama,' but they keep using it because participation is an important part of overall teenage socializing."
The self-loathing Facebook user seems to be an incredibly popular phenomenon, and anecdotally it looks like it's spilling over to business users, too. I checked in with several small business owners and found that concerns over Facebook range include difficulties reaching disinterested users, problems with phony user profiles, negative and hateful comments, and simply trying to stand out in what has become a mammoth wall of noise.
Bethany Gonzalez Moreno, founder of B. EcoChic, a green parenting website, says that the company still has a Facebook page, "but we've found that it has nowhere near the impact an old-fashioned email newsletter has. We've found we have much better engagement with readers through email and through our website. We're keeping our page up, but we only update it occasionally with major news and have not spent a lot of time trying to build a large presence. I think the time is better spent getting great content up on our website."
Gregory Ciotti, Marketing Strategist at IT support software company Help Scout, has an even more pessimistic position, saying, "We recently left Facebook completely and no longer directly incorporate it into our marketing efforts, the reason being is that our Facebook page was returning abysmal results and became a complete waste of time. In contrast, our newsletter, LinkedIn sharing, and Twitter profile were sending in much more traffic with no need to "boost" status updates to fans and followers that we already earned."
Boosting, for those not in the know, is Facebook's new and experimental term for Promoted Posts, designed to get business owners to feel better about paying to have their content read by users of the site. Moreno also complains that boosting is a double-edged sword: Your content won't get read if you don't do it, and if you do, well, that's another problem. She says, "I don't think a lot of users enjoy sponsored posts showing up in their feeds. They are viewed as spam and I've seen thousands of negative comments on sponsored posts, where users go as far as bashing the product or company."
Almost makes you want to run to Twitter, doesn't it?