At a Glance
Expert's Rating
Pros
Very simple to use
No learning curve
Portable with light footprint
Cons
No advanced features
You have to change the file format to GIF with another image editor
Our Verdict
This portable program is a good pick if you find creating animated GIFs too fiddly and time-intensive.
GIF animations are back in vogue, thanks to memes. Even without their use as humor postcards, it makes sense to use the animated form of Graphics Interchange Format instead of bandwidth-guzzling videos wherever appropriate. GIF animations may be the poor cousins of Flash or HTML5 animations, but the ease of creation makes animated GIFs irresistible for timely witticisms.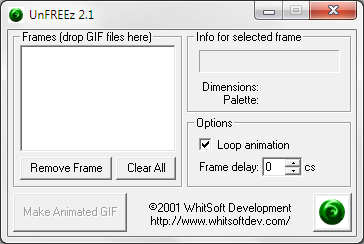 Many programs can create quick animated frames, but GIMP or Photoshop is overkill for quick animations. UnFREEz is a free and portable program that makes GIF animations by taking a few separate GIF files and merging them into a single animated loop. That's all it does, and it does it just fine.
UnFREEz ver.2.1 is Windows-only, and it is incredibly tiny at 27.5 KB. The lightweight application is disarmingly simple in features and function. Extract the UnFREEz executable and run it immediately on the desktop or from a portable drive. No installation is required. The freeware opens up as a single small window with a drop zone for the separate GIF files and an option for setting the frame rate.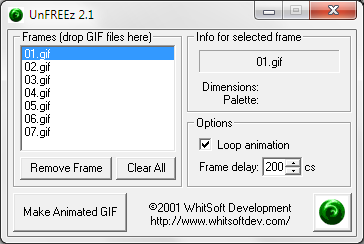 After arranging the multiple files in the sequence they will play, drag and drop them into the program. UnFREEz cannot rearrange the order of the files, though you can remove an individual frame. To preserve the order of the frames, select them all and hold the first keyframe while you drag and drop the files into the dialog box. The dialog box also displays information on file size and palette for the specific files.
Set the frame delay in centiseconds. 100 centiseconds equals 1 second, so estimate an appropriate animation interval. You can loop the animation indefinitely or just make it play once. To finalize, click the Make Animated GIF button and save it. Play it back and make adjustments if required.
The turnaround time to create an animated GIF with UnFREEz is minimal. Most likely, you'll spend more time preparing to use the program (selecting, sizing, and ordering the files) than you'll spend actually using it.
UnFREEz is meant to be the simplest program possible for creating animated GIFs, so it forgoes flourishes. An option to reorder the files would be handy, as would support for individual frame time delays. But their absence doesn't hamper workflow in any way. No help manual is available, either, but you're not likely to need one.
If you want to create quick animated GIFs for uploading to social media websites, UnFREEz will do the job. It's not fancy, but it won't cost you a dime.
Note: The Download button takes you to the vendor's site, where you can download the latest version of the software.