Last week, Nvidia announced the GeForce GTX 780, the successor to the former GTX 680 flagship. Cut from the same GK110 GPU cloth as the imposing Titan, the GTX 780 was truly a step up over its predecessor, but at $650, it left a gaping whole in the Nvidia lineup. Nothing fit comfortably into the performance gap between the 780 and the $400 GTX 670, and $650 is a hard sell even for demanding gamers.
One week later, Nvidia has closed that gap with its new, $400 GeForce GTX 770.
Unlike the GTX 780 and Titan, the GTX 770 rocks the same GK104 GPU featured in last year's 600-series graphics cards, but don't let that fool you: This card is anything but dated.
Going by the specs in the slide above, the GTX 770 is essentially a refreshed, slightly souped-up version of last year's flagship GTX 680, sporting a similar architecture with slightly higher core and memory clock speeds. Despite that, Nvidia claims the GTX 770 is actually quieter than its true generational counterpart, the GTX 670.
Early benchmark tests from the hardcore enthusiast sites AnandTech and HardOCP show that the GTX 770 indeed has a very slight performance edge over the GTX 680, a clear lead over the last-gen GTX 670, and trades shots with AMD's flagship Radeon HD 7970 GHz Edition graphics cards.
All about the Benjamins
While the performance nudge over the GTX 680 may not raise eyebrows, the GTX 770's price point certainly does.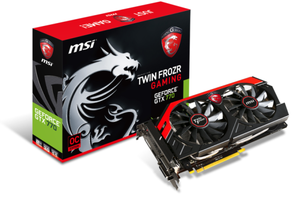 At $400, the GTX 770 is a full $100 cheaper than the GTX 680 was at the time of its launch, and it's priced $50 to $60 below the usual asking price for a Radeon HD 7970GE. That, folks, is called pricing pressure. (Actual prices vary by manufacturer, of course. A quick check on Newegg shows various GTX 770 cards with various bells and whistles priced between $400 and $450.)
AMD has said it won't have a desktop GPU counterpunch available until the end of the year. Until then, expect the GTX 770 and Radeon 7970 to slug it out on the pricing front—and look for AMD to sweeten its pot by amping up its killer "Never Settle" free game bundles.