It's official: Intel's fourth-generation Core processors, code-named Haswell, are loose in the market. Like the Sandy Bridge and Ivy Bridge microarchitectures that preceded it, Haswell is a big step forward for Intel's Core family, simultaneously maximizing CPU and GPU performance while consuming less power.
Who needs Haswell
Haswell isn't for everyone. For now, older Sandy Bridge-E Core i7 processors that use Intel's LGA 2011 socket remain Intel's flagship products for hardcore PC gamers. But the fourth generation of Intel Core CPUs are where it's at for mainstream power users who crave Intel's most advanced technology.
Unfortunately, unlike second-gen Sandy Bridge and third-gen Ivy Bridge processors—which use the same LGA 1155 socket and hence play well with a broad range of new and existing motherboards—Haswell-based processors use a new socket, LGA 1150, and thus require motherboards built around Intel's 8-series chipsets. But that problem is also an opportunity: Since you can't just drop a Haswell CPU into your current PC, now is the perfect time to build a new, killer Haswell-based rig. And you can do it yourself for less than a grand—if you know where to look.
Component hunting
Typically, you get the best value in desktop processors a bin or two below the top-of-the-line products. For example, a Core i7-3770 costs about $40 (or 15 percent) less than a Core i7-3770K ($289 vs. $329), but it delivers roughly 98 percent of the latter's performance. The same holds true for most Core i5 and Core i3 processors, albeit with smaller price differentials. The only differences between a Core i7-3770 and a Core i7-3770K are a 100MHz base clock deficit on the standard 3770, and the 3770's inability to alter multipliers freely. The more expensive "K-SKU" is fully unlocked and lets users alter the CPU multipliers for easier and more flexible overclocking.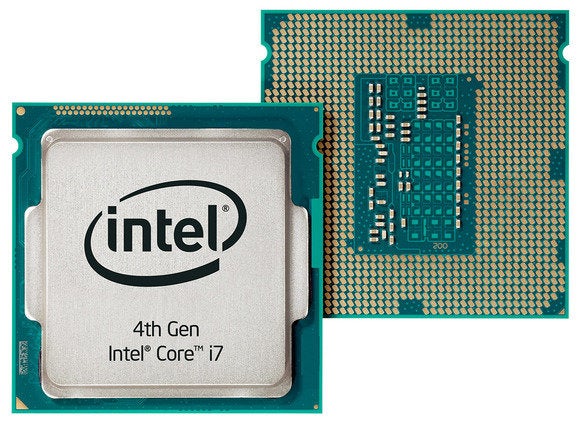 With Haswell-based CPUs, we're in a similar situation, though the price delta is a bit smaller. The top-of-the-line, fully unlocked (and thus overclockable) Core i7-4770K is priced at $339. A non-K Core i7-4770 with a 100MHz lower base clock costs $309. The performance difference is small, and you could easily spend the $30 you'd save on the plain 4770 on other components. With this build I wanted the best that Haswell had to offer, so I didn't mind spending the additional 10 percent to score the Core i7-4770K. Besides, if I ever decided to overclock the rig, the unlocked multipliers would come in handy.
Because Haswell requires a new socket and motherboard based on Intel's 8-series chipset, choosing a motherboard to go with my Core i7-4770K was the next logical step. Thankfully, a tidal wave of motherboards with 8-series chipsets is about to hit the market at virtually every price point. I wanted a board with a full complement of enthusiast-class features, but I didn't want to spend a ton of money for extras that would likely go unused. I settled on Gigabyte's $185 Z87-UD3H. As its name suggests, this board features Intel's Z87 Express chipset, but Gigabyte doesn't overload it with ports and third-party controllers that would ratchet up the price. The board's accessory bundle focuses on the basics too, which helps keep costs down, and Gigabyte itself is a well-respected company that has been building high-quality motherboards for ages.
Having selected a motherboard and a processor, I moved on to the GPU. Haswell uses Intel's most powerful and feature-rich on-processor graphics engine to date, but with a $1000 budget I had some room to spice things up a bit. If you don't plan to do any intensive gaming, you may not need a discrete GPU—Haswell's integrated graphics will probably serve you well, besides saving on power. But I wanted to be able to play the latest games with this PC, even though I'm not building it solely for gaming. After shopping around, I chose Sapphire's $135 Radeon HD 7790 Dual-X. The Radeon HD 7790 supports the full DirectX 11 feature set and can run any game on the market today. Playable frame rates at 1080p resolutions and below are a cakewalk for this card. Best of all, like many other Radeon HD 7000 series products, the Sapphire Radeon HD 7790 Dual-X comes bundled with a bevy of top-notch games, including Crysis 3, BioShock: Infinite, and Far Cry 3. In fact, the total value of the game bundle exceeds the cost of the card. It's a heck of deal.
For the memory and storage subsystems, I wanted maximum bang for the buck. Intel's new CPUs support a peak official memory speed of 1600MHz and work best with a dual-channel memory configuration. Higher speeds are possible with overclocking, but I planned to stay within spec for this build. I went with the most affordable dual-channel DDDR3-1600 memory kit I could find: Kingston's Hyper X Black. This $49 kit contains a pair of 4GB sticks (8GB total), with low-profile heat spreaders and official support for 1600MHz operation. More memory would have been better, of course, but 8GB is plenty and it fit my budget nicely.
Dynamic duo of solid-state and traditional storage
Pairing Intel's fastest Haswell processor to slow storage wouldn't do it justice, so I decided to use a mix of solid-state and traditional rotating media for the build. For the OS drive, I selected a 128GB AData SX900. Fast, spacious, and affordable, the $119 AData SX900 features an LSI SandForce SF-2281 controller, plus plenty of capacity for the operating system and most commonly used applications. And with read and write speeds in the vicinity of 550MBps and 520MBps, respectively, the system promises to zip along nicely.
To complement the SSD, I needed something that offered a bit more capacity without breaking the bank. So I opted for a 500GB Western Digital Caviar Blue hard disk drive. The WD Caviar Blue offers 64MB of cache and a fairly swift spindle speed of 7200 rpm, and I snapped it up for just under $60. To complete the storage puzzle, I picked up a Lite-On DVD-R optical drive. Optical drives are rapidly becoming unnecessary in this era of digital distribution, but I was willing to invest $18 to gain the ability to burn or access a disc in a pinch.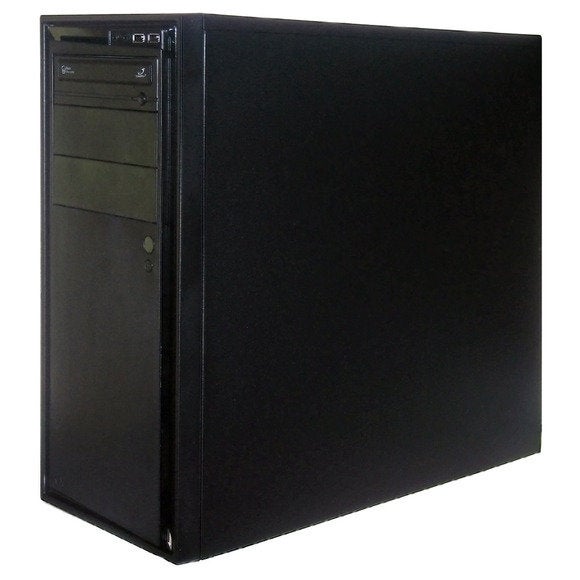 Normally I would spring for a high-end case with plenty of cooling, but that wasn't possible, given my overall budget ceiling of $1000. Luckily—considering its relatively high performance—Haswell isn't particularly power-hungry, thanks to its 84W thermal design power. Likewise, the Radeon HD 7790 card I chose doesn't consume an undue amount of power, with its 85W TDP. As such, this system won't pump out a ton of heat, so a mainstream midsize tower with a few fans and an open floor plan should do just fine. After a bit of research, I decided to go with NZXT's Source 210. You'd be hard-pressed to find a better midsize tower case for the price (about $35), and I love its understated aesthetic. The Source 210 comes with a 120mm case fan, but it has mounts for four more and plenty of vents all around.
Last, I needed a power supply. Intel has put some serious work into ensuring that all parts of its latest platform drain minimal power, and it's important to use a high-efficiency, Haswell-ready power supply with Intel's new processors. Among the many viable options available, I went with a 450W FSP Group Raider—for three reasons. First, its 450W capacity meant that it was more than beefy enough for my build. Second, the FSP Group Raider is Haswell-ready and is 80-Plus Bronze certified. And third, it's built by a reputable manufacturer, an especially important consideration with power supplies.
To summarize, the complete parts list for the system is as follows:
Processor: Intel Core i7-4770K ($339)
Motherboard: Gigabyte Z87-UD3H ($180)
GPU: Sapphire Radeon HD 7790 Dual-X ($135)
Memory: 8GB (4GB x 2) Kingston HyperX Black DDR3-1600 Dual-Channel Kit ($49)
Case: NZXT Source 210 Mid-Tower ($35)
OS drive: AData SX900 128GB SSD ($119)
Bulk storage: WD Caviar Blue 500GB, 7200RPM, 64MB Cache HDD ($59)
Optical drive: Lite-On SATA DVD-R ($18)
PSU: FSP Group Raider 450W Haswell-Ready Power Supply ($55)
Total cost for the hardware at the time of this writing: a cool $989.
Putting it all together
Thanks to the many standardized components involved, assembling a system today is fairly straightforward and requires only a few tools. Though some people may disagree with my methods, I like to get all of the core components situated and set up before putting them into the case and then finish everything off by installing the PSU and neatly routing cables to their necessary locations.
Start by installing the CPU on the motherboard and affixing the cooler. The CPU fits into the socket in only one way and requires no force at all. Simply lift the locking lever and socket lid, pop in the CPU, and lock the lid and lever back down again. Installing the cooler involves little more than lining up the mounting pegs with the correct holes around the CPU socket on the motherboard and pushing down firmly on the four locking pins that surround the heatsink. Next, snap the memory into DIMM slots 1 and 2 on the motherboard, and you're ready to get things mounted.
I mounted the motherboard in the case first and then installed the drives in open bays that lined up nicely with the SATA ports on the motherboard, to facilitate cable routing. Next, install the graphics card and connected the case's front-panel wiring to the motherboard. Then connect the data cables for the drives, and you're ready for the PSU. Secure the PSU in place with the necessary screws, and then carefully route each power cable behind the motherboard tray as much as possible, to keep the area over the motherboard and the graphics card free from cables and to improve airflow. Once you've assembled all of the hardware and the system powers up properly, you're ready to install an operating system—I chose Windows 8 Pro x64—and take the rig for a spin.
If you're new to building PCs and would like more detail on assembling and configuring the software on a system, read over our PC building best practices for both hardware and software.
The result: a fast, efficient PC
Bearing in mind that the hardware components in this build added up to slightly less than a grand, I'm very pleased with the real-world performance of the system. As you'd expect, navigating through Windows 8 Pro with Intel's fastest quad-core processor to date, a quick SSD, discrete graphics, and DDR3-1600 RAM is extremely snappy. During regular use, the system's responsiveness is excellent, as is the speed at which apps launch.
For reference purposes, I ran a handful of benchmarks on the system as well. On Futuremark's PCMark 7 system-level benchmark, the PC earned a score of 6052; and on Cinebench R11.5's the multithreaded benchmark, the rig posted a mark of 7.95. On 3DMark Fire Strike, a test of graphics performance, the machine picked up a score of 3679 using the standard preset, just missing a mark of 30 frames per second (at 28.86 fps) in Crysis 3, with the game running at 1920 by 1080 with medium quality settings and 4x antialiasing enabled.
Icing on the cake: memory, graphics, cooling
Overall, I think this system came out very well. If I had had a few more bucks to spend, though, I would have done a few things differently. Bumping up the memory to 16GB would be well worthwhile, and using a more powerful graphics card would be a major enhancement. For icing on the cake, I would add a more capable aftermarket cooler and some additional case fans. Those additions are worth doing if you have the spare cash handy, but don't worry too much about it of you don't: This PC can stand on its own as a decent Haswell-powered performance rig that costs less than $1000 to build.