Open-source advocate Mark Shuttleworth closed Ubuntu's seriocomic Bug #1 report on Thursday after leaving it open nearly nine years. The move heralded a major shift in rhetoric from the leader of the world's most popular Linux distribution.
Shuttleworth, a former Debian developer, founded Canonical Ltd.in 2004 to work on Ubuntu, at that time a brand-new new Linux variant.
Before the launch, however, he discovered a highly complex problem with the fledgling OS with this August 20, 2004 bug report: "Microsoft has a majority market share in the new desktop PC marketplace. This is a bug which Ubuntu and other projects are meant to fix."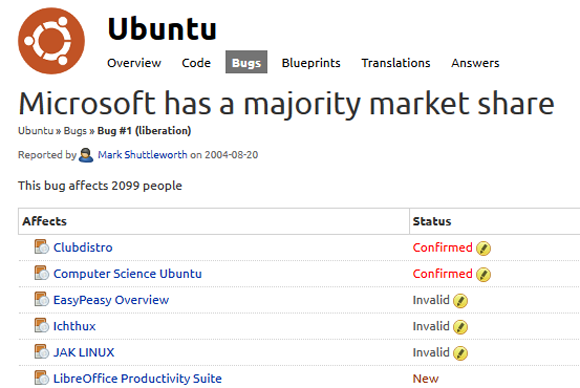 More of an Ubuntu mission statement than an actual error, Bug #1 for years served as a tongue-in-cheek summary of arguments in favor of open-source software.
Shuttleworth said at the time that the bug could be reproduced in as little as two steps. "1) Visit a local PC store. 2) Attempt to buy a machine without any proprietary software."
But if you go to Bug #1's page, you'll see a green "Fix Released" label next to Ubuntu's name in the affected users list. Additionally, the original bug report has been amended with "See Mark's closure comment."
Cynicism turns to optimism
The comment in question is just as optimistic as the original bug report was cynical.
"Personal computing today is a broader proposition than it was in 2004," says Shuttleworth, citing Android's popularity as proof.
"Android may not be my or your first choice of Linux," he writes, "but it is, without doubt, an open-source platform that offers both practical and economic benefits to users and industry. So we have both competition and good representation for open source in personal computing."
Shuttleworth continues, "For Ubuntu, our goal remains to deliver fantastic experiences: for developers, for people building out production infrastructure, and for end-users on a range of devices. We are doing all that in an environment that changes completely every decade."
Times have changed
Though the original bug report attacked Windows, Shuttleworth discusses how Ubuntu's relationship with Microsoft has changed in the ensuing years. Shuttleworth recognizes Bug #1's status as a rallying cry for other open-source adherents, but says, "It's better for us to focus our intent on excellence in our own right, rather than our impact on someone else's product." He calls Microsoft's IAAS team "technically excellent" and "a pleasure to work with."
"Circumstances have changed, institutions have adapted, so should we," Shuttleworth said.
We'll see whether his decision is supported by Ubuntu's fellow open-source compatriots. So far the closure has touched off an argument in the bug report's comments, with an equal amount of supporters and detractors.
One user even went so far as to say, "The closure comment reads like something agreed to as part of a deal with Microsoft," confirming that the more things change, the more they stay the same.