At a Glance
Expert's Rating
Pros
Excellent and bright screen delivers very good color.
750GB hard drive delivers ample storage
Clean, attractive brushed-aluminum design
Cons
Lackluster battery life and overall performance
Soft, squishy keyboard
Off-center touchpad
Our Verdict
There's an excellent screen and plenty of storage space on this hefty notebook, but it delivers only mediocre performance and battery life.
The VAIO Fit 15 has had a makeover, emerging from Sony's design studio with a brushed-aluminum case and an excellent touchscreen. But shiny new looks don't distract from lackluster battery life and so-so performance.
This is certainly no Ultrabook, weighing in at 5.7 pounds sans power adapter, but the Fit does pack 8GB of DDR3/1600 memory; a large, 750GB hard drive; a DVD burner; and an HD touchscreen. The Vaio Fit 15 Touch lineup ranges in price from $849 to $1699. Our review unit was priced at $949.
Running at a native resolution of 1920 by 1080 pixels, the 15-inch display is bright (we measured it at 274 lumens). Like most touchscreens, this display has a distractingly glossy finish: It shows reflections very clearly, so you can easily see if someone is sneaking up behind you. Its oleophobic coating keeps greasy fingerprints away, which is important for a computer running a touch-centric OS like Windows 8.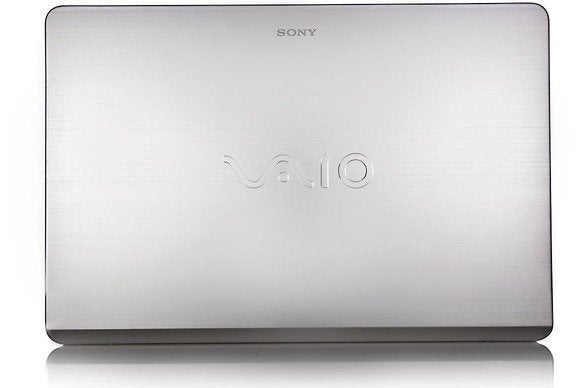 This model uses Intel's 1.8GHz i5-3337U (Ivy Bridge) processor. The Intel HD Graphics 4000 processor integrated into that chip drives the display but delivered relatively poor gaming performance. Serious gamers will want to opt for an upgraded model that offers one of Nvidia's discrete GPUs. The stereo speakers in the Fit's hinge delivered plenty of volume, but sound bounces off the display, resulting in a lack of separation, very little presence, and poor bass response. The recording of Beethoven's 9th symphony that I used to audition the audio system sounded as though it had been recorded in a dingy cellar.
Well-spaced keys, but little travel
The keyboard has chiclet-style keys with a numeric keypad. The keys are well-spaced, are navigable by touch, and have a decent amount of travel (the keys can go down just over 2mm). But they feel mushy and soft, and pressing hard causes the whole keyboard area to bow. Most users will find the keyboard acceptable, but those who prefer mechanical keyboards that deliver more tactile feedback will dislike it.
The 2.5-by-4-inch touchpad is oddly placed: It's central to the keyboard, but off-center from the screen. This takes a bit of getting used to, but the touchpad itself is responsive. The front of the pad moves when clicked, and it has a good, positive feel. The touchscreen is also very responsive and recognizes up to 10 touches at once.
The Fit 15 is well connected to the world, with a flip-out gigabit ethernet port; HDMI; two USB 3.0 ports, and one USB 2.0; a headphone socket; and an SDHC card reader on the left side. You'll also find a Kensington-style security socket. The flip-out network port lets you use a standard network cable without breaking the clean curve of the base. Wireless networking is available in the form of a Broadcom 802.11 b/g/n wireless adapter, but you can connect only to 2.4GHz networks. That's disappointing these days of congested wireless networks. This adapter, though, does offer support for the new and improved Bluetooth 4.0 standard, which can deliver longer battery life on connected devices.
The DVD writer on the right side supports writing to DVD-R , DVD+R, and their rewritable equivalents, plus the venerable DVD-RAM standard for fans of near-extinct formats. The 2.5-inch, 750GB, 5400-rpm Toshiba hard drive is exceedingly slow compared with an SSD. On the upside, you won't soon find yourself running out of room (most consumer notebook SSDs deliver between 128- and 256GB of storage, and they're much more expensive).
A nonremovable battery supplies the juice. We found that it kept this laptop going for 3 hours, 8 minutes in our battery run-down test. That's enough for a couple of lectures or a study session, but it's not long enough for a full day of work.
Performance
The VAIO Fit 15 Touch provided decent, but not outstanding performance, achieving a Notebook Worldbench 8.1 score of 158. (We use an Asus VivoBook S550CA, powered by an Intel Core i5-3317u, as our 100-point baseline.) The Core i7-3537U-powered Toshiba Kirabook has produced the highest Notebook Worldbench 8.1 score to date: 284. But the KiraBook has a 256GB SSD and costs more than twice as much as the Fit 15, so that's no big surprise.