On Saturday, the company introduced its latest Core microprocessor technology, code-named "Haswell," addressing the need for higher performance while consuming lower power.
But the real question is this: will anyone want one?
While this may be the fourth generation of Intel's Core technology, it's the first to enter what many are calling the post-PC world. There's little doubt that most consumers want smaller, thinner, and more portable PCs these days. Smartphones and tablets are great for what they are, but they can't replace the computational horsepower of a genuine PC. There are just too many tasks that tablets and smartphones can't handle, ranging from sophisticated photo and video editing to playing hard-core games.
Intel's challenge
Intel's challenge, then, is to deliver a new CPU family that delivers more horsepower than its last, but that also consumes less power to deliver longer battery life and lower cooling requirements. A CPU family for a new generation of PCs boasting thinner and more innovative form factors that proves smartphones and tablets are nice to have, but that they're not enough. And that's just what Intel promises Haswell does.
Intel is branding Haswell parts using the same three tiers it has used before: Core i3, Core i5, and Core i7. Intel has also introduced new desktop and mobile core logic chipsets, dubbed Z87 and Q87, respectively. To evaluate how well Intel delivered on its promises, we built out and benchmarked a machine based on Intel's brand-new Intel Core i7-4770K. We then compared its performance to Intel's third-generation Core products (codenamed Ivy Bridge) and AMD's best desktop processor, the A10-5800K. We also evaluated two new desktop motherboards that use Intel's Z87 chipset.
Of the major OEMs, HP has announced a few new models that will feature Haswell CPUs, but they haven't revealed which chips those will be. Acer, Dell, Lenovo, and Toshiba, meanwhile, haven't revealed anything. We expect that will change next week as the giant Computex tradeshow gets underway in China.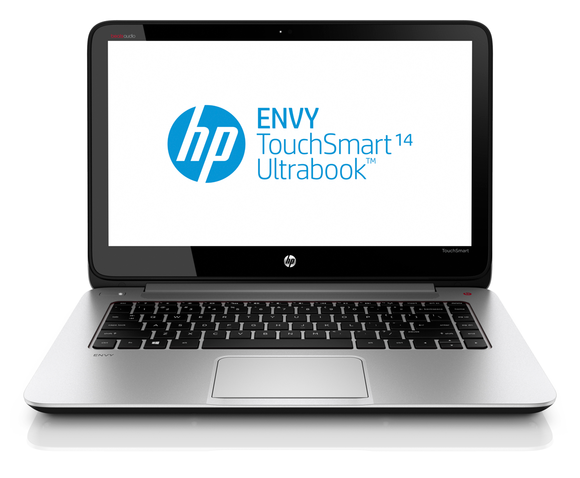 So the first retail systems to arrive in the PCWorld Lab came from more nimble boutique manufacturers, including desktop models from Digital Storm, Micro Express, and Origin; and a notebook from CyberPower.
But before we get into benchmark numbers, let's first examine Intel's overall strategy and then dive into the details of the Haswell microarchitecture.
Intel's "tick-tock" strategy
Intel describes its product development model as "tick-tock." A "tick" occurs every couple of years when the company implements a new manufacturing process that enables it to pack more transistors into the same silicon real estate. A "tock" is the alternate cycle, when Intel introduces an entirely new microarchitecture.
Intel's Sandy Bridge microarchitecture—introduced in early 2011—was a tock built using a 32nm manufacturing process. The Ivy Bridge series, which arrived in April 2012, marked a "tick" as Intel moved from a 32nm manufacturing process to a 22nm process. Haswell chips will be built using this same technology until the next tick, when Intel perfects its 14nm manufacturing process. The new CPUs based on that technology will be dubbed Broadwell.

Intel will continue to ship earlier generations of its CPUs, and you might be surprised to learn that some of those earlier chips are considerably more powerful than Haswell. The Haswell parts Intel has announced to date have up to four cores, with hyperthreading support. Hyperthreading is an Intel technology that allows the PC's operating system to address one virtual core for each one of the CPU's physical cores.
Intel's Core i7-3930K, -3960X, and -3970X CPUs—desktop CPUs based on the Sandy Bridge-E microarchitecture (built using a 32nm process) that predates the 22nm Ivy Bridge—are all hexacore parts that support hyperthreading. An operating system running on these CPUs can address a total of 12 cores (six physical and six virtual). Intel designates its absolute fastest CPUs as Extreme Edition CPUs, but the company has not indicated whether or not it will build Extreme Edition Haswell chips.
Haswell's Architectural Changes
Intel has introduced four series of mobile processors and four series of desktop processors. The entire family features an integrated voltage regulator that will significantly reduce power consumption while simultaneously eliminating as many as seven other integrated circuits from the motherboard. Intel claims this feature will give laptops 50 percent more battery life.
Intel has traditionally used the term TDP (thermal design power) to specify how much electrical power a computer must be able to dissipate in a worst-case scenario: while the CPU is operating at its maximum speed for a sustained period. The company is introducing a new specification, SDP (scenario design power), that indicates how much power a computer must be able to dissipate while being used for media consumption and "light creation." Intel will use the SDP spec for CPUs powering tablets and notebooks with detachable displays (Intel describes these as "behind the glass" devices).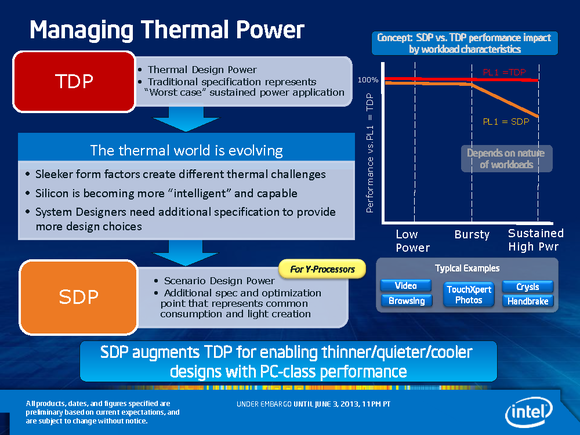 Mobile Haswell processors with TDPs of 15 and 28 watts (or SDPs of six watts or less) feature a Platform Controller Hub (PCH) integrated into the same package. The PCH, more commonly known as the southbridge, handles the computer's input/output functions, such as USB and audio. Integrating the southbridge into the CPU package reduces the size of the motherboard, allowing for smaller and thinner notebook designs that consume less power. These same parts will be capable of operating at a very low-power state that Intel has dubbed SOix. A notebook in this idle state will consume almost no power, but will wake up to a fully active state within a few hundred milliseconds.
We'll spell out most of the other big architectural changes in Intel's fourth-generation Core series CPUs in these stories:
Intel's Core i7-4770K benchmark results
Intel's Series 8 core logic chipset
Fourth-generation Core graphics performance
Intel's new Ultrabook definition
And you'll find our first fourth-generation Core system reviews here:
CyberPower FangBook gaming notebook PC review