Intel wants everyone's attention focused tightly on its fourth-generation mobile Core product line. And the vast majority of new computers that major OEMs will announce this week will indeed be notebooks. But when it came to providing us with samples for benchmarking, the only part Intel provided was a desktop processor.
While that's a curious turn of events, the good news for hard-core gamers, enthusiasts who enjoy building their own computers, and families who want all-in-one computers is that Intel has no intention of walking away from this market. With all its talk of notebooks, tablets, and hybrid convertibles, the company today released details on a dozen new desktop CPUs
But where's Iris?
Perhaps recognizing that most desktop PC buyers (aside from all-in-one aficionados) prefer to use a stand-alone video card with a stronger graphics processor from the likes of AMD or Nvidia, Intel has so far unveiled just one desktop CPU featuring its ballyhooed Intel Iris Graphics 5200 graphics processor: The Core i7-4770R. And that part will be available only in a BGA package (the acronym stands for "ball grid array," a design for mounting the microprocessor permanently to the circuit board at the factory). You can expect to see this part in high-end all-ones and perhaps in new form factors, such as tabletop tablets.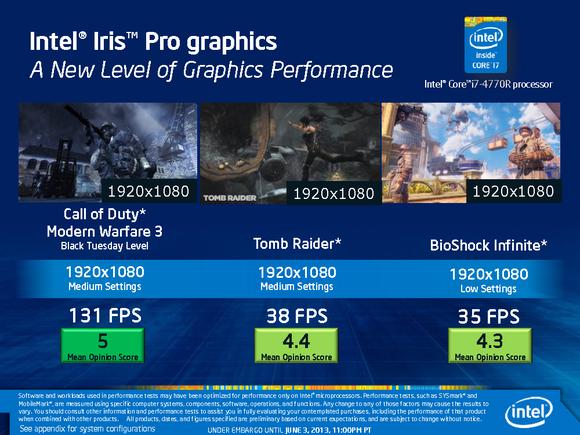 The other 11 desktop parts (five in the Core i7 family and six in the Core i5 family) use Intel's other new integrated GPU, the Intel HD Graphics 4600. These processors arrive in the more familiar LGA-1150 package, so they can be mounted to (and removed from) a socket on the motherboard. Of these, the Core i7-4770K and the Core i5-4670K have unlocked clock multipliers. If you're unfamiliar with the term, it basically means you can tweak the CPU to run faster than its factory setting.
The process of overclocking can wring additional performance from the CPU—sort of like tuning your car's engine to produce more horsepower—but pushing it too far can render your system unstable. Unlocked processors are very appealing to PC enthusiasts.
All of the new desktop processors will benefit from the same power-efficiency features found in the fourth-generation mobile Core processors, but they will have higher clock speeds and much higher TDPs, ranging from a low of 35 watts to a high of 84 watts. The aforementioned Core i7-4770R doesn't look to be any wallflower, either, with a TDP of 65 watts and a base frequency of 3.2GHz.
Benchmark performance
Intel provided us with its unlocked Core i7-4770K processor and DZ87KLT-75K motherboard to evaluate the processor's performance. We built out the rest of the test bench with 16GB of Crucial Ballistic DDR3/1600 memory (two 8GB sticks), a Cooler Master M2 Silent Pro 80 Plus Silver-rated 1000-watt power supply, and a Kingston HyperX SH103S3 240GB SATA 6Gbps SSD. For graphics, we relied solely on the Intel HD Graphics 4600 integrated into the CPU.
We compared the Core i7-4770K processor's performance (at its stock frequency of 3.5GHz) to a range of Intel's third-generation Core processors: A 3.3GHz Core i3-3225, a 3.4GHz Core i5-3570K, and a 3.5GHz Core i7-3770K. Each of these processors is a quad-core CPU with an integrated Intel HD 4000 graphics processor.
We also compared the Core i7-4770K to AMD's best desktop quad-core processor, the 4.2GHz A10-5800K, which has an integrated Radeon HD 7660D graphics processor. We built out an MSI FM2-A85XA-G65 motherboard using the same memory, power supply, and SSD for our AMD test. Here again, we relied on the AMD CPU's integrated graphics.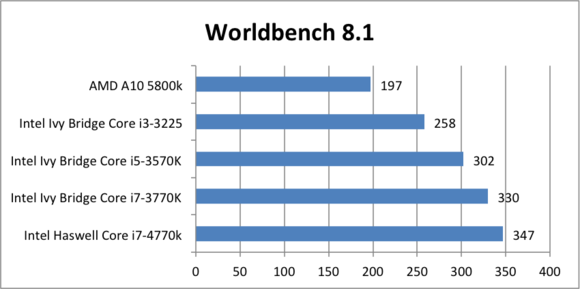 Intel's Core i7-4770K took first-place finishes on nearly every benchmark, scoring a Desktop Worldbench 8.1 score of 347. Worldbench 8.1 is an amalgam of synthetic and real-world benchmark tests designed to provide a holistic look at a computer's performance. It measures graphics-intensive applications such as games, as well as CPU-intensive applications such as photo- and video editing. AMD's A10-5800K limped to a last-place finish here, scoring 197.
But Intel's new processor didn't exactly pummel its predecessor. The older Core i7-3770K delivered a respectable Desktop Worldbench score of 330—meaning it was just 5.2 percent slower than its newer cousin.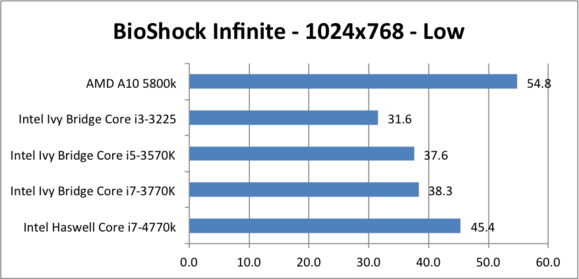 And when we measured only gaming performance, running BioShock Infinite at a resolution of 1024 by 768 pixels, with visual quality set to Low, AMD's processor snagged first place, delivering the game at a snappy 54.8 frames per second. Intel's Core i7-4770K performed better than any of its older cousins on this test, but its frame rate of 45.4 frames per second was more than 17 percent slower than the AMD's.
Power efficiency
To evaluate Intel's power-efficiency claims, we measured our test rig's power draw at idle and again while the machine was under load. The Core i7-4770K drew significantly less juice while idle compared to the older Core i7, but only slightly less power than the Core i5 (and insignificantly more than the Core i3). But it was 11 percent less efficient at idle than AMD's CPU.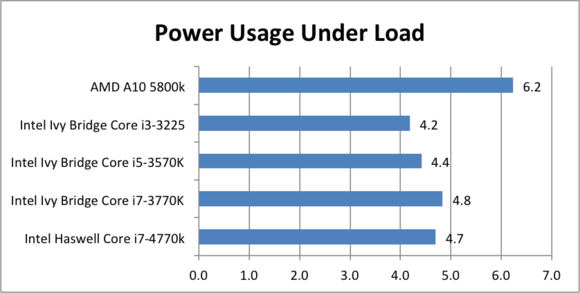 Perhaps more importantly, it was 24 percent more efficient than AMD's processor while under load. We can't wait to get our hands on a new Ultrabook so we can perform some battery-life testing.
Click here to the whole scoop on Intel's 4th-generation Core processors.