Asustek Computer has fired another shot in the Android tablet price war, putting the starting price for the Asus Memo Pad FHD7 at $129.
The MemoPad weighs 302 grams and has a 7-inch display with a resolution of 1280 x 800 pixels, a 1.2-megapixel front camera and a 5-megapixel rear camera. It has a low-power Cortex-A7 quad-core processor, the company announced at the Computex trade show in Taiwan.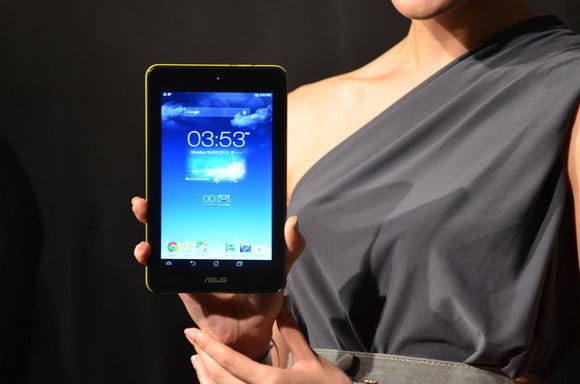 It will be available in emerging markets for $129 with 8GB of storage, but elsewhere the entry-level model will have 16GB of storage and cost $149.
"I'm using it every day," said Asus chairman Jonney Shih during a news conference.
Tablet makers have been dropping the prices of Android tablets with small screens. Earlier this year, Acer introduced the $169 Iconia A1 tablet, while Hewlett-Packard launched the $149 Slate 7. Google's popular Nexus 7 and Amazon's 8-inch Kindle Fire HD sell for $199.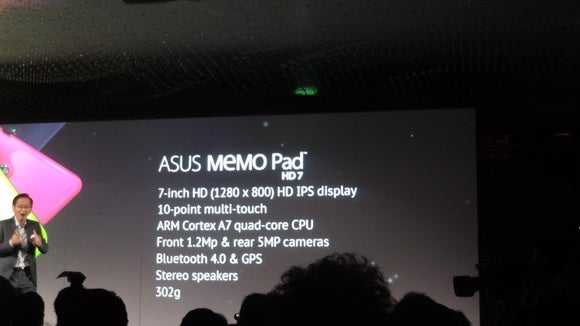 Asus also introduced the 10.1-inch Transformer Pad Infinity, which has a gaggle of new technologies that make it stand out in an already crowded Android tablet market.
The tablet runs Android 4.2.2 and has a quad-core Tegra 4 chip, which includes a Cortex-A15 CPU and 72 graphics cores. This is the second tablet based on the Tegra 4 chip: the first was HP's Slatebook X2.
The Transformer Pad Infinity has a 2560 x 1600 pixel display, a higher resolution than the 2048 x 1536 pixel screen on Apple's latest iPad. It is the same resolution as Google's Nexus 10 tablet.
The Asus tablet's USB 3.0 port makes it stand out from the crowd: Most tablets today have micro-USB 2.0 ports, handy for charging devices.
The Transformer tablet has a 5-megapixel rear camera and a 1.2-megapixel front camera. An optional keyboard dock with an integrated battery turns the tablet into a laptop with more than 12 hours of battery life. The price for the tablet was not immediately available.
Updated at 9:35 a.m. PT with a video report from IDG News Service.