Windows 8.1—previously known by its code name "Windows Blue—is a major update for the Windows 8 operating system, and it will include a number of features that should render the operating system more appealing to business customers and IT admins.
Although Microsoft isn't calling it a service pack, the scope and timing of Windows 8.1 are similar to what we've come to expect from a Service Pack 1 update: It "fixes" bugs and issues with the original OS, and it adds new features and capabilities that users have asked for.
Despite claims that Windows 8 is some sort of albatross around the neck of the PC industry, Microsoft's flagship operating system has achieved sales on par with its predecessor. The real test, though, is Microsoft's business customers. Enterprise customers don't just buy an operating system, they purchase thousands, or tens of thousands of licenses for an operating system.
Microsoft acknowledges the importance of its business customers by making Windows 8.1 significantly better for business—both from the user and IT admin perspective. Here are five reasons businesses should take a close look at the new OS:
1. Wireless features
Windows 8.1 includes a number of features that make it easier for users to connect to peripherals and get things done without having to plug in any wires or cables. NFC tap-to-pair printing and Wi-Fi direct printing both enable Windows 8.1 devices to send data wirelessly to properly-equipped printers. Miracast display support lets Windows 8.1 PCs wirelessly beam video to Miracast-enabled displays.
2. IT controls
IT admins can configure the layout of the Windows 8.1 Start screen. They can also lock down the ability to change or customize the Start screen to ensure a consistent experience throughout the company, or within specific departments.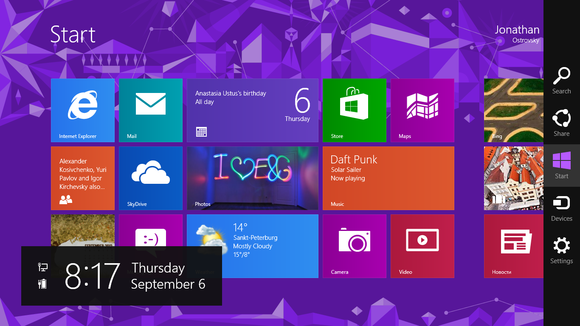 3. Remote business data removal
This new Windows 8.1 capability sounds like the BlackBerry Balance feature. Whether or not it works identically, the purpose of the feature is essentially the same. With this feature, the IT admin can remotely wipe business data from a Windows 8.1 device without affecting the personal content that doesn't belong to the company. This is a crucial feature for effectively managing personal Windows 8.1 devices that are allowed to connect to company resources in a BYOD environment.
4. Auto-triggered VPN
Business users are accustomed to connecting to a VPN to access the company network. Auto-triggered VPN will let users function more efficiently because it will prompt you to sign in to the VPN if necessary when you try to connect to company resources. The feature will also work with third-party VPN clients.
5. Assigned Access
This is a great feature for kiosks, or for Windows 8.1 tablets that have a dedicated function. Assigned Access lets the IT admin limit access to a specific app, and lock down other controls and features so the Windows 8.1 device can only be used for its designated purpose.
These are just a few examples of the new features in Windows 8.1. In a few short weeks—on June 26—the public preview of Windows 8.1 will be available, and you'll be able to see the new capabilities for yourself.