At a Glance
Expert's Rating
Pros
Choose from a huge number of formats
Clipping tool helps make iPhone ringtones
Built-in player to play back the file
Cons
Attempting to convert MP4 video files crashes the app
Built-in browser claims to be "outdated" and "no longer supported"
Our Verdict
With so many devices and so many OSs, you may be done with fun if you can't convert an entertainment file format. Adapter converts audio, image video, and even game files to keep the good times rolling.
Just think for a moment how many devices and operating systems you use in a day. Now you may jump from a Windows PC to a Mac (or vice versa). Or use an iPhone or Blackberry? Or maybe you use an Android or Kindle Fire? The fact is that with so many systems, being able to do quick efficient no-fuss file conversions to suit the platform you are on has become an absolute-must. This is why Adapter should be on your shortlist of apps to install on your system.
Adapter is made by the same company that brought out the awesome iExplorer, and it comes in PC and Mac editions. The interface of the PC version I tested is straightforward and intuitive, and adding files is as simple as drag-and-drop with your mouse. There are no long complicated user manuals to memorize, no complicated audio codecs to install, no screen resolutions to remember in advance. Adapter is a good example of software that allows you to just add the source file and click the button to go.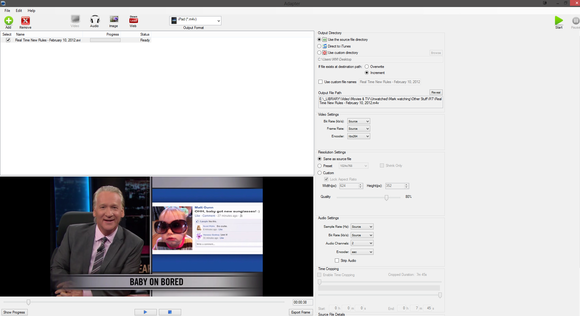 The software has numerous different functions. It can handle video (including DVD files and Flash), images (including animated GIFs) and audio (including iPhone ringtones). It can even convert files for games consoles such as the Playstation, Xbox, and Nintendo Wii. To begin, just choose your format at the top (video, audio, image) then either press the "add" button or drag the file into the main area with your mouse, and drop. Then in the top toolbar, choose the file format you want to convert to, check that the other options are as you want them. You can more or less keep them as they are, with the possible exception of the output directory. I wouldn't recommend fiddling with the default settings unless you know what you are doing. Then press the "start" button and wait for the file to be converted.
On the whole, Adapter converts files really fast, unless of course you are converting a huge video file which will take slightly longer. But if you are converting say an MP3 file or a YouTube video, then it doesn't take very long at all.
Adapter also lets you edit an MP3 file and convert it into an m4r file, so you can send it to iTunes as an iPhone ringtone. When you have dragged the source audio file into Adapter, look to your right and use the sliders to choose the size of file you want converted into the ringtone. Then choose m4r as the output format and away you go again. You can even tell Adapter to send the completed file directly to iTunes on your computer.
The final feature Adapter offers is a lightweight browser which you can use to go to YouTube and download videos directly to your Adapter installation. From there you can download as a video or extract the audio. Even though Adapter told me that the browser was "outdated" and "no longer supported," it still worked perfectly fine.
The only real con that was readily apparent was that trying to convert MP4 files resulted in the app crashing. It seems as if Adapter doesn't like converting MP4 files at all. The developer maintains however that this should not happen, and was unable to replicate the problem.
If you were planning to use Adapter for converting MP4's, and you encounter the same problem as I did, there's an easy fix: Use SUPER instead, which converts MP4 files to AVI in a flash.
There are lots of file converters on the market, some good, many bad. Adapter definitely firmly falls into the good column and is worth using, especially considering that it is free. You can't argue with that.