Intel's Haswell processor line may have gotten all the glory at Computex this weekend, but ten years down the line, we may just remember Computex 2013 as the year that Intel's most portable CPUs were finally embraced by mobile manufacturers.
Intel's portable technology has made waves before, of course—remember those x86 smartphone processors from 2012? But for the first time ever, it's looking as though all of Intel's pie-in-the-sky promises are truly turning into real-world hardware wins. The prospect already has ARM bristling to defend its turf.
"If Intel continues on its trajectory, we're going to look back on [Computex 2013] and say not necessarily that it's where Intel's mobile push started, but that it's where it started to gain traction," says Patrick Moorhead, founder and principal analyst at Moor Insights and Strategy.
Let's take a peek at that traction in action, starting with honest-to-goodness Android tablets with Intel Inside.
Android lands on Intel
While Intel has notched a few Android smartphone wins on its post, it was never able to convince a big manufacturer to take a stab at a proper Atom-powered Android tablet—until Computex, that is. And at Computex, it landed one of the biggest fish swimming around in the Android ocean: Samsung.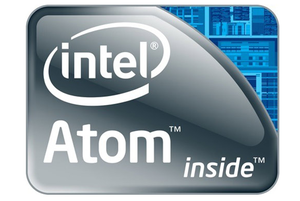 While the 8-inch Galaxy Tab unveiled Monday runs a standard ARM processor, the 10.1-inch flagship model sports a dual-core Intel chip of unspecified design. Since the tablet is due to launch in June, look for it to likely rock the "Clover Field+" Atom system-on-a-chip popular in today's Windows tablets, rather than the next-gen, Silvermont-based "Bay Trail" processors slated for release by the holidays.
Even so, it's a humongous win for Intel.
"Intel has made some dramatic improvements in the mobile market, and I think what we're starting to see now are the fruits of their hard work and labor," Moorhead says. Intel has been laying the groundwork for its mobile chips for more than four years. "They deserve a lot of credit. This is only stage two or three of a ten-stage plan by Intel for mobile, but this is very positive for them."
More impressively, Intel won over Samsung despite the fact that 32nm Clover Trail chips aren't as slim as the 28nm ARM chips favored today, and that many Android apps have to be translated on-the-fly to ensure compatibility with Intel's x86 architecture.
Don't celebrate too much just yet, however. "Intel still has a lot of work to do and its market share in the mobile space, be it tablet or smartphone, is very, very small," CCS Insight analyst Geoff Blaber told IDG News Service earlier today.
That's very, very true—but Intel's processors didn't just pop up in the Galaxy Tab. Clover Trail could also be found in the bizarre Asus Transformer Book Trio laptop-desktop-tablet "frankenconvertible" (as Moorhead calls it) that runs both Android and Windows; the 10-inch Asus Memo Pad FHD; and even the 6-inch Asus Fonepad Note phablet. Asus, it seems, is at least partially won over.
Intel's Clover Trail processor can also be found in the world's first 8-inch Windows tablet, the Acer Iconia W3. That, in fact, brings up a whole 'nother problem for ARM, and a whole 'nother win for Intel.
Where is Windows RT?
It's not at Computex.
Windows RT's absence from Asia's biggest trade show is nothing short of glaring, especially when you consider how most manufacturers were tripping over themselves to show off Windows RT slates—which run on ARM processors and aren't compatible with classic Windows desktop programs—at last year's show. In the 12 months since, manufacturers, developers, and consumers alike have avoided Windows RT like the plague.
That's bad news for Microsoft and ARM, but it's wonderful news for Intel. Manufacturers are rolling out droves of Windows tablets, but virtually all of those tablets run the full-blown version of Windows 8 on top of Intel's x86 silicon, rather than the crippled monstrosity that is Windows RT.
There's a reason for that. The mere threat posed by Microsoft's ARM adoption spurred Intel into action, prompting it to devote its near-endless resources on energy efficiency.
"The power and performance gap to ARM for Intel Atom is a myth now," Blaber says. And when Intel's Atom or one of AMD's mobile processors offer a true Windows experience and last just as long as an ARM chip, settling for Windows RT's sea of compromises just doesn't make much sense. Manufacturers know that.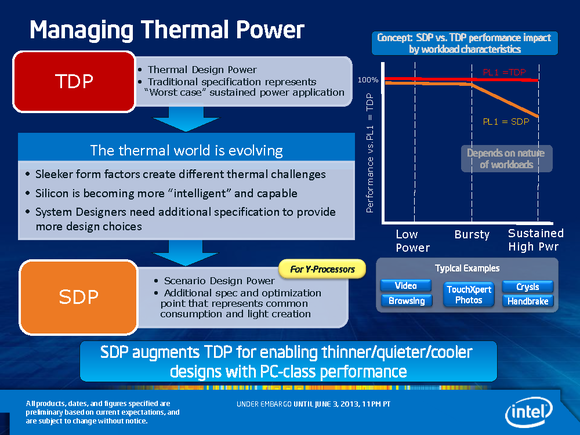 Bay Trail chips will be even more powerful and long-lasting than the Clover Trail processors winning the hearts and hardware of manufacturers today. Haswell's mobile power efficiencies are paving the way for a future where tablets can offer full laptop power with none of the compromises found in the powerful slates like the Surface Pro and Razer Edge Pro.
Yes, it appears as though the old Wintel hegemony will carry over to Microsoft tablets. Hybrids may just be the future of Windows, and it's hard to see where ARM fits in to the picture. On Monday, Acer honcho J.T. Wang told The Wall Street Journal that Windows RT won't be "so influential anymore."
"I think Microsoft wants to give some separation between Computex and what's going on with Windows RT," says Moorhead. "Because if you did a comparison today, no matter how you slice it, there will be a lot fewer Windows RT devices than Windows 8 tablets."
Thinking smaller
Update: Tablets weren't the only mobile devices on Intel's mind at Computex. Just after this article was published, Intel introduced the first smartphone based on its "Merrifield" Atom processor, which Intel claims has 50 percent better performance and a "much improved" battery life over its predecessors. So that's where those x86-based smartphone processors went!
Intel expects the chip to wind up in high-end phones early next year.
To (Transformer Pad) Infinity, and beyond!
Intel's sudden mobile threat has prompted ARM to rattle its saber. The company unveiled a new Cortex-A12 processor, and at a Computex news conference of its own, the company claimed that its mobile processors are superior to Intel's much-ballyhooed Silvermont Atom technology.
Analysts feel that Intel and ARM are now fairly equal on the performance-per-watt front, however, and Moorhead thinks Intel's refocusing on the mobile market—could—make things interesting going forward.
"If Intel executes on its 22nm and 14nm [processor architecture] roadmaps, they are going to be a force to be reckoned with," Moorhead says. "Not just an ARM alternative, but in a position where you'd have to think that you may be putting your mobile product line at risk by not having Intel in it."
We've said it before, and we'll say it again: Intel's future hinges on cracking the mobile market as the masses migrate to tablet technology. Cornering the moribund Windows slate market and achieving a handful of Android design wins isn't anywhere near a resounding success, but Computex 2013 certainly shows that Intel isn't just spinning its wheels. Chipzilla's long-term plan for mobile is on the right track and gaining traction.