Microsoft said early Wednesday morning that Outlook would be added to the Office suite bundled with Windows RT tablets, including the Microsoft Surface, which will also see some new function-key enhancements.
In a blog post, Microsoft said that its chief marketing officer, Tami Reller, is expected to shortly demonstrate the new features of Windows 8.1 in a presentation at the Computex show in Taiwan. Update: See the video below to watch the new features in action.
Reller is expected to say that small-form-factor Windows tablets will receive Office Home and Student 2013 right out of the box. Those tablets include the Acer Iconia W3, first out of the gate in the smaller category.
Taken together, the new enhancements pale in comparison to the disclosures about Windows 8.1 Microsoft made last week, including the initial disclosure that the Start menu would be tweaked, and that features like boot-to-Desktop would be included. The company then tipped the Windows 8.1 features that would appeal to businesses, including enhancements to printers, and locking down access to unauthorized apps within the Windows environment.
Users in the latter camp will undoubtedly welcome the addition of Outlook, especially those who can't (or won't) work within the Outlook.com Webmail environment that they were originally forced to use. Outlook RT will be added to the Surface and other RT devices via an update from the Windows Store when Windows 8.1 is released, Microsoft said.
"We're always listening to our customers and one piece of feedback was that people want the power of Outlook on all their Windows PCs and tablets," Microsoft said in a blog post. "In fact, a Morgan Stanley research study found that 61% of people shopping for tablets consider Microsoft Office to be the single most important software feature. We're pleased to have Outlook 2013 RT join the other best-in-class Office 2013 RT applications including Word, Excel, PowerPoint and OneNote. And just like those applications, Outlook 2013 RT delivers a great touch experience for people using tablets. "
Like the other Office apps within Office RT, Microsoft said that Outlook has been reworked for touch, including the ability to author inline replies and to "peek" at emails and contacts by hovering over them. Tablets that will use the new Outlook and other Office RT apps include the Microsoft Surface RT, the Dell XPS 10, Lenovo's Yoga 11, and the ASUS VivoTab RT.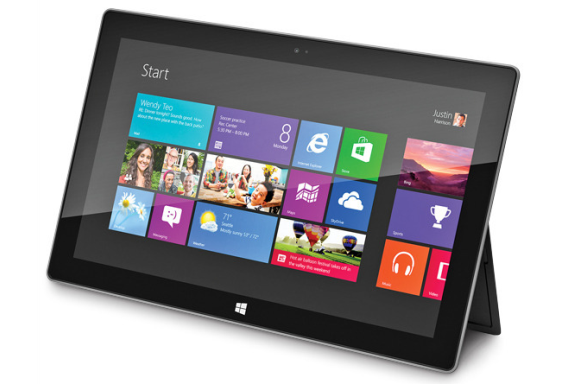 Office may be an equalizing factor in the emerging small form-factor Windows tablet race. The Acer Iconia W3 costs between $400 and $500, according to Acer, making it more expensive than similarly sized tablets running Android or Apple's iOS operating system. However, those tablets don't ship with Office.
New function keys within Surface
Finally, Microsoft said it will implement a compatibility fix within the Surface, restoring some of the function keys to their natural state. For example, hitting F5 on the Surface currently launches the Search app, rather than a PowerPoint presentation. With the update, hitting Fn+Caps locks the F1-F12 keys into being function keys. Hitting Fn+Caps again will cause those keys to trigger the Charms and other functions. Other Fn revisions will trigger changes in brightness, the print screen functions, and other commands.