At a Glance
Expert's Rating
Pros
Simple interface
Limited to 30-second voice snippets
Cons
No built-in search feature
Our Verdict
Dragon Notes is marginally useful on its own, and is mainly helpful as a tech demo for Nuance's speech recognition technology.
As a writer, I find Dragon NaturallySpeaking wonderful. Its time-tested and mature speech recognition engine understands me well, and it can transcribe audio files I record on my phone. But at $100-$200, it's also an expensive piece of software, and no, you can't download a demo. What you can do if you're curious about Dragon's speech recognition is plop down $20 for Dragon Notes, marketed as a smart sticky-note replacement.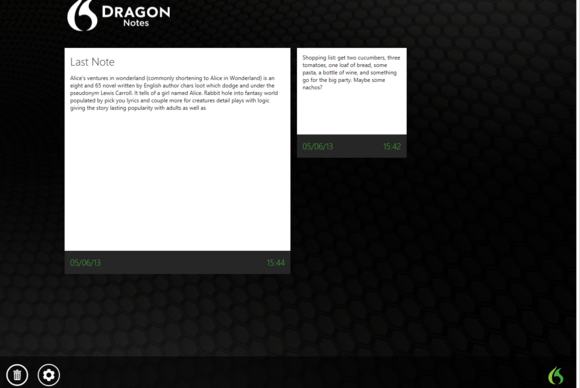 Dragon Notes is supposed to be a complete product, but it feels a lot like a demo, especially if you've used any of Nuance's more powerful NaturallySpeaking products. There's no calibration procedure when you install it, and no tutorial. You can't transcribe audio files, and speech transcription is limited to 30 seconds, though that's actually longer than it sounds: I've discovered I can say quite a bit in that time.
To begin dictating you have to click two buttons, and then Dragon Notes just listens as you speak. Unlike with NaturallySpeaking, you don't see text forming as you speak—just a moving bar indicating the application is listening. This is similar to how speech recognition works in Swype, Nuance's mobile keyboard for Android. Listen first, transcribe later.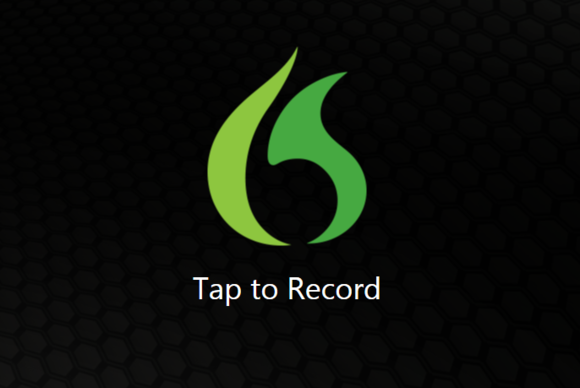 Recognition quality is fairly good, as long as you keep your notes simple. Dragon Notes had no trouble at all taking down a simple shopping list, and made just one minor error. It didn't fare so well when I tried dictating the first paragraph out of the Wikipedia entry for Alice in Wonderland: Although I do think "Alice's ventures in wonderland" would make for a good read, I am not so sure about a "fantasy world populated by pick you lyrics."
In terms of user interface, Dragon Notes makes an interesting compromise: It looks just like a Modern Windows app, but runs in a regular window. Your notes take up the bulk of the screen, each in its own little rectangle. Unlike Stickies, you can't change any of the visual settings for your notes: There's no way to customize the background, the font, or anything else really. This means that once you have more than a handful of notes, finding the one you're looking for will take some time. There's no built-in search feature, either. Dragon Notes makes it easy to share a note over email, Facebook, or Twitter, although I would recommend proofreading the text before sharing it with the world.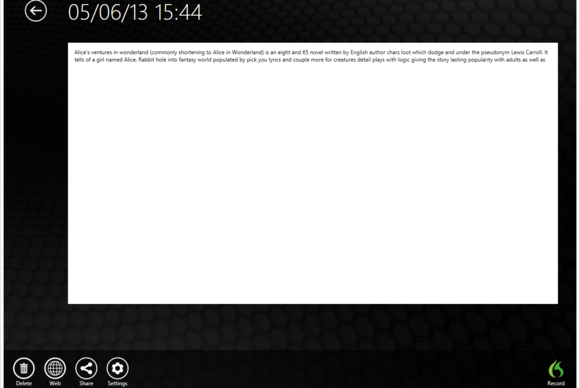 As a standalone utility, Dragon Notes doesn't bring much to the table. It's useful mainly for evaluating whether or not speech recognition has a place in your life and routine, and for gauging the accuracy of Nuance's engine.
Note: The Download button takes you to the vendor's site, where you can download the latest version of the software.