At a Glance
Expert's Rating
Pros
Finds duplicates of any kind quickly
Very flexible, with a large number of options
Our Verdict
If you have the patience to tinker with it, AllDup is a great free way to deal with duplicate files.
Duplicate file finders can strip your hard drive of unnecessary clutter. In recent months, I've tested several duplicate file finders, including the free Auslogics Duplicate File Finder, the $30 Ashisoft Duplicate Finder, and the $40 Webminds Easy Duplicate File Finder. The free AllDup is yet another way to get this task done, and according to its website, is a flexible and quick to do so.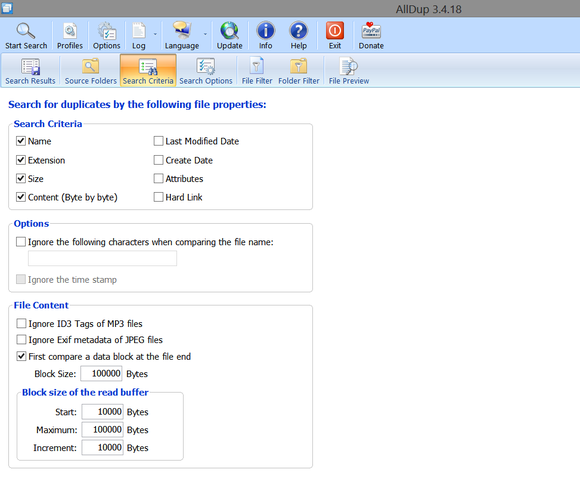 According to my tests, AllDup 3.4.18 truly is quick: It scanned my entire hard drive in well under a minute, finding 316GB of duplicates of all kinds. Althhough my current hard drive only contains around 50GB of data, the scan time was still impressive. Naturally, scan results depend on your chosen scan settings, and there are many to choose from with AllDup. The product's interface includes buttons such as File Filter, Search Criteria, Search Options, and Source Folders, each offering a different set of scan preferences you can control.
Scan settings for AllDup are very flexible: You can scan for duplicates by name, extension, size, content, creation date, and other criteria, filter the scan by file type, search inside archive files such as ZIP and RAR, and exclude files of a certain size, to only name a few. Having included so many different settings to play with, AllDup takes into account the fact that you might not want to set all these very often. The Profiles button lets you create and save different scan profiles, so you can easily switch between your different scan settings.
Before we get into the most interesting part, the scan results, there are several more features worth mentioning. You can set AllDup to log any and all activities, in case you want to go back and remember what you found, what actions you took, and what errors the program returned. You can also set up an external comparison program to compare the contents of files, or set Microsoft Word to compare the contents of DOC, DOCX, RTF, and TXT files. It's also possible to add AllDup to the Windows Explorer context menu, for a quick duplicate scan inside a specific folder.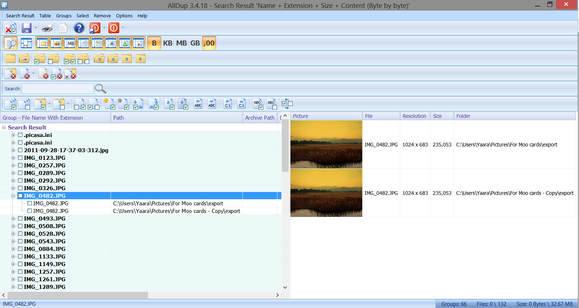 Everything about AllDup seems promising, including the clear yet somewhat dispersed interface, but things take a surprising twist when the duplicate scan is complete. My eyes widened in surprise at the sight of the scan results window. The results list itself looks ordinary enough, with previews available for many of the file types, but the incredible clutter of icon buttons placed in no fewer than six different toolbars is quite overwhelming.
Upon hovering on each button, a tooltip appears helping you make sense of what each icon means, but the sheer number of them (56, according to my count, with some containing dropdown menus with yet further options) makes them almost impossible to use efficiently. Luckily, all options appear in the menus as well, and while those are also quite cluttered, it's still easier to find your way when dealing with actual words.
Visuals aside, AllDup certainly finds duplicates of any kind, presenting them in the traditional way of file groups. Each file group can be expanded and collapsed, and by using the options, it's possible to flexibly select only certain files such as all files from a certain folder, oldest or newest versions of files, biggest or smallest versions, etc. Even when performing these actions through the menus, you're going to have to use some logical thinking when dealing with options such as "select all files except the smallest file." To make things a bit more confusing, duplicate files in each group don't always appear in the same order, so if you choose all files from a certain folder as duplicates, don't expect them to appear in the same position in all file groups.
When you've managed to select all duplicate files, you can choose to delete them, move them to the recycle bin, copy or move them to a different folder, or rename them. Here, too, AllDup offers impressive flexibility, letting you create customized subfolders, keep the folder structure when moving or copying files, delete empty folders after moving files from them, and more.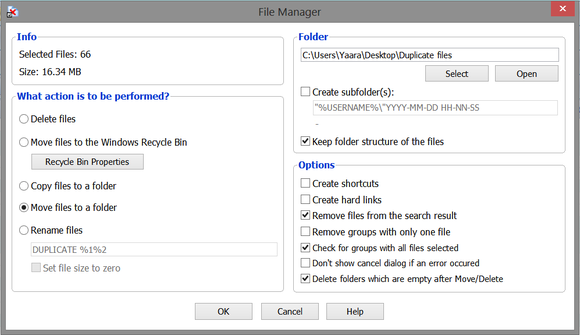 If you're an advanced user, or don't mind plodding your way through the program's confusing interface, AllDup is a solid and free way to get rid of duplicate files on your hard drive. If, on the other hand, you're looking for simplicity and don't want to mess around with a plethora of confusing settings, you may do well to steer clear of AllDup in favor of easier-to-use options.