If there's one thing Dell has done right over the years, it's been to let Alienware—the boutique gaming PC manufacturer Dell acquired in 2006—remain Alienware. Based on the new notebook lineup that Alienware unveiled tonight, that let-'em-be strategy is still working.
As the annual gaming/marketing orgy known as the E3 Expo gets underway, the company announced three brand-new notebook models based on Intel's fourth-generation Core processors. But Alienware General Manager Frank Azor dropped by PCWorld's offices late last month to give us a hands-on sneak peek. The lineup has undergone a significant makeover while managing to remain unmistakably Alienware.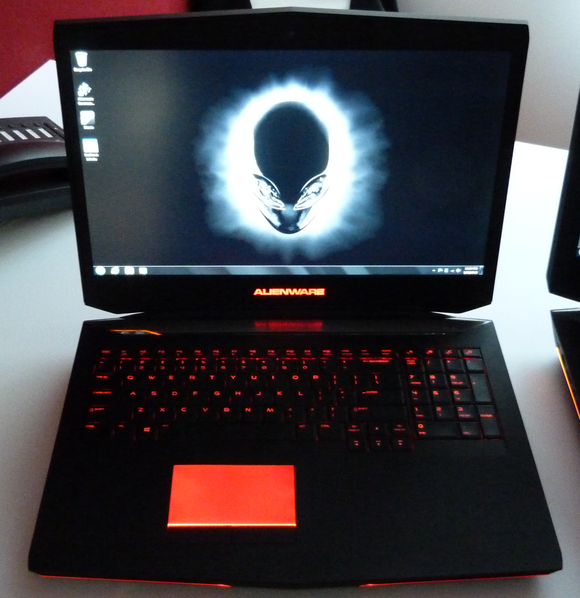 "It' s a big departure from 2009," said Azor. "The new models are 60 percent metal, including a 100-percent aluminum A panel [lid] and a magnesium alloy chassis." The reduction in plastic composites is a welcome departure, but the most significant visual cues come in the form of LED light pipes gracing the lid and the front and sides of the body, and the backlit trackpad.
Between those, the alien-head logo, and the backlit keyboard, each notebook has 10 distinct lighting zones that can be lit in any combination of colors from a palette of 20. Games that support the AlienFX utility can change these color combos in response to in-game events, such as taking damage, healing, or completing a mission or quest.

Each of the three models is available in a base configuration, but you can choose to upgrade each at time of purchase. The six-pound Alienware 14 ($1199) includes a 2.4GHz, quad-core Intel Core i7-4700Q processor with 8GB of DDR3L/1600 memory, a 750GB 7200 rpm SATA 3Gb/s mechanical hard drive (with room for two additional storage devices), a slot-feed DVD burner, a Killer NIC gigabit Ethernet interface, and a Killer NIC 802.11n Wi-Fi /Bluetooth 4.0 network adapter.
The Alienware 14 comes with an Nvidia GT 750M mobile GPU with 1GB of GDDR5 memory driving a 14-inch non-glare TN panel with native resolution of 1366 by 768 pixels. DDR3L memory, if you're not familiar, is designed to operate at lower voltage in order to extend notebook battery life.
The $1499 Alienware 17 (12 pounds) comes with a 17.3-inch anti-glare TN display with native resolution of 1600 by 900 pixels, driven by an Nvidia GeForce GTX 765M with 2GB of GDDR5 memory. In its base configuration, it comes with the same CPU, memory, hard drive, optical drive, and network interface, but its wireless network adapter is an 802.11ac/Bluetooth 4.0 model from Broadcom and it will have room for three additional storage devices.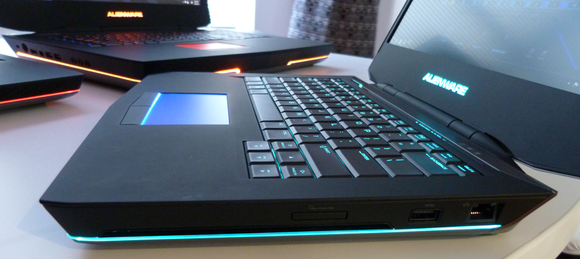 The 12-pound Alienware 18 ($2099) boasts an 18.4-inch PLS screen with a native resolution of 1920 by 1080 pixels. The balance of its specs are the same as the Alienware 17, but this model comes with two GeForce GTX 765M video cards operating in an SLI configuration. And like the 17-inch model, the Alienware 18 has room for three additional storage devices.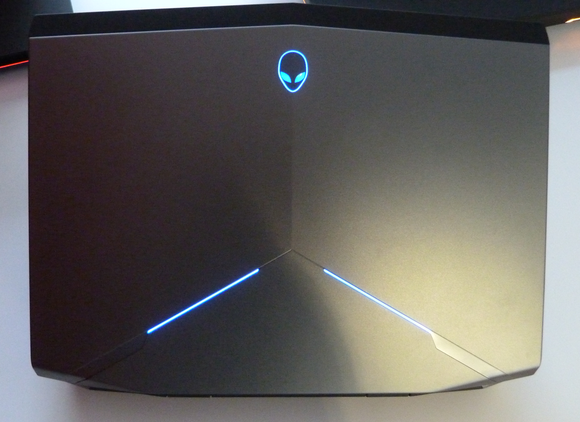 At our briefing, Azor said the Alienware 14 can be upgraded at time of purchase with an Nvidia GeForce GTX 765M. The Alienware 17 and Alienware 18 can be upgraded at time of purchase to Nvidia's GeForce GTX 770 or GeForce GTX 780 GPU, according to Azor, and the CPU upgrades on those models go as high as Intel's Core i7-4930MX Extreme Edition mobile processor. Slot-feed Blu-ray drives are an available option on all three models.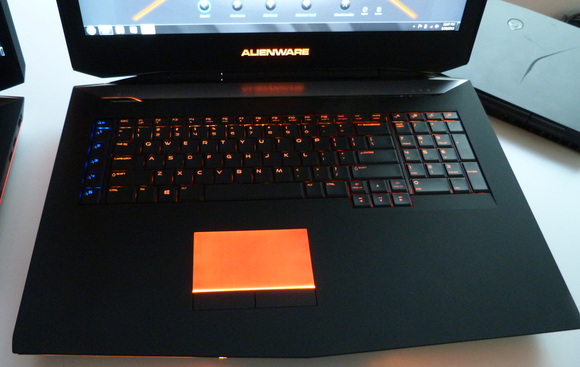 Alienware allows its customers to open up and upgrade their notebook, and they can overclock the CPU—both without fear of violating the manufacturer's warranty. The notebook's GPUs, however, are overclocked at the factory and cannot be pushed further, according to Azor.
Azor said that people often ask why Alienware's notebooks are so thick. "It's because we don't share performance among components," he said. "Every part can run at its full TDP (thermal design power). A lot of manufacturers will throttle down the GPU when the CPU ramps up, and vice versa, thinking only one component needs to run full out at once. Our notebooks can run everything full tilt without anything needing to back off."
All three Alienware models have HDMI outputs, but the 17- and 18-inch notebooks also have an HDMI input, so you can connect a game console or a smartphone and use the notebook's larger display. Alienware enlarged the keycaps on all three models, and added a metal backing plate beneath the keyboard to provide solid tactile feedback and to prevent bowing. Alienware's engineers collaborated with Klipsch on the speaker design, and each of the three models ships with Dolby Home Theater Audio v 4.
All three models will also come with a new dynamic performance optimizer—dubbed Accelerator—that can turn off Windows services that aren't essential to gameplay, freeing up system resources for the game. Once you exit the game, Accelerator automatically turns these services back on. A second utility, AlienAdrenaline, can record your gameplay in the background—perfect for instant replays of particularly gratifying kills, spectacular wipeouts, and other boast-worthy action sequences.
All three Alienware models are available now.