Picture this: You own a small retail shop. Maybe a restaurant. An angry woman comes into your store and begins complaining—loudly and profanely—about bad service she says she received the prior day. She demands satisfaction—free stuff, mainly—and she's filming all of this on her cell phone. Compounding the problem, you're not actually at the store. There's just a lone, underpaid employee to deal with the increasingly crazy demands of a borderline lunatic ranting about something he wasn't even involved with originally.
It's hard to imagine dealing with such a challenge, but this exact scenario played out in a Florida Dunkin' Donuts over the weekend. One Taylor Chapman, upset that she did not receive a receipt on a prior visit to the restaurant, decided that street justice was the solution. She spent a full eight minutes on video accosting a teenage employee and other Dunkin' Donuts patrons before finally leaving—free pastries in hand. Chapman promised she would be posting the video on Facebook, which she apparently did. [Warning: Considerable profanity.]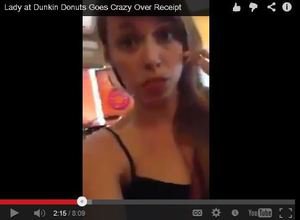 In a normal universe — or at least the one in which we seem to reside — this all would have quickly escalated, probably ending in a brawl once Chapman started hurling racial epithets and branding Dunkin' Donuts as a pariah in the world of chain restaurants.
Instead, Dunkin' Donuts has come out completely unscathed, now being held up as an example of corporate responsibility and smart employee training, thanks to the double edge of social media and the grace under pressure exhibited by employee Abid Adar, an 18-year-old who took the verbal abuse, tried to make good on Chapman's request, and didn't fight back at all.
Adar, and Dunkin' Donuts, handled the entire scene perfectly. The combination of ubiquitous video recording equipment and social networking has made it so that a single misstep can haunt you for life. (Just ask Michael Richards.) For a business — particularly one smaller than Dunkin' Donuts — that kind of error can quickly kill your company. (Just ask Amy's Baking Company, which is still getting hate mail on Facebook.)
Why did Dunkin' Donuts survive this experience when so many others have failed? Here are some tips on dealing with situations like this to keep them from spiraling out of control.
Training, training, training. You can't overtrain your staff on how to deal with an angry customer. The basic strategy is to a) acknowledge their problem, b) ask how you can resolve it, and c) if you're unable to do so on the spot, take down their information and have someone follow up later. It's common sense that you should never fight or argue with an irate customer—but without practice, those urges can be difficult suppress.
Assume everything is on video. In today's world of ubiquitous, miniature cameras, it probably is. Your customer service problem becomes 100 times worse when it's broadcast for the world to see.
Make the problem go away as quickly as possible. How much does a bag of donuts really cost Dunkin' Donuts? Compare that to how much the world seeing a fiery incident where an employee yelled at or got physical with a customer would cost.
For online complaints, advice varies. There are two camps on how to deal with angry customers on the web. One says to respond, make things right by offering freebies, and eventually asking the customer to remove their negative remarks. The other says to ignore: Responding only increases the SEO value of whatever page on which they're complaining. In general: Respond when possible, but don't feed the trolls.
For its part, Dunkin' Donuts has not addressed the incident formally, but the company has noted on Twitter that the franchise owner plans to recognize Adar for his actions.
That said, as a final tip, if you're going to have a corporate Twitter account, go ahead and use your grown-up words instead of subbing in "b" for "be" and "4" for "four."