At a Glance
Expert's Rating
Pros
Features are easy to access
Adds files to iTunes automatically
Cons
Lacks fine-tuned controls
Our Verdict
iTunes Library Toolkit is an inexpensive tool that will help keep your iTunes Library tidy.
When you rely on iTunes to manage your music collection and all of the apps and files you store on your iOS device, its library can quickly become unmanageable…and Apple doesn't like to give you a whole lot of control over how you organize it. Enter iTunes Library Toolkit, a handy PC-based application that offers you control over at least part of your iTunes library.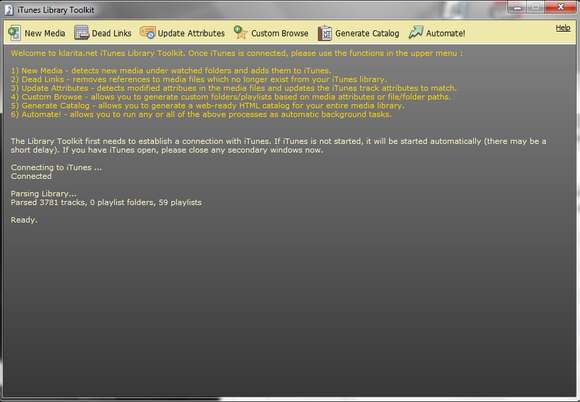 ITunes Library Toolkit is free to try for one month. After that you'll have to pay 3.5 Great Britain Pounds ($5 as of 6/12/13) for a one-year license. And it is the kind of application that you'll want to use more than once, as its goal is to offer "ongoing maintenance of your iTunes Library." To that end, it allows you automatically add new media files to iTunes, remove dead links from iTunes, and update the metadata on iTunes files.
ITunes Library Toolkit is a newer application from Klarita, which also offers a similar program called iTunes Folder Watch. iTunes Folder Watch serves one dedicated function: Adding new media to iTunes from watched folders. iTunes Library Toolkit offers this feature, too, but without some of the finer-tuned controls that iTunes Folder Watch offers, such as the ability to manually override any additions.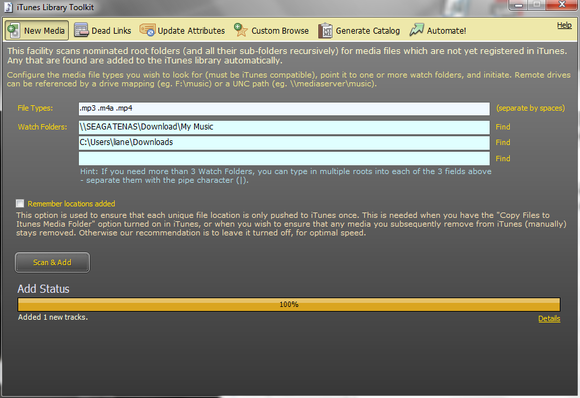 Removing dead links—those references to files that no longer exist—is easy, and I was surprised to see how many iTunes Library Toolkit was able to clean up for me. I do wish the application let you preview the links before you removed them, instead of after the task has been handled. ITunes Library Toolkit does check to make sure it is not misidentifying live links as dead ones, though, and it made no errors in my tests.
Music aficionados will appreciate how iTunes Library Toolkit can automatically update the track attributes to match the track tags in the song files, and how it can generate a Web catalog that allows you to share your music collection with friends. This Web catalog doesn't actually share music files. Instead it generates an HTML file that lists the albums, artists, and tracks in that library.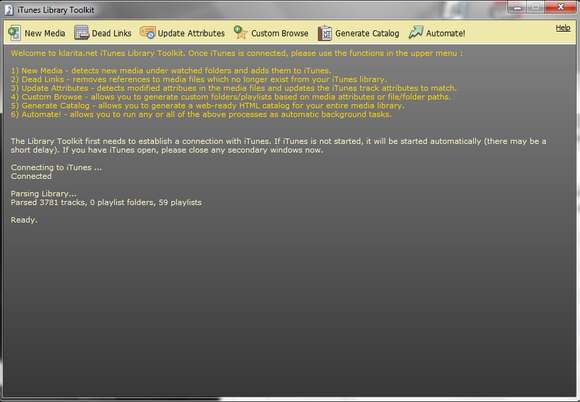 ITunes Library Toolkit offers plenty of automated tools for maintaining your iTunes Library. I do wish it offered users a little bit more control over all of its features, but as it stands, it's an excellent tool for keeping your iTunes Library perfectly tidy
Note: When you purchase something after clicking links in our articles, we may earn a small commission. Read our affiliate link policy for more details.
Liane Cassavoy is a veteran technology and business journalist. She contributes regularly to PCWorld and has written about business issues and products for Entrepreneur Magazine and other publications. She is the author of two business start-up guides published by Entrepreneur Press.